Lone Star Sons by Celia Hayes (buy direct from the author)
Lone Star Sons
by Celia Hayes (Amazon)
—-
Back in September, our very own Sgt. Mom, aka Celia Hayes, was shamelessly plugging her new book, Lone Star Sons. I bought a book and was pleasantly surprised to find what appears to be a personalized inscription on the inside: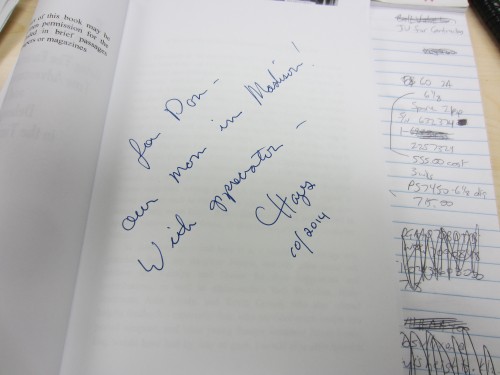 It says:
Low Dow –
Our Mom in Madison!
Wide op predator –
Chows
10/2014
Undeterred by what appeared to be a cipher of some sort, I forged ahead and read the book. I really liked it.
I don't read much fiction, but if I do, it needs to be historically based, and Hayes does a great job of really bringing you into the time period of old Republic of Texas. The descriptions of the scenes were very realistic and I could almost smell the stews that the Mexican ladies were making on the square on a daily basis.
Lone Star Sons is six short stories of Texas Ranger Jim Reade and his Indian helper/comrade Toby Shaw. They travel far and wide on their assignments which vary from murder investigations to search for buried treasure.
The end section was most enjoyable for me, as Hayes explains what parts of the short stories were hers, and which were historically based.
The book reads very quickly, as once you start getting interested in the characters, the book is difficult to put down. I would highly recommended it if you need a good idea for a stocking stuffer for someone who likes these type of frontier stories.
You can order Lone Star Sons from the Amazon link above, or directly from Ms. Hayes here. You can order her other books here.