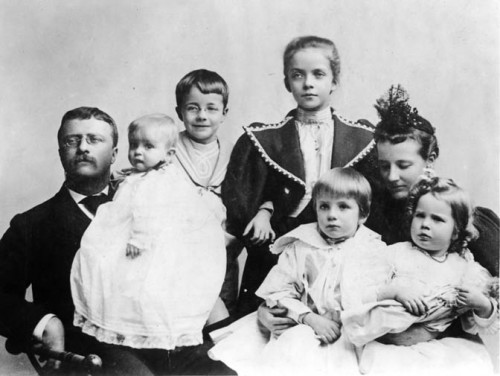 I am currently reading Theodore Roosevelt's outstanding book
A Book-Lover's Holidays in the Open. In it he describes visits to various interesting locales where he enjoyed the outdoor life of hunting, riding and exploring.
Chapter 4 is entitled THE RANCHLAND OF ARGENTINA AND SOUTHERN BRAZIL. He begins by telling us of his visit to a ranch house in Argentina. His hosts were an "old country family which for many centuries led the life of the great cattle-breeding ranch-owners." He notes that the modern Argentine ranch is no longer a frontier outpost, but part of the world economy, and not much different than you would find "in Hungary or Kentucky or Victoria."
But, he notes a critical difference, and offers a stern lecture against those would fail to produce large families, as they are duty-bound to do:
[T]here is one vital point—the vital point—in which the men and women of these ranch-houses, like those of the South America that I visited generally, are striking examples to us of the English-speaking countries both of North America and Australia. The families are large. The women, charming and attractive, are good and fertile mothers in all classes of society. There are no symptoms of that artificially self-produced dwindling of population which is by far the most threatening symptom in the social life of the United States, Canada, and the Australian commonwealths. The nineteenth century saw a prodigious growth of the English-speaking, relative to the Spanish-speaking, population of the new worlds west of the Atlantic and in the Southern Pacific. The end of the twentieth century will see this completely reversed unless the present ominous tendencies as regards the birth-rate are reversed.



A race is worthless and contemptible if its men cease to be willing and able to work hard and, at need, to fight hard, and if its women cease to breed freely. I am not speaking of pauper families with excessive numbers of ill-nourished and badly brought up children; I am well aware that, like most wise and good principles, this which I advocate can be carried to a mischievous excess; but it nevertheless remains true that voluntary sterility among married men and women of good life is, even more than military or physical cowardice in the ordinary man, the capital sin of civilization, whether in France or Scandinavia, New England or New Zealand. If the best classes do not reproduce themselves the nation will of course go down; for the real question is encouraging the fit, and discouraging the unfit, to survive. When the ordinary decent man does not understand that to marry the woman he loves, as early as he can, is the most desirable of all goals, the most successful of all forms of life entitled to be called really successful; when the ordinary woman does not understand that all other forms of life are but makeshift and starveling substitutes for the life of the happy wife, the mother of a fair-sized family of healthy children; then the state is rotten at heart.

The loss of a healthy, vigorous, natural sexual instinct is fatal; and just as much so if the loss is by disuse and atrophy as if it is by abuse and perversion. Whether the man, in the exercise of one form of selfishness, leads a life of easy self-indulgence and celibate profligacy; or whether in the exercise of a colder but no less repulsive selfishness, he sacrifices what is highest to some form of mere material achievement in accord with the base proverb that "he travels farthest who travels alone"; or whether the sacrifice is made in the name of the warped and diseased conscience of asceticism; the result is equally evil.

So, likewise, with the woman. In many modern novels there is portrayed a type of cold, selfish, sexless woman who plumes herself on being "respectable," but who is really a rather less desirable member of society than a prostitute. Unfortunately the portrayal is true to life. The woman who shrinks from motherhood is as low a creature as a man of the professional pacificist, or poltroon, type, who shirks his duty as a soldier.

The only full life for man or woman is led by those men and women who together, with hearts both gentle and valiant, face lives of love and duty, who see their children rise up to call them blessed and who leave behind them their seed to inherit the earth. Dealing with averages, it is the bare truth to say that no celibate life approaches such a life in point of usefulness, no matter what the motive for the celibacy—religious, philanthropic, political, or professional.

The mother comes ahead of the nun—and also of the settlement or hospital worker; and if either man or woman must treat a profession as a substitute for, instead of as an addition to or basis for, marriage, then by all means the profession or other "career" should be abandoned. It is of course not possible to lay down universal rules. There must be exceptions. But the rule must be as above given. In a community which is at peace there may be a few women or a few men who for good reasons do not marry, and who do excellent work nevertheless; just as in a community which is at war, there may be a few men who for good reasons do not go out as soldiers. But if the average woman does not marry and become the mother of enough healthy children to permit the increase of the race; and if the average man does not, above all other things, wish to marry in time of peace, and to do his full duty in war if the need arises, then the race is decadent, and should be swept aside to make room for one that is better. Only that nation has a future whose sons and daughters recognize and obey the primary laws of their racial being.
Note that it does not even occur to Roosevelt to mention the possibility that any significant number of men, let alone women, would use the sexual function merely for pleasure, while blocking the natural process of procreation. The small number of wretches who would choose such a life were too vile to contemplate, or mention. It was inconceivable that any large number of people would adopt such unnatural sexual license as their ordinary way of life, or that the community would tolerate it such depravity.
Such views are not popular now.
But they may be again.
There are no straight lines in history, and cultures twist and turn over the centuries.
Incidentally, I have now read The Rough Riders and Through the Brazilian Wilderness. They are both excellent. The also both have an important quality: Every page is good. As a result, I keep a work by Roosevelt handy on my phone to read at odd times, knowing that a few minutes here and there will be amply rewarded.