One of the more frustrating things in dealing with General Douglas MacArthur's World war 2 fighting style was how many 'will of the wisp' intelligence, logistical and special forces operations he created and that were buried in post-WW2 classified files in many military services of several nations, located on several different continents. Often times, when you go looking for one of these outfits, something completely different turns up. Such was the case with MacArthur's High Tech Radar Commandos, Field Units 12 and 14 of Section 22, General Headquarters, South West Pacific Area.
The trail of MacArthur's Australian Military Force (AMF) Radar Commandos started with the following record from the Fold3 government record digitization service —
http://www.fold3.com/image/1/300331293/
"In PT operations, on the 28/29, Alamo Scouts were put ashore on Fuga
Island and natives gave intelligence material abandoned by the
Japanese on Amboengi Idland, in the Little Paternoster Group when they
crossed to the Celebes in native canoes, on 18 July."
And then a little later on the same page it also stated:
Balikpapan boats landed Australian scouts on Amboengi
Ialand, Little Paternoster Group, site of a reported
radar station. A radio tower was strafed end radio sets
demolished.
So, the Alamo Scout report above resulted in a Balikpapan based American PT-boat (or boats?} arriving at the reported Radar site the next day which Australian scouts photographed, damaged and then called down an 7th Fleet patrol plane air strike on to make sure nothing was salvageable afterwards?
It turns out that first passage from the 7th Fleet War Diary was badly written, splicing two different special forces operations together. As I soon discovered when I checked with the Alamo Scout Historical Foundation.
Places such as Amboengi are in the Little Paternoster Islands (today's Balabalagan Islands, Indonesia.) are off the southeast curve of Borneo. None of the Alamo Scouts operated in Borneo. Fuga Island was off the northern shore of Luzon where the Alamo Scouts had their last big hostage rescue mission of the war. In July 1945 the Alamo Scouts rescued the President of the Bank of the Philippines and his extended family held hostage there. The banker was a personal friend of General MacArthur.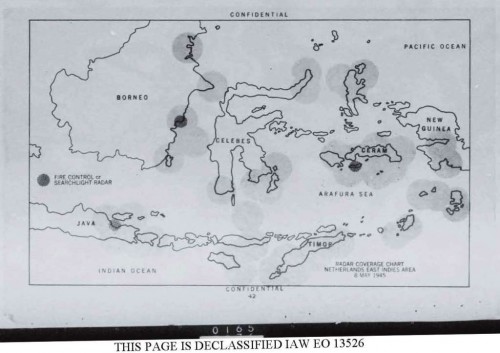 So there my trail went cold. If not the Alamo Scouts, Who are these guys?
The Australian Military Forces (AMF) special forces contingent doing island reconnaissance was large, not well documented by American military records, perhaps not at all, and they operated widely across the South Pacific. They were often deployed using Catalina PBY flying boats, submarines or even by canoe, distances permitting. Having no access to Australian Archives to figure this out, I dropped it.
ENTER THE CIA

Then I ran into the CIA's in-house historical magazine, Studies in Intelligence whose September 2014 issue had the following article by Kevin Davies, "Australia's ELINT "Commandos" — Field Unit 12 Takes New Technology to War in the Southwest Pacific"
Mr. Davies had gone to the Australian Archives to track down and write about Section 22 supporting the CIA's mission, and had completely by accident done that leg work for me to figure out who the heck those guys were. As Davies states —
"During 1943-45 a small unit of soldiers from the Australian Army was trained to provide ELINT/EW support in the field, sometimes very close to enemy lines, in order to collect Japanese radar signatures, radar, and radio sets and to warn Allied units of approaching enemy air and sea units."
I have been on the trail of GHQ Section 22 for some time. It was MacArthur's Radar intelligence branch under his Chief Signals officer General Aiken. Section 22 was made up of personnel from Australia, Britain, the Netherlands, New Zealand, as well as the United States Army. Navy and the US Marine Corps. Most Section 22 personnel were AMF and not Americans. So most day to day reports — for instance casualty records — with which you build a unit history, will be in the Australian archives.
The most informative bits on the American side have been in the higher level files of Division 15, Radio countermeasures branch, in the Office of Scientific Research and Development. Which was mainly headquartered in the Massachusetts Institute of Technology.
See: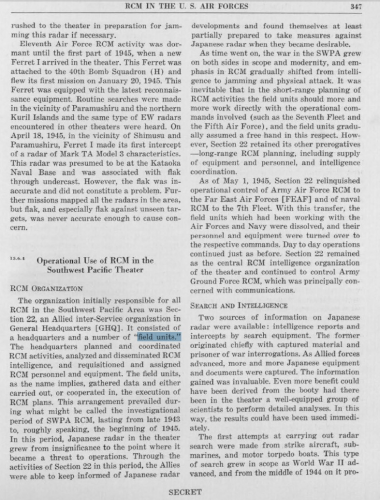 Section 22 had Radio Countermeasures (RCM) schools, various field units, and a traveling RCM unit that dropped radar reflecting foil to train anti-aircraft and fighter director radar crews. Previously I had identified only one numbered field unit of Section 22. Field Unit 13. F.U. 13 was made up of a pair of New Zealand Scientists and a dozen others with 868th Bombardment Sqd. (Heavy) SB-24 "Snoopers" and B-25 radar hunter-killers of 100th Bombardment Sqd. (Medium) both in the 13th Air Force, USAAF.
The Division 15 report There were also as yet unnumbered Field Units with the following:
— 5th Air Force, two B-24 radar sniffing "Ferrets" plus SB-24 snoopers/pathfinders and B-25 radar hunter/killers
— USN 7th Fleet PBY tenders operating a PBY "Ferret"
— Plus an Australian PBY RCM specialist plane in the sea mining raid on Manila in late 1944 that may have been either a field unit or simply a Section 22 trained crew.
Both a Section 22 SB-24 Snooper from the 868th Sqd and the Section 22 US Navy PBY Ferret spotted the Southern Japanese surface battle group in the Battle of Leyte a day or two before US Navy fleet units did. Neither report made it through the US Naval communications bottle necks to Admirals Kinkaid, Barbey, Halsey and Nimitz.
Daves pointed out that "ELINT" or "electronic intelligence" today is all about the tracing of electronic signals not involving communications. Electric power systems and car ignitions are both examples of devices giving off such signals. However, the primary signals that both WW2 Radio Countermeasures operators he wrote about and modern automated ELINT sniffers trace are those of Radars.
Daves article covers the operations Field Unit (F.U.) No. 12 in New Guinea, the Philippines, and Borneo. Between the Long Island (See Map) operation and its later work, the unit evolved from a radio coast watcher type reconnaissance organization into a direct action commando and technical data collection unit.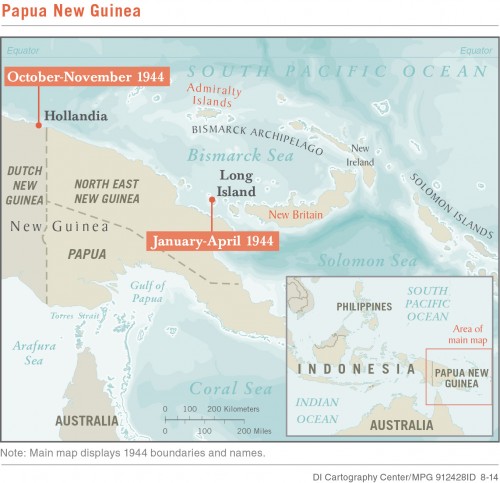 What is particularly interesting is that both Field Unit 12 and it's identical sister Field unit 14 operated through out the Leyte and the Southern Philippines Campaigns tracking and attacking Japanese Radars. This was after the "Canberra Pact" — A joint Australian and New Zealand diplomatic declaration saying America should abandon all the territory it seized in the Pacific — had so infuriated the American Joint chiefs that MacArthur was directed not to include Australian combat troops in the liberation of the Philippines. See my (History Friday: Admiral Nimitz's Kiwi Radars & Power Politics in the South Pacific).
So MacArthur did keep his word to the Australian government that he would use Australian combat troops in the Philippines. He did so for five months (Dec 1944 thru April 1945).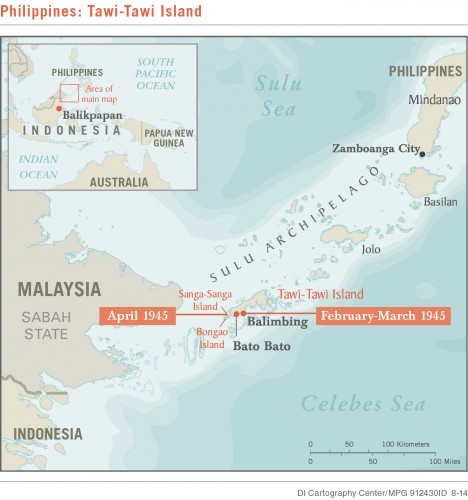 And both MacArthur and the Australian government kept that fact secret for 70 years! But like all good things, even secret promises fulfilled come to an end.
Field units 12 & 14 were hustled out of the Philippines to cover the Australian invasion of Balikpapan, Borneo, in what is modern day Indonesia. Kevin Davies spares a single paragraph to describe what these field units did clearing the Makassar Strait.
I can add a little more. See this Ratel No. 12 map below and compare it to the May 8, 1945 Ratel No. 5 at the beginning of the article: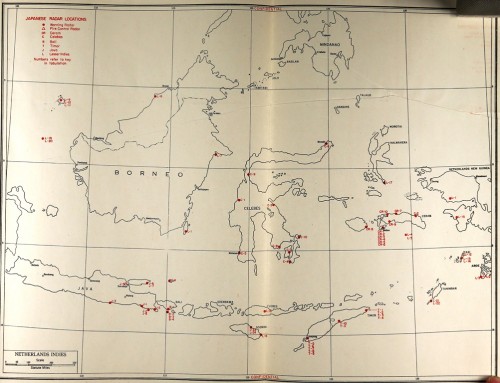 So we end as we began —
Balikpapan boats landed Australian scouts on Amboengi
Ialand, Little Paternoster Group, site of a reported
radar station. A radio tower was strafed end radio sets
demolished.
And we know a great deal more about MacArthur's classified fighting style.