When I wrote "The Ukraine Crisis — Some Background and Thoughts" back in February 28, 2014. I expected the Russian – Ukraine War in the Donbass to be headline news in the American media. It turned out…not so much. The NFL Patriot's deflated footballs and bad mega-blizzard forecasts for the North East United States, among other headlines, seem far more important to the America's media mandarin's quest for advertising dollars.
.
Part of this lack of coverage is laziness. American broadcast networks and cable news services just don't cover foreign news much, as it is a lot of work for low ratings. And when it comes to things that reflect poorly on Pres. Obama, other than Fox News, they are all "UK Guardian reporting on the Labour Party" regards Obama Administration foreign policy failures. Which the war in the Ukraine definitely is. Meanwhile the Russophile "fanbois" are spam-commenting on the Mil-blogs and military-themed forums I follow to the point they are useless. I had given up hope of finding anything useful on the fighting there.
.
Then I ran into the following video from a defense industry guy who is tracking the Donbass fighting…and then I snorted up my coffee…_Violently_.
.
This Ukrainian propaganda video showed not only the fighting, but Ukraine's Viking Revival spawned by the fighting in the Donbass.
.
"100 BIYTSIV." (100 Warriors) – New Ukrainian Propaganda Clip
(Lyrics Nehrebetskiy, Score Telezin, sung by Donchenko)
.
This is a classic piece of war music in many ways reminiscent of WW2, and the video clip is designed to produce that martial effect. It is being propagated by the Right Sector militia via their Youtube portal. The video is a huge viral phenomena in Ukrainian social media, reflected by the fact that the Ukrainian Ministry of Defense placed it on their Facebook page despite very poor relations with the Right Sector.
.
This emerging Ukrainian nationalist cultural revival has huge tactical, operational, and strategic military, plus grand strategic political, implications for the 21st Century. Implications I intend to explore in posts here on Chicago Boyz.
.
If the song sounds familiar when you play the video — it's why I breathed coffee — it should be. The tune of this song is based on SSgt Barry Sadler's "The Ballad of the Green Berets" —
.
.
See for background on Sadler:
.
http://en.wikipedia.org/wiki/Barry_Sadler
.
Too Sadler's Green Berets tune, Nehrebetskiy placed the following lyrics for Ukraine's Right Sector Militia media team:


Flowing / like blood from a blade
across the steppe / in a fine line:
left-handed battle / and the right fight,
death awaits / in the distant blue
.
We go – one family
one hundred warriors and I.
And day by day, over again,
One hundred warriors and one order.
.
Day by day, who knows where
orders take us – and the hundred go.
.
Through the fire / and bullets flying
through coal / and through granite
.
We go – one family
one hundred warriors and I.
And every day, over and over again,
One hundred warriors and one order.
.
With every turn / and crossroads
every fork in the road / so far
So far / your beloved is
waiting back home / you with her
.
By chance / yesterday our destiny
fell upon us / today,
and tomorrow who knows / what will come …
For the Fatherland / I give my life …
.
Tomorrow I, then you
Who knows how, and when we go
to battle we arm ourselves, death to the enemy!
No rest for my feet …
.
We go – one family
one hundred warriors and I.
And day by day, over again,
One hundred warriors and one order.
.
My love, do listen, and do not cry!
He did not die / for our homeland!
Let the enemy die / for our Donbass,
A long road / awaits us.
.
We go – one family
one hundred warriors and I.
And day by day, over again,
One hundred warriors and one order.
.
The video is filled with martial Late Varangian / Kievan Rus / Viking imagery. The very name — 100 Warriors — recalls the significance of the "100" is that the traditional Cossack fighting unit size, a "Sotnia" or "Hundred", in Western terms a "Company".
.
There are the fighting dogs with the troops in repeated images of the militia patrols in the "100 Biytsiv" music clip.
Even the commander of the Ukrainian VDV unit, Valeriy Loginov, Battalion CO, 95th VDV Airborne Bde, Zhytomyr, call sign "Askold", that held the Donetsk Airport Terminal building from July 2014 until 22 January 2015 — When the Russians finally collapsed the building with point blank tank fire that turned it into no-mans land — has a classic Viking style cat picture on his Facebook page.
.
See photo: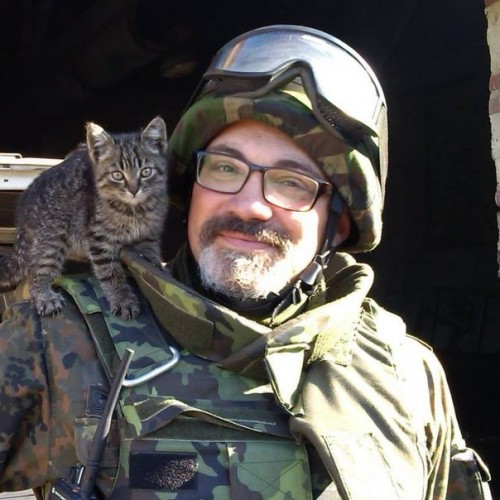 .
And the links:
.
http://en.wikipedia.org/wiki/Askold_and_Dir
http://en.wikipedia.org/wiki/Tale_of_Ragnar%27s_Sons
http://en.wikipedia.org/wiki/Askold%27s_Grave
http://www.vikinganswerlady.com/vik_pets.shtml
http://www.austere.co/the-history-of-viking-cats
.
Then there are the Ukrainian hair cuts —
.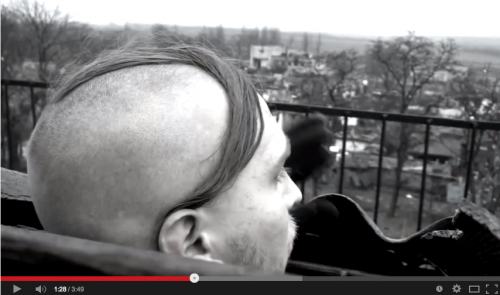 .
There is evidence to suggest this 'sidelock' style haircut has its roots in the Viking era of Ukrainian history. The image below is an 1869 interpretation of a written record, in the "Primary Chronicle", of Grand Prince Sviatoslav I (son of Ingvar and Helga) circa 972AD, AKA the scourge of the Turkic Judaeic Khazar Empire, and well known Viking militarist – http://en.wikipedia.org/wiki/Sviatoslav_I_of_Kiev
.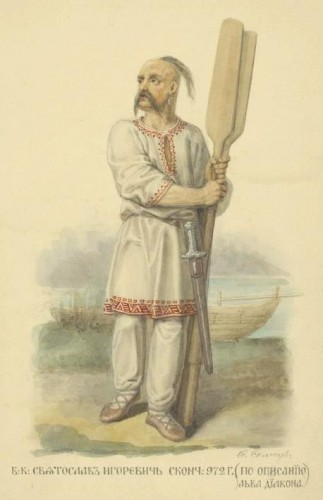 "Sviatoslav's appearance has been described very clearly by Leo the Deacon, who himself attended the meeting of Sviatoslav with John I Tzimiskes. Following Deacon's memories, Sviatoslav was a blue-eyed male of average height but of stalwart build, much more sturdy than Tzimiskes. He shaved his blond head and his beard but wore a bushy mustache and a sidelock as a sign of his nobility."
There are good summaries and forensic analysis here:
http://www.vikingrune.com/2014/03/viking-hairstyles-is-ragnars-haircut-historical/
.
and here:
http://nancymariebrown.blogspot.com.au/2014/02/ragnar-lothbroks-viking-style.html
.
And some other related Viking hair style links:
.
http://www.vice.com/read/todays-vikings-378-v17n3
http://news.yahoo.com/blogs/visit-britain-us/no-thor-losers-test-brawn-beard-york-viking-174722673.html
http://www.battle1066.com/reenact2.shtml
http://www.vikinganswerlady.com/hairstyl.shtml
.
There are even Viking-Cossack warrior imagery in Ukrainian soldier's "NATO legion" badges of honor:
.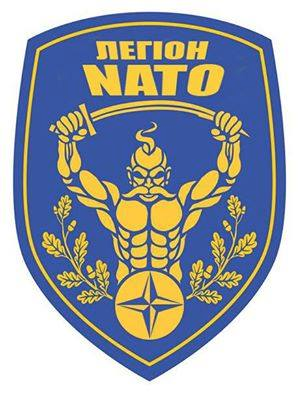 .
My Donbass colleague, an experienced scholar of Soviet/Russian strategy, summed up what he has seen of both the Donbass fighting and the Ukrainian Viking Revival this way:
"Putin let a real genie out of the bottle here. I never understood Ukrainian nationalism until I watched mid 2014 footage of LtCol Andriy Biletsky's Azov Battalion MVD militia swearing in ceremony, where the priest blessed them, and they all to a man pledged their lives to Ukraine – I am now dead, but my spirit will live on, in Ukraine….. I have seen this before – once in a very old monochrome Polish historical movie about the wars with the Mongols circa 1400 AD, and once in some footage of a Japanese kamikaze squadron, swearing their lives to the Emperor.
.
Ukraine is returning to its cultural roots from the Kievan Rus /Viking period, the Cossack period being an extension of that. Community is everything.
.
These people are at heart Viking berserkers – and we have seen it over and over again on the battlefield over the last 9 months. Cornered Ukrainian officers, wounded, surrounded by Russian Spetsnaz, pulling the pins on a string of grenades, to take the enemy with them, which they did on multiple occasions. A Sergeant commanding a T-64B taking on three Russian T-72BV tanks, killing one, chasing off one, and capturing the third. A Mech Brigade NCO commanding a BTR-80 ambushing a Russian T-72BV tank, and like in the movie Fury, from close quarters hammering the tank with his 14.5mm KPVT until he jammed its turret ring, and the Russians ran. Or the seven heroic T-64B tank crews at Mariupol who took on thirty Russian T-72BVs approaching from Novoazovsk, and defeated them. In early July, the pilot of a supersonic Su-24M FENCER D bomber, who took a direct hit in the engine with a Russian MANPADS, extinguished the fire, turned his jet around, obliterated the Russian missile site and crew, and then flew 300 kilometers to safely land his crippled bomber. None of this is an accident, the Vikings were feared across Europe and the Byzantine Empire for good reason, and a great many of the Soviets' best warriors were Ukrainians, including a number of fighter aces in WW2 and Korea, and the most lethal female sniper of all times, Lyudmila Pavlichenko.
.
Strip away the Greek Orthodox religious facade and Slavic language – at heart they are all Varangians, and this oozes out under pressure. The Shield maiden obsession, the extreme group cohesion, the Veche popular gatherings, the "dumpster lustrations" of corrupt officials, the love of all things martial, the love of Viking Mohawk haircuts, the "traditional" embroidered ethnic dress, the love of cats, the Scandinavian style food, the Viking Trizub national symbol, the blue and yellow flag, the patronymics, the list goes on and on and on ….
.
In many ways the Ukrainians are an anachronistic snapshot of the passionate, wild, and free Viking culture, which was wiped out by deeply conservative Lutheran Christianity in Scandinavia. 800 years of Russian harassment, territorial conquest, and 325 years of Russian colonial rule, simply entrenched and froze the original culture. Putin has released that genie, and nobody can put it back into to the bottle."

The Donetsk airport fighting has already given the Ukrainians their Alamo. The Bieletski's Azov Battalion swearing in ceremony mentioned above takes it to a wholly different level.
.
It not only a draws on Ukraine's Viking past, or parallels Kamikaze ceremonies. It echos the old IDF's officer candidate swearing in ceremonies on Masada. Which are both a more modern and a more apt model. That moral socialization was the iron that made the stands of the IDF's Golani and Barak Brigades on the Golan Heights in 1973 possible.
.
The Chief of Staff of the Israel Defense Forces (IDF), Moshe Dayan, initiated the practice of holding the swearing-in ceremony of soldiers who have completed their tironut (IDF basic training) on top of Masada. The ceremony ends with this declaration: "Masada shall not fall again."
.
See my:
History Friday: The 1973 Yom Kippur War…Plus 40 Years
Posted by Trent Telenko on 13th September 2013
https://chicagoboyz.net/archives/38795.html
.
And my colleague just told us above that the Ukrainian National Army and affiliated militias are there in the middle of the Donbass fighting.
.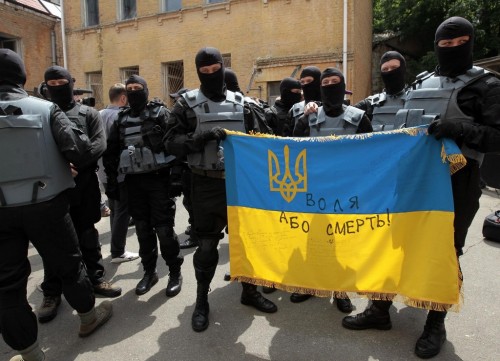 .
This is, as they say, no accident. The commander of the Azov Militia battalion of the Ukrainian MVD (Interior Ministry) Andy Bieletskiy is a military historian by training, his M.A. thesis was on the UPA and its guerilla war against the Russians in WW2. Check out the Azov Viking-style haircuts in this Youtube video of the swearing in ceremony.
.
The Russians are terrified of the Azov. At Mariupol, July 2014 (See: video link) the Azov cleared the Russian proxy force in about 3 days. The Flecktarn BDUs were bought in German disposals shops out of diaspora donations. Note also the backyard made armored trucks with captured NSVs and ZU-23-2 auto-cannon.
.
Today the Azov ride in BMP-1 and MT-LB armored vehicles, and shoot anti-tank guided missiles.
.
Whatever else happens, Putin will not be able to conquer the entire Ukraine and may not even get the Donbass. Putin has created a Ukrainian nationalist monster that will hate Russians for both the great famine of the 1930's under Stalin and now the very raw territorial wound of detached Eastern Ukraine and Crimea.
.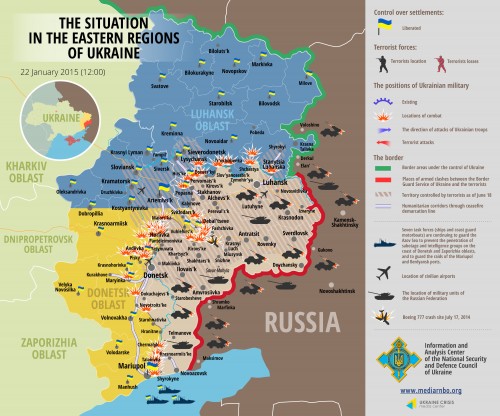 .
Ukrainians will work for a 100 years to get all that back, minus anyone who is visibly, culturally, Russian.
.
The Ukrainians are fighting as a national people.
.
The Russians are fighting as a classic Oriental despotism whose chief objective is to keep Putin in power, whatever effect this has on Russia's long term interests.
.
The following is something from a man who knew a thing or two about revolutions:
"The great majority of revolutions have begun as reactions and
restorations, which allowed the buried desires to awaken."
Cultures with successful revolutions gladly wear the local clothes, sing the local ethnic songs, make the local ethnic food, separate the language from the "mother country" — and then (without admitting that's what they're doing) make up a mostly-new society.
.
It's what the Netherlands did in the 1500s.
.
It is what the USA and France did in the 1700s.
.
More recent examples include Japan, Italy, Mexico, Turkey…and that revolution Trotsky got mixed up in and that Putin saw collapse in 1989.
.
And if the Ukraine succeeds, in 100 years you won't be able to convince a Ukrainian that there was ever not a Ukraine.
.
This Ukrainian Viking Revival will be the defining event of the early 21st Century.