About 18,000 years ago, the Earth began to warm substantially. That was a really big deal, because the Northern Hemisphere was in an ice age. As much as 2 mile (~ 3-4 Km) thick ice sheets blanketed the northern continent. Because so much of the global water supply was locked up in ice, sea level dropped 350 feet (~ 120 m) and beaches and coastlines would have been miles further offshore than their current locations. Coastlines on the Atlantic Seaboard, and presumably globally, contain buried river channels cut deep into the continental shelf. During the Ice Age they weren't buried, they were river valleys to then more distant shorelines.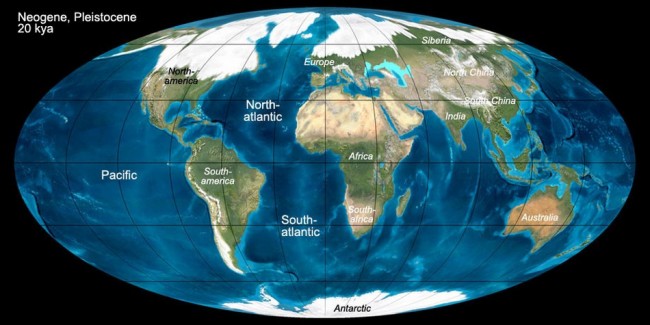 A wide lobe of the Cordilleran Ice Sheet crept across the valley of the Clark Fork River, eventually shutting off the flow completely, while the river pooled into the vast watershed behind it, including Missoula Valley, Flathead Valley, Thompson Valley, Mission Valley and Clearwater Valley. By 15,000-17,000 years ago the lake that was created, Glacial Lake Missoula, exceeded 2,000 feet (~ 600 m) in depth, had a surface area of ~3,000 square miles (6,500 Sq Km), and held 600 cubic miles (2,500 cubic Km) of water, as much as Lake Erie and Lake Ontario combined.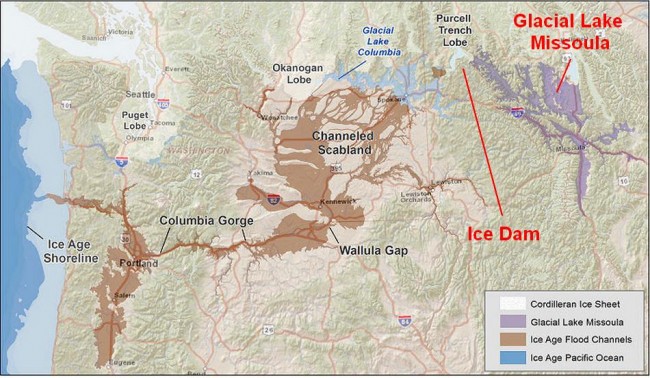 At some point the dam failed. The mechanism is speculative, by probably resulted from high pressure water undercutting the ice, exploiting cracks, fractures and joints in nearby rock in a process called piping, and pressure supported uplift of the of the ice sheet. However it happened, when it failed one of largest freshwater floods in the history of the world cascaded out of Montana and across parts of Idaho and eastern Washington, finally emptying into the Columbia River and eventually the Pacific Ocean. In the process, those regions were almost completely denuded of soil, then had had the bedrock stripped hundreds of feet deep, leaving behind a vast, interconnected series of flat bottomed canyons known as 'coulees' and a barren, despoiled, almost lifeless region known as The Channeled Scablands.
Liquids have some interesting properties. One of them is that as they become more saturated with entrained solids and so become denser, they are able to support heavier objects in their flow. Boulders have been known to surf along sitting on top of lahars, volcanic mudflows initiated by erupting volcanoes. So as the flood becomes more turbid, it can lift heavier rocks. The pressure it exerts on objects increases as the square of its velocity, so water moving 4 times faster exerts 16 times more force. So a dense flow that is moving very fast can move enormous pieces of rock and debris.
Another property is that water velocity is a function of pressure and area through which it can move. If a large flow moves through a constriction, the velocity will increase. Likewise, when a constriction opens up to a larger area, the water can get the same flow (same total quantity, or Q) by moving more slowly but over a larger area. And since the velocity drops at these spots, the force the water can apply drops by the inverse square. If the velocity drops to 1/4 of what it was, then it drops all rocks heavier than 1/16 of what it was carrying before. That's how bars form in rivers. They occur at an area where the water velocity suddenly drops, usually because it's just downstream of a constriction (or a change in gradient). The water can spread out and so slows down. The heavy rocks get dropped right there. It can't move them any longer. Another place bars form is in side areas along the flow, coves for example, where water can flow to but can't flow through, at least flow through quickly. This happens especially during rare, very high condition flood events when banks are overtopped and turbid, debris charged water is flowing over areas that never see flow. As the fast flowing water moves into these areas and finds spots where it can pool or it gets blocked, it slows down quickly, dropping all the entrained rocks and debris. These are called flood bars. The size of the flood bars left behind by the Missoula Flood(s) are gargantuan. Stream gulches along the path completely filled with rock. Areas adjacent to and just downstream of constrictions are mountain sized piles of rock originally stripped upstream.
A third property are the vortexes that can form in water where two streams of water moving at different speeds merge together. Along the wall of two flows, shear forces occur, spinning off tornados in the water. At the base of the tornado, pressure differences produce billions of low pressure bubbles that collapse almost immediately after they form in a process called cavitation. Each collapse produces a tiny shock wave, but billions of them per seconds generates a tremendous amount of energy focused at the base of the vortex. Acting like a hammer drill, it shatters the surface of the rock. Potholes or kettles get drilled straight into the rock under the vortex. The potholes produced in the Missoula Floods are 50 feet (~16 m) deep. That's a five story building. Into rock.
A final property that's interesting is that when a fluid flows over a surface with a different density, waves are produced along the boundary layer. We see this when wind flows over the surface of the ocean. We also see it when either wind or water flow over fine sand or silt. The wave pattern gets imprinted into the surface as current ripples.
Here's Nick Zentner of Central Washington University giving an overview of the local geology of the Scablands and the features of the Missoula floods:
I've only scratched the surface of this whole fascinating story. Here's some further information:
Bretz's Flood
Huge Floods
The Ice Age Floods Institute (IAFI)
Floods of Lava & Water
Also, look in the Lake Bonneville flood, which may the record holder for the largest freshwater flood ever.