In 1950, amidst the UFO hoopla that was sweeping the world, Italian physicist Enrico Fermi posed a simple question, Where are they? By that he meant with lots of people making the argument that in a universe full of stars presumably with planets there should be lots of intelligent life out there. That seems plausible. So, he wondered, how come there isn't a shred of evidence for it? After all, if we lived in a city full of people, wouldn't we see them or at least see evidence of them being there? So why don't we?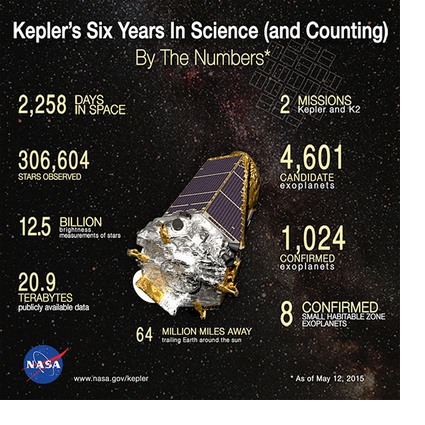 In 1961 astronomer Frank Drake, interested in that very question, made an estimate of how many intelligent civilizations should exist inside our galaxy. The Drake Equation has seven terms, each a guess, from how many stars are born per year and how many of those have habitable planets through how many of those planets have developed technologies (like radio) that allow them to be detected. In 1961 there was not enough data to give reliable estimates to any of the terms. In the intervening 50 years we've accomplished enough basic research to apply actual values to the first few terms.
The Milky Way produces about seven new stars per year. Virtually every star forms within a disc of gas and rock/metal dust called a protoplanetary disc that eventually condenses into planets. According to research derived from data collected by the Kepler spacecraft, at least 22% of Sun-like G type stars have an Earth-like planet in the habitable zone, the habitable zone being defined as the distance at which water neither boils off or is continuously frozen. Result: the number of habitable Earth-like planets in the Milky Way is at least 50 billion.
Stars are not all the same, they come in a range of sizes and temperatures. The large hot ones, the OBA blue giants, burn through their hydrogen fuel very quickly and so have short life spans. At the other end of the range are the M type red dwarfs, the fuel efficient econo-cars of stars, which live for so long that not a single one since the birth of the universe has yet died. And like everything in nature, when given a pile of stuff from which to make things, you will make a lot more small things from the same amount of stuff than large things, so there are many, many times more red dwarf stars than blue giants, and that number goes up continuously since they keep on living while the blue giants burn through their fuel at a rapid pace, collapse, and then detonate into supernovae.
Why does that matter to this question? Because every red dwarf with planets in the habitable zone born since the formation of the universe has had all that time to develop life and intelligent civilization. Red dwarf stars form 76% of all main sequence stars, Sun-like stars form about 7% and all three types of blue giants together less than 1%. From an odds point of view, planets circling red dwarf stars are the most likely place to find intelligent life.

One thing to consider in the search for extraterrestrial intelligence (SETI) is that should we ever locate another intelligent civilization it will most likely be more advanced than we are. Consider, there are three possibilities:
1. They are less advanced and have not developed technology like radio. If we locate a planet with life that is not technologically advanced, we will do it by analyzing the spectra of their atmosphere for things like oxygen. How else would you even find them if they are not emitting radio waves or other form of energy that indicate intelligence?
2. They are exactly advanced as we are. Considering the age of the universe, the likelihood of our randomly locating another civilization at the exact same level of development as us is extremely small.
3. Since we have just reached the point where can even begin searching, if we encounter another civilization it will almost certainly be one that is more advanced, one that developed radio and spaceflight hundreds, thousands or even millions of years ago.
Seth Shostak is an astronomer and the current director of the nonprofit SETI Institute in California. He has spent much of his career involved in SETI research and believes that, despite the glaring failure of 50 years of SETI to produce a smidgen of evidence, that the numbers are too compelling to be wrong. Maybe we're not looking for the right things. Or maybe life spends only a short time as protoplasm before developing machine-like replacements for themselves. Maybe ET is a machine.
The Fermi Paradox: Why Are There No Tourist from Other Worlds?
Preparing for Discovery: A Rational Approach to Finding Life Beyond Earth