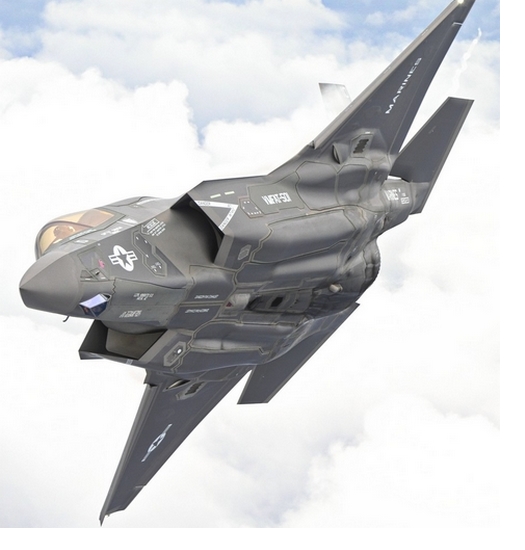 The F-35B reached initial operational capability (IOC) with US Marine Corps in July of 2015. There are three models of this aircraft, the conventional takeoff and landing (CTOL) F-35A which will reach IOC with the USAF this year, the short takeoff and vertical landing (STOVL) F-35B, and the folding wing, heavy airframe, carrier version F-35C, which is due to reach IOC with the USN in 2018. Evolved from the JSF competition prototype, this aircraft is due to replace the F-15, F-16, F-18, AV-8B, and for some CAS missions the A-10, although there are rumors the USAF is considering opening a competition to replace the A-10 with a new aircraft.
Currently the aircraft is nearing the end of the test and evaluation phase and is in low-rate initial production. Lockheed is preparing to ramp up to full rate production in the near future at its massive Fort-Worth aircraft plant. To say this aircraft is controversial is an understatement and it has been the target of enormous criticism, speculation and western leftist and Russian disinformation campaigns. Probably the most egregious lie told is that $1.5 trillion has been spent on aircraft development thus far. In reality, around $1 trillion is the estimated total cost of ownership for the entire US buy of 2500+ aircraft for 50 years. That includes purchasing all the aircraft, bases, schools, pilot training, tech training, maintenance and spare parts. Politics and disinformation warfare being what it is though, the number increases whenever convenient just to increase its scariness and to make it seem as astounding as possible. It turns out, however and unsurprisingly, that if those numbers are run for any fighter aircraft you get similar or greater costs over that timeframe.
The aircraft has two flying configurations: all ordnance stowed internally in full stealth mode, and externally mounted stores, for when stealth is not a requirement but maximum carrying capability is. Stealth would be used in the first days of combat when radars and SAMs and other aircraft are threats. Once those threats have been degraded or eliminated, or in places like Afghanistan where they are not a threat, then the aircraft can be loaded with bombs and missiles under the wings.
The basic design goals of the aircraft were that it have the handling and maneuverability of an F-16, the bomb load and range of an A-7 Corsair, while having the stealth of an F-117 or F-22. That's a pretty tall order, combining the weapons load of a dedicated light bomber with the handling of a dedicated air superiority aircraft. One requires a heavy duty fuselage and large fuel tanks and the other a light frame with small tanks. What they got was something that handles like an F-18 but with better range, has a larger bomb load than an F-16 but less than an A-7, and apparently better stealth and sensors than an F-22, though it's less maneuverable and not as fast. Not a bad result really. In production it will be 1/2 the cost of an F-22 or Eurofighter Typhoon and about twice an F-18E Super Hornet. The fact it is not super maneuverable like an SU-27 through SU-35 series or F-22 and has a top speed of only mach 1.6 has been a point of criticism as well. However, Both of these issues are waved off by the fighter pilot community as non issues. The reason is this is not 1945, or even 1965. Top Gun aside, dogfights are a thing of the past, 'furball' gunfights just don't occur anymore. Sensors and missiles have evolved to the point that if you're inside the kill zone of a high maneuvering, high g, mach 3-4 missile, you're not getting away. You can't out turn it, you can't out burn it, you can't outmaneuver it. The way you survive on a modern battlefield is to not get yourself into that zone, either from SA-300-400 SAMs or from whatever the opposing aircraft is carrying. Modern missiles, like modern bombs, are very bad news. USAF analyses from Red Flag and battlefield encounters from the two Gulf wars have determined that aircraft are generally killed by other aircraft they were unaware of or missiles they could not escape. That's where we get the F-35. While it appears to be conventional on the outside, it's a flying supercomputer of sensors and communications and data handling electronics that, counterintuitively, is designed to minimize the number of ways it can be seen or tracked.