Little noticed by many, but SpaceX has moved another step towards a Mars landing (from Nasa Spaceflight).
SpaceX has entered into an agreement with NASA for a Dragon mission to Mars, set to take place as early as 2018. Known as "Red Dragon", the variant of the Dragon 2 spacecraft will be launched by the Falcon Heavy rocket, ahead of a soft landing on the surface of Mars. The mission is also part of an agreement with NASA to gain further data on Mars landings.
Getting mankind to Mars was the original purpose for the creation of SpaceX. Everything they have done, from building the Falcon rocket to creating the commercial launch service, has been to lay the technological and financial foundation for putting people on Mars, permanently. The next developmental step is to build and test the Falcon Heavy, a three booster version of the Falcon rocket.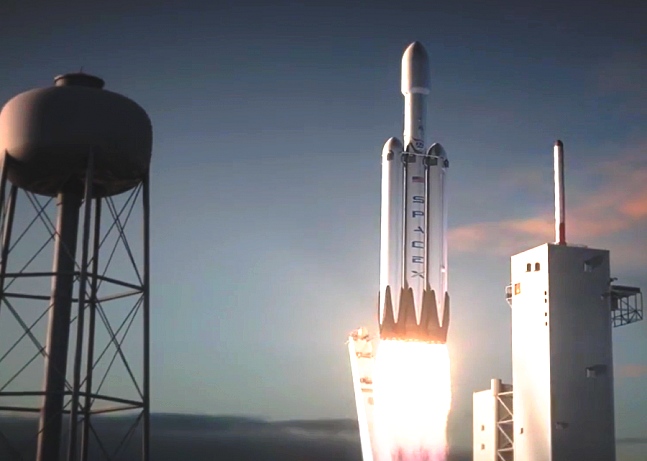 Falcon Heavy will generate over 5 million pounds of thrust from 27 Merlin engines (9 engines x 3 cores) and have a payload of 119,000 lb to LEO and 30,000 lb to Trans-Mars Injection orbit (TMI) and 26,000 lb direct to Mars. Launch cost, minus payload, is expected to be around $90 million. According to Elon Musk, "Falcon Heavy will carry more payload to orbit or escape velocity than any vehicle in history, apart from the Saturn V moon rocket." Falcon Heavy is expected to debut this year and make its maiden voyage from Vandenberg AFB. According to their agreement with the USAF, certification to carry national security payloads will occur after 3 successful flights and 2 successful consecutive flights.
Early payloads to Mars, including supplies and habitats, will be carried in the Dragon V2 spacecraft which will make propulsive landings on the surface. Dragon V2 is capable of carrying up to seven passengers, but has an interior volume comparable to an SUV, so it would not be suitable for a long duration journey. For that we will need something that is notionally called the Mars Colonial Transporter. It will carry sufficient supplies, living spaces, eating spaces, and everything required to support a crew of 5-10 people for the 3 month journey. The current SpaceX timeframe for putting its first 'colonists' on Mars is the mid 2020's, so an MCT is not required for another 10 years. NASA, meanwhile, has begun planning for an upgraded Deep Space Network communications system in order to support increased human and machine activity at Mars as well as support increasingly capable and communications intensive space exploration missions. NASA itself is in the planning and development stages for its own humans on Mars missions sometime in the mid 2030's and has undertaken the design of the Space Launch System (SLS) as a means to accomplish that and more.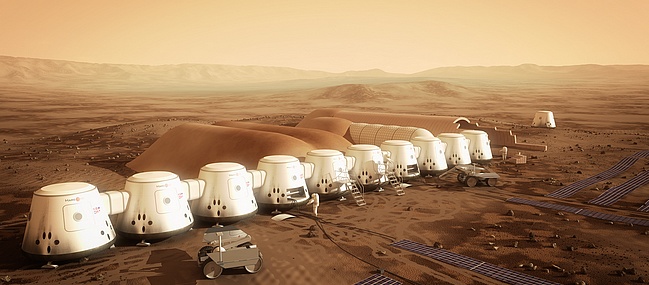 For timeline comparison, consider this Illustrated History of the Saturn Program which even included a concept to return and recover the boosters on paraglider chutes:
1957 ~April
In April 1957 the scientific organization directed by Dr. Wernher von Braun began studies which led to Saturn, America's first rocket developed for space investigation. The team at Redstone Arsenal, Alabama, hoped to design launch vehicles that could carry 20,000 to 40,000 pound payloads for orbital missions or 6,000 to 12,000 pound payloads for escape missions. High-thrust booster stages were essential.
December
In December 1957 the von Braun group, then working with the Army Ballistic Missile Agency (ABMA), proposed a program to the Department of Defense (DOD).1 At that time the United States was considering an integrated missile and space vehicle development program. Creation of a booster with 1,500,000 pounds of thrust was the aim of the proposed program.
1958 ~ August
On August 15, 1958, the Advanced Research Projects Agency (ARPA) formally initiated what was to become the Saturn project. The agency, a separately organized research and development arm of the Department of Defense, authorized ABMA to conduct a research and development program at Redstone Arsenal for a 1,500,000 pound thrust vehicle booster. A number of available rocket engines would be clustered. This design would be tested by a full-scale static firing by the end of 1959.2
Catch that? Concept to initial test firing of a 1,500,000 pound thrust vehicle booster in two years. That was early NASA. That's when NASA was run by scientists and engineers and staffed by technicians who were veterans of WWII weapons and aircraft development and early jet aircraft development. They conceived an idea, refined and designed it, then went out about building and testing it right away. That approach is how we went from monoplanes to the SR-71 in twenty years. That is how we went from an idea for a heavy lift space vehicle in 1957 to men walking on the moon in 1969, twelve years later. SpaceX is run by the kind of people that used to run NASA. And the development work is paid for by the profits from the commercial side of their business.
Links:
The Saturn Propulsion System (video) – Interesting video from MSFC, 1962
Bonus link – Here's a panning video of the CRS-8 first stage returning the droneship. Pan up to watch the booster descending to the ship. :-P