Dallas just suffered the largest law enforcement mass murder since 9/11/2001.  To date, there have been 14 people reported as shot, 12 law enforcement and two civilians.  Five of the law enforcement offices who were shot have died.  One Dallas Area Rapid Transit officer and four Dallas Police Department officers were murdered.
The murders occurred during a 7pm to 9pm Black Lives Matter associated protest (the association is disputed) in down town Dallas.
The chilling execution of a law enforcement officer was caught on digital video and broadcast by the Dallas Fox News affiliate whose vantage point is on the map below.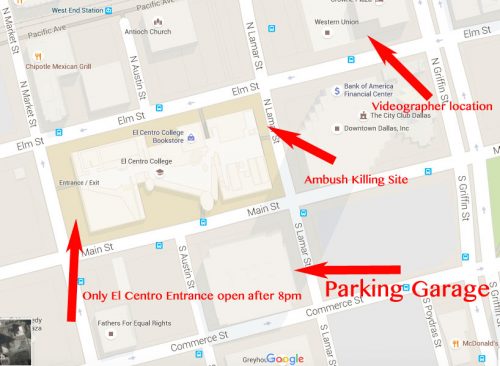 As I worked a few blocks away from the shooting scene until last week, this hits close to home.
The usual caveats about you cannot trust any reports — other than the casualty count — in the first 24 hours apply.  These seem to be the best reports to date:
Dallas mass shooting is the deadliest attack on law enforcement since 9/11
http://www.dailymail.co.uk/news/article-3680503/Dallas-mass-shooting-deadliest-attack-law-enforcement-9-11.html
.'He wanted to kill white people, especially white officers': Police kill sniper after twelve cops were shot – and FIVE killed – during furious nationwide protests over U.S. police shootings of two black men that ended in a four hour stand-off
http://www.dailymail.co.uk/news/article-3680097/Protests-sweep-nation-thousands-demand-justice-Alton-Sterling-Philando-Castile-black-men-shot-dead-police.html
.
'Shots fired, shots fired, officer down': Videos show the shocking moment all hell broke loose during deadly Black Lives Matter protest in downtown Dallas
http://www.dailymail.co.uk/news/article-3680380/Shots-fired-shots-fired-officer-shocking-moment-hell-broke-loose-deadly-Black-Lives-Matter-protest-downtown-Dallas.html
.
Terrifying moment brave cop's bullet bounces off armored vest of Dallas gunman who then shoots the officer in the back before executing him at point-blank range with assault rifle
http://www.dailymail.co.uk/news/article-3680284/Terrifying-moment-brave-cop-s-bullet-bounces-armored-Dallas-gunman-knocks-executes-officer-point-blank-range.html
There may be updates as events require.
UPDATE:
The Dallas EOD robot- bomb terminated perp has been identified as Micah X. Johnson via the Los Angeles Times and CBS News report.
See also:
http://heavy.com/news/2016/07/micah-xavier-x-johnson-dallas-police-shooting-sniper-gunman-shooter-suspect-name-identified-photos-facebook-video/