One of the important things to know about General Douglas MacArthur was that almost nothing said or written about him can be trusted without extensive research to validate its truthfulness. There were a lot of reasons for this. Bureaucratic infighting inside the US Army, inside the War Department, and between the War and Naval Departments all played a role from MacArthur's attaining flag rank in World War 1 (WW1) through his firing by President Truman during the Korean War. His overwhelming need to create what amounts to a cult of personality around himself was another.
However, the biggest reason for this research problem was that, if the Clinton era political concept of "The Politics of Personal Destruction" had been around in the 1930s through 1950s, General Douglas MacArthur's face would have been its poster boy. Everything the man did was personal, and that made everything everyone else did in opposition to him, "personal" to them. Thus followed rounds of name calling, selective reporting and political partisanship that have utterly polluted the historical record and require research over decades to untangle.
A case in point is the December 8th 1941 attack on Clark Field and the massacre of the American B-17 force.  This 2007 article by Michael Gough titled "Failure and Destruction, Clark Field, the Philippines, December 8, 1941″ is a good example of the accepted narrative of the Clark Field attack.
The real reason we lost those planes on Dec 8th 1941 was American bad luck, delusion and political ghost dancing meeting a very well prepared Japanese enemy.  Luzon was too close to the center of Japanese air power for the Far Eastern Air Force (FEAF) to survive.  Nothing MacArthur did or didn't do would have made a real difference in that outcome.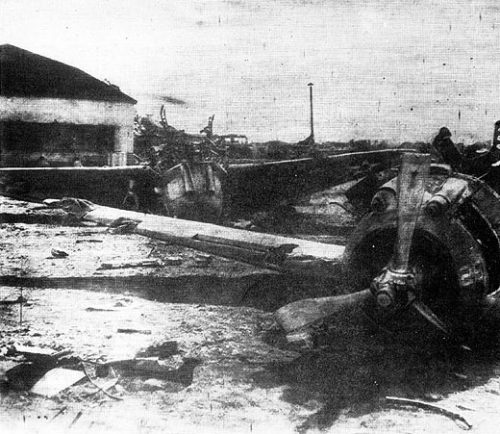 The following was posted to the Academic H-War listserve back in late May 2012 and addresses the timing of the raid on Clark and Iba fields Dec 8th 1941 —
"Hi Gang
I've refrained from commenting on this thread because of the subject's
complexity, the dearth of primary documents, and a desire to avoid
replying to endless questions, but I will make a bit of an effort here:
From 0330 until 1014, HQ USAFFE specifically denied Brereton permission to
launch his bomber force at Clark (19 B-17s) against the Japanese
facilities on Formosa and did not allow him to speak directly with
MacArthur either in person or on the telephone.
FEAF dispersed the bombers to holding positions in the air at about 0800
to avoid an attack expected that morning. Most of the bombers were in the air
most of that morning.
MacArthur gave Brereton permission to attack Formosa during a telephone
call at 1014, and Brereton recalled the dispersed force which began landing
about 1100.
It took two to two and a half hours to refuel, load bombs, and prepare an attack,
thus FEAF's aircraft were on the ground at about 1220 when the Japanese air
forces, delayed by fog on Formosa for roughly five hours, reached Clark.
USAFFE persistently denied Brereton's efforts to conduct reconnaissance of
Formosa prior to 8 December, but the 19th Bomb Group's target files
apparently contained enough information that, although dated, made an
attack on Formosa more than just a thrust into the unknown.
Who ignored MacArthur's chain of command and in what way?
I am still working on my biography of Lt. Gen. Lewis H. Brereton.
Hopefully, it will get done.
Cheers,
Roger G. Miller, Ph.D., GS-14
Deputy Director
Air Force Historical Studies Office
HQ USAF/HOH
Joint Base Anacostia-Bolling
Washington, D.C. 20373-5899"
So the Far Eastern Air Force (FEAF) took precautions to protect their B-17s from a dawn Japanese strike on Dec 8, 1941, but as Dr. Miller mentioned, they landed out of fuel just in time for the delayed-by-fog Japanese naval air force strike from Tainan Airfield, Formosa.
And even if by some miracle the B-17s had survived that day, they were being protected by American P-40 fighters that could not fly over Japanese airfields on Formosa, facing better Japanese pilots in better fighters, including the A6M Zero, that could fly over American airfields on Luzon.  American P-40 fighters that also lacked the radar- and telephone-based Battle of Britain style integrated air defense system to warn and direct them to Japanese air attacks.
More modern evaluations — AKA less colored by immediate post-war reputation protection and organizational agendas — of the FEAF performance are more telling.
The best look at that I have seen on that debacle is in Chapter 10 of Why Air Forces Fail: The Anatomy of Defeat, edited by Robin Higham and Stephen J. Harris, which evaluated the real readiness of the Far Eastern Air Force on Dec 8, 1941. That essay, titled "The United States in the Pacific" by Mark Parillo, addresses the FEAF Philippines performance starting at page 296.
The bottom line was that the B-17 force at Clark field did not have:
1) The intelligence to effectively strike Formosa airfields with the limited number of bombs available at Clark Field. There were no pre-war overflights of Formosa, no human intelligence and thus no intelligence photos for inexperience photo interpreters to work from,
2) The B-17 did not have the accuracy to strike ships at sea. See B-17
performance per pre-war doctrine at Midway, but unknown at the time,
3) Nor did the B-17 force have the logistical chops in its supporting fighter units — which lacked coolant for high altitude operations, had no way to put oxygen into their low pressure O2 tanks and were so short of .50 cal ammunition for its P-40s that there was no test firing of guns until combat commenced — to conduct escorted strikes at the B-17s normal operating altitudes anywhere within P-40 range,
5) The B-17 force at Clark Air field were pre B-17E models lacking tail guns and powered turret guns. Thus they were dead meat for Japanese A6M Zero/Zeke fighters with 20mm cannon on Formosa (See http://en.wikipedia.org/wiki/B-17_Flying_Fortress_variants and the photo below),
6) There was no effective early warning system at Clark Field, as then Captain Chennault's exercise-tested-as-effective telephone, radio & binocular equipped ground observer system was drummed out of the Army Air Service (along with his person) as a threat to the heavy bombardment clique's B-17 budget.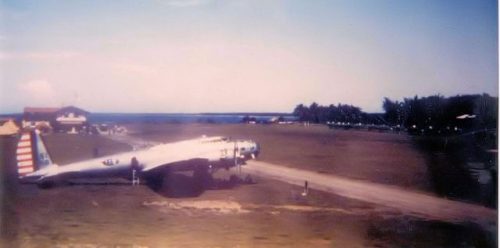 The pattern of Axis versus Allied air power in WW2 was that the two major Axis powers had made the transition to 1st-generation piston-engined monoplane fighters & bombers, and it took a year of these more advanced aircraft being in service before they could be used to best advantage in terms of proper logistics.
Then it took further months of combat to get proper tactical doctrine for this new equipment.
Germany had the Czech crisis, Spain and Poland to iron these things out before the main event in the Battle of France.
Japan had the Sino-Japanese War starting in 1937, plus major border incidents with Russia, before dropping down on the FEAF at Clark Field.
Clark field was too close to a modern, combat tested Japanese Air Force to survive and nothing Gen MacArthur did or didn't do would have changed that outcome.
Both the blame-MacArthur line on the loss of the FEAF at Clark field, and the USAAF's "If only the B-17's struck first" propaganda defending General Hap Arnold's and General Marshall's reputations post-war, just are not supported by the facts.
Here are some figures of merit on B-17 WW2 combat performance, and points of USAAF doctrine/technology for consideration in the MacArthur's FEAF debacle.
First figure of merit:
To hit one 60 ft. x 100 ft. target in WWII required 1500 B-17 sorties
carrying nine thousand 250 lb bombs because they had a circular error
probability of 3300 feet. [1]
Circular error probability is defined as 50% within the CEP circle
around the target and 50% landing somewhere else outside it.
That level of performance assumed,
1) Good daylight visibility and
2) Good target contrast from the background to achieve a good aim point.
A second figure of merit:
There were nineteen B-17s available to the FEAF at Clark Air field
with a maximum payload of 12 x 500 lb bombs for a total of 228 bombs
in one 19 sortie mission.
Point in fact; the FEAF B-17s only had 100 lb and 300 lb bombs to
work with. [2] And this was 12-15 months before USAAF armorers got
around to placing multiple lighter bombs on the B-17 500 lb. bomb
stations.
The Norden bomb site could only be set for one kind of bomb at a time,
so either different planes in the same formation carried different bomb
loads and dropped at different times, or mixed loads were used with
guaranteed misses for part of the load.
A third figure of merit:
The Japanese naval airfields on Formosa were fogged in, which was why their strike
arrived so late in the day at Clark field Dec 8, 1941.
It was years before the US Military deployed radio beam navigation for
night/bad weather bombing (LORAN) and it was February 1944 before the
H2X (AKA "Mickey set" or more properly the AN/APS-15) 3cm airborne
radar arrived in USAAF service in UK based B-17's to aim bombs through
clouds and murk. [3] This also leaves out considerations of upper
level wind patterns over Formosa.
There was no effective way in 1941 for FEAF B-17's to deliver their loads
of bombs through fog on Formosan airfields, to get in the first punch,
even if Macarthur had said yes sooner.
A fourth figure of merit:
The following is a partial list of Japanese military airfields on Formosa. [4]
Okayama Airfield
Shenei, Shoka
Tainan Airfield
Japanese airfield
(Home of 84 A6M2 Zero/Zeke fighters & 100 bombers used 8 Dec 1941 at Clark Field)
Kaohsiung (Takao)
Harbor and airfield
Toko Airfield
Japanese airfield
Toshein Airfield
Japanese airfield
Toyohara Airfield
Japanese airfield, located in the central portion of the island
Koshun Airfield
Japanese emergency airfield
Matsuyama Airfield
Japanese airfield
Karenko Airfield
Japanese airfield
Shinchiku Airfield [5]
Japanese wartime airfield
Koryu Airfield
Japanese wartime airfield
Anyone who thinks nineteen pre-B-17E model Flying Fortresses in December 1941 could make a meaningful dent in the above Japanese airfield infrastructure on Formosa, given that B-17 force's technical limitations, and the efforts in terms of sorties that the 5th Air Force put into suppressing Formosan airpower in the anti-Kamikaze campaign of March thru June 1945, is trafficking in delusion. [6]
December 1941 B-17 Realities
In matters of doctrine and technology,
1) The B-17 pre-war doctrine called for unescorted daylight, high
altitude formation attacks with tight pattern bombing.
2) B-17s with the FEAF could not hit targets using pre-war doctrine
because there were not enough of them to implement that doctrine.[7]
3) The 19th Bombardment Group B-17s could not operate at lower altitudes where they could hit targets, due to defensive firepower weakness (no tail gun!) and poor logistical issues with the available P-40 fighters. The P-40, as the first in-line, liquid-coolant-engine monoplane fighter in US service, suffered from a general shortage of ethylene glycol coolant in the FEAF, .50 Cal ammunition shortages and self-sealing fuel tank maintenance issues.[8] [9]
4) The 19th BG B-17s lacked the pre-attack intelligence to properly plan the attack on Formosa, including where to set up initial points in their runs to targets, and had no dedicated battle damage assessment capability to support them for any attacks made. Point in fact, General Brereton requested several times of MacArthur permission to send high altitude B-17s over Formosa to get that photo intelligence prior to Dec 7th 1941. Not wanting to start a war, against stated American National Security policy, prior to the arrival of his scheduled reinforcements, MacArthur turned Brereton down flat.
5) And finally Clark Air Field lacked an effective early warning and integrated air defense system to enable B-17s to avoid counter-air attacks by Japanese planes. (Which ECHOES OVER THE PACIFIC made clear).
Given all of the above, there was little if anything that General MacArthur could have done or failed to do to avert the debacle that befell the FEAF.
Policy Background
The B-17 force was sold as a high value "force in being" to the American high command and General Marshall in particular ,such that it made the force's commitment without a clear high-value target — like the expected Japanese invasion convoy — a non-starter, given a lack of clear targets on Formosa.
The B-17s were billed a strategic force in being not to be committed lightly. MacArthur didn't commit them lightly and got his head handed to him.
In 20-20 hindsight, the best option after skipping on the dawn launch of Dec 8th would have been to disperse the B-17s and many P-40s to Mindanao for a try on Dec 9th.
But had MacArthur dropped his B-17s on Formosa Dec 8th, swarms of vengeful A6M Zeros would have clawed them out of the sky on their return trip to Clark field — which they could have done, as they were both faster than B-17s and had the range to trail them all the way to Clark Field — MacArthur would have been dinged for committing them before he knew what he was up against.
Sometimes everything you do is wrong, including nothing.
Such was the case for MacArthur on Dec 8th 1941.
There was no way that the FEAF could survive in range of Japanese air power on Formosa in 1941, and it didn't.
Nothing MacArthur did, or didn't do, would have changed that outcome.
The only thing that would be different, had MacArthur said Yes to a
B-17 raid on Formosa hours sooner, was the place where those B-17s
would have died.
Notes:
[1] "Effects-Based Operations" Col Gary Crowder, Chief, Strategy,
Concepts and Doctrine Air Combat Command. See Document Link:
http://www.au.af.mil/au/awc/awcgate/dod/ebo_slides/030318-D-9085-024.pdf
[2] See the "MacArthur's Pearl Harbor" section at
http://www.homeofheroes.com/wings/part2/00_infamy.html
[3] See http://en.wikipedia.org/wiki/LORAN and
http://en.wikipedia.org/wiki/H2X_radar
[4] See: http://www.pacificwrecks.com/provinces/formosa.html
[5] The following link shows B-25 Mitchells using 5th Air Force low-
level airdrome attack techniques on the Shinchiku Airfield complex in
April 1945 — http://shulinkou.tripod.com/dawg2e.html
[6] See the 5th Air Force's 1945 Formosa campaign history at
http://www.ibiblio.org/hyperwar/AAF/V/AAF-V-16.html
[7] See pages 28-29 of "A War of Their Own: Bombers over the Southwest Pacific" by
Matthew K. Rodman (2005, 184 pages ISBN: 1-58566-135-X, AU Press Code:B-96)
Air University press offers the PDF version at no cost at this link:
http://aupress.au.af.mil/digital/pdf/book/b_0096_rodman_war_of_their_own.pdf
[8] See: Doomed at the Start: American Pursuit Pilots in the Philippines,
1941-1942 (Williams-Ford Texas A&M University Military History
Series) William H. Bartsch
[9] Exploding Fuel Tanks –The saga of technology that changed the course
of the Pacific air war Self-published by Richard L. Dunn (2011,
ISBN: 1450773052) See:
http://explodingfueltanks.com/pdf/ExplodingFuelTanks-chapter1.pdf)