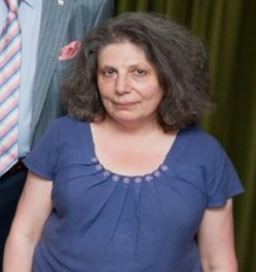 Helen Szamuely (Image taken from Pete North's blog.)
We learned belatedly of Helen Szamuely's passing.
Helen was a historian, an English patriot — a founder of what was to become the Brexit movement, a researcher, literary critic, public intellectual and political commentator and prolific writer.
The Telegraph's obituary is a bit harsh (perhaps payback for deserved slights) but gives some background. Richard North, Helen's long-term collaborator on the great EUReferendum blog, has kind and interesting remarks about Helen, and a video of Helen speaking, here. Richard's son Pete shares thoughtful reminiscences about Helen here. She was prominent in London conservative political and intellectual circles but those of us "across the pond" had to make do with her online presence. I wish I had met her in person.
Helen wrote or contributed to numerous blogs. Besides EUReferendum the Chicago Boyz blogroll includes Conservative History Journal and Your Freedom and Ours and perhaps one or two others I've overlooked. She was also active on Facebook, Twitter and who knows where else on social media. Lex and I invited her to contribute to this blog and she very generously and cheerfully did so over the years. She was brilliant and erudite with a wide range of interests which she was always ready to discuss. I will miss her.
RIP, Aleha HaShalom. Our condolences to Helen's daughter, Katharine.
—-
Lex adds:
Very sad. There was a period of many years, until recently, where I was in almost daily communication with Helen, as part of a group that included James C. Bennett. Helen was a brilliant, opinionated, sometimes prickly, deeply-learned, patriotic, liberty-loving woman. She was a strong and early proponent of Britain leaving the EU. She was right, she was way ahead of her time, and I am glad she lived to see PM May sign the notice of withdrawal. I considered Helen a real friend, despite never meeting in person, and it is sad that I never will now. Just on my current Gmail account, I have 1,879 email threads including Helen going back to 2005. She was a big presence, for me and for many others. Rest in peace, Helen. We are still here, pushing for all the things you believed in and fought for.
[. . .]
Once, early in my correspondence with Helen I asked "By the way, is your name pronounced SHAMwelly?" She responded: "No, it's a Hungarian name, so the sz is pronounced s. The Poles pronounce things the wrong way round."