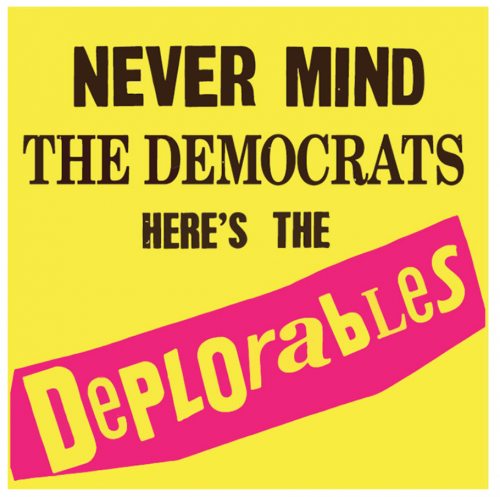 The very awesome Sabo is interviewed in the very pathetic Guardian. Bravo to him for going into the den of the enemy. They did not land a glove on him, though they tried in their feeble whining way.  
Sabo has a punk rock sensibility, which the above image from him demonstrates. Those of us of a certain age and youthful inclination will recognize it right away.
Sabo is responsible for many images that attack the left with a scurrilousness and force that is wholly appropriate to the scale and malice of the provocation. Sabo is famous for putting up posters all over Los Angeles which affront the lefty sensibilities of the inhabitants — Like this one: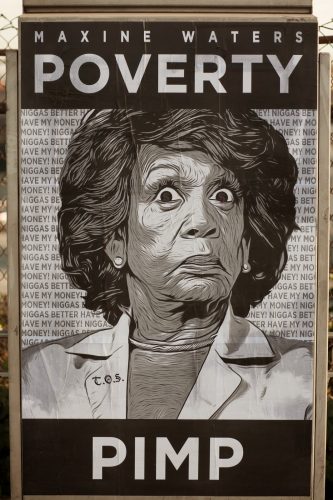 His website, Unsavory Agents, is here. He does good, and funny, work. You may want to buy some of his stuff.
As an aside, I note Sabo is quoted as prefacing some of his statement with "I think". 
Never do this.
It literally invites a contradiction, and suggests that some other — wrong — view is possible.  It is a verbal defensive crouch.   
Sabo has abundantly proven that he is better than that.
We should be too.
Sabo says this:
"I think leftism is a mental disorder," Sabo, 49, said in an interview at his home. "I truly believe I'm fighting the good fight."
He should say this:
"Leftism is a mental disorder," Sabo, 49, said in an interview at his home. "I am fighting the good fight."
See?  
George Orwell wrote that the "not un-" construction is almost always a bad way to write, e.g. "It is not unheard of" or "it is not unlikely".   He wrote:  "One can cure oneself of the not un- formation by memorizing this sentence: A not unblack dog was chasing a not unsmall rabbit across a not ungreen field".
Similary, to purge yourself of this "I think the sky is blue, I think the grass is green, I think the right to keep and bear arms is awesome, I think the leftists are imbeciles."
Once you start to notice it you will stop doing it.  
Assert important things as bluntly, simply and as forcefully as possible. Make your statements on contentious issues into hooks and jabs that are meant to hurt if that is what is necessary, to wake up the lazy, punish the evil, and give aid to your embattled fellow right-thinkers. Give offense. Compel responses on your terms, on your ground.  Say what you say because you know it, you believe it, you stand up for it.  Your hard hitting assertions must implicitly say:  "If you disagree with my mighty truth you can suck on being wrong, and I won't help you even consider disagreeing, or thinking you can disagree, or verbalizing your pathetic disagreement.  You want to take the — wrong — other side, you will have to work for it."  At all times forcefully assert the facts, the truth, reality.  The various wrong-thinkers who feel the sting of your words will have to scrabble and claw to get purchase on the smooth granite surface of your mighty truth.  And mostly they will fall screaming onto the jagged rocks below.  
Yeah, it is a pet peeve.  
Polish up the rough edges.
This all too common "I think" phrasing is one of them.
We all do it.
We must all stop.
We will make Chicago Boyz readers the tiniest increment MORE AWESOME by trampling out one bad habit at a time.
Now go out and have a rock-hard ZFG attitude, like Sabo.