The "Cargo Cult" is the name of a religion that sprung up in the far islands of the Pacific after the second world war. When the war was in full swing, the Western Allies came in and brought all kinds of different foods, technologies, and the like. To the natives on these islands, who didn't have the concept of how these goods were manufactured, the term "cargo cult" was coined to define the religious connotations that they placed on these goods. To an educated Westerner, most people probably had a brief chuckle at the thought of people treating day-to-day manufactured goods as objects of religious reverence.
Bizarrely enough, it was the cargo cult that leaped to mind when I read this very interesting article in a recent issue of New York Times magazine. According to the article, girls suffer serious injuries while playing in competitive sports such as soccer and basketball at a rate significantly higher than men playing the same sport. On a typical soccer team of 20 girls, for example, the injury rate (ruptured A.C.L.'s, a major injury) would be on average 4 out of 20.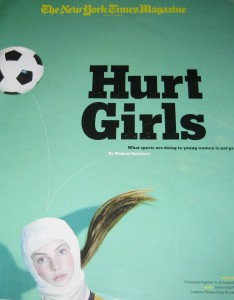 The article describes how a typical high performing traveling team generally has a large number of injuries, but the girls keep playing through the injuries, buoyed by the same "small group cohesion" that SLA Marshall wrote about in his analysis of US WW2 veterans (whether SLA Marshall was ultimately discredited is grist for another post). This cohesion bonds the girls to their team mates, and they keep playing through injuries despite the pain and risk of long term debilitating injuries.

Another part of the article I found interesting:
"There is a fascinating parallel in research on injury rates in US Army basic training… women are shown to suffer injuries at substantially higher rates than men, with stress fractures to the lower legs a particular problem. But one large study also suggester that the women are both more frequently injured and tougher. It takes a bigger injury to knock them out of the service."
While men engage in dangerous and risky sports for a variety of reasons, there is at least a lucrative professional career out there for the highest performers, and tangible financial rewards that could (theoretically) compensate for these risks. Even if you make a major division I program, for example, you can benefit from a huge alumni network that will remember you and give you a break in employment or potentially give you coaching opportunities.
The reason that the "Cargo Cult" brings a snicker is that those practicing it are following rituals but these rituals are disconnected from the original and logical processes that created the output. In a similar way, the girls who are heavily invested in these sports take many of the processes and rituals of male sports, such as team unity, willingness to suffer severe injuries (an A.C.L. is nothing to sneeze at later in life) and dedication but for a goal that doesn't offer any of the "upside" that originally justified those risks in the first place, which would be either playing professionally or being part of an alumni network which is either valuable in and of itself or as a "signal" for the ability to compete at a high level, or moving into some sort of coaching capacity. This doesn't apply to sports where women have an active and robust and active professional or secondary market (coaching), such as gymnastics, tennis and golf. For soccer, which seems to be a large contributor to the above injury plague, the professional market is absent and even the Olympic cachet is limited.
None of this takes away the dedication that these girls obviously feel to their team, and their willingness to get hurt and play hurt throughout. As the military noted, women can make tough soldiers.
The final odd element is that these "helicopter" parents, who would conceivably do almost anything to help their children get ahead, allow (encourage) their daughters to play a sport that is possibly more dangerous (to them) than football is to boys, without fully considering the outcomes.
The conclusions that the parents encourage, aid and promote a sport that has a significant likelihood of injuring their daughters with little / no conceivable upside is odd, indeed. Maybe I only get the "Cargo Cult" analogy, but it seems like there is some sort of significant disconnect embedded in here somewhere, with the effort present but the purpose absent.
Cross posted at LITGM