Welcome to day two of "Section 22 Week" on Chicagoboyz.  Today's post will add slides 15 to 29 of 82 of the information packet that sold the Bilge Pumps podcast crew on interviewing the Section 22 Special Interest Group e-mail list.  It will also add additional information about the birth of Section 22.
Outside the 2 minute speech thumbnail of the last "Section 22 Week" post, the birth of Section 22 was complicated and had a lot of bureaucratic moving parts tied to the campaign to reduce Rabaul.  This campaign showed that the Imperial Japanese were a fell high tech opponent punching in a weight class above the Soviet Union in WW2, at least when it came to the fields of radar, long range high frequency (H/F) long distance radio and electronic warfare.
.
Further, Section 22 was politically radioactive at senior flag rank level with the US Navy, USAAF and War Department Military Intelligence during WW2 and especially going into the post-war merger of the War & Navy Departments.
.
Worse, from a archival research historian's point of view, Section 22's work was not well documented in any one place, or any one military service, in American, Australian or New Zealand National Archives.  This is in large part due to Macarthur taking his SWPA files to the USA, followed by the MacArthur Memorial making off with a large amount of the General MacArthur's NARA Maryland archive collections to the  MacArthur Memorial Norfolk VA.
.
Additionally, Admiral King ordered all ships logs and particularly submarines not to include ultra code breaking or radar intelligence.  These were separate "classified annexes."  Many of these submarine log annexes are currently found in US Army Signal Corps files in the NARA archives in Maryland and the microfilm files of the Air Force Historical Research Research Agency in Alabama.  These are -Not- places frequented by archival naval historians!
As the Feb 19, 2021 Section 22 Week "elevator speech" mentioned, most of the early pre-Section 22 history of Radio Countermeasures (RCM) in the SWPA (1942-1943) happened in NW Australia revolving around Australian patrol planes and later with the USAAF 380th Heavy Bombardment Group, after it was established.
Lieutenant Commander Joel Mace RANVR (sp) was the prime focus/nucleus/crystal in supersaturated solution for Sec 22.  His RCM shop was discovered and annexed as the "Radio Countermeasures Group" by MacArthur's theater signals officer, General Spencer Ball Akin, in the summer of 1943 as both it and Gen. Kenney's intelligence units — Kenney's personal B-17 transport/ad-hoc Ferret and 5th AF Radio Signal Mobile Company — were seriously stepping on the toes of Gen. Akin's Central Bureau Y-Service sigint operations monitoring Japanese aerial observer lookout posts near Rabaul and in Timor that were now sprouting Radars.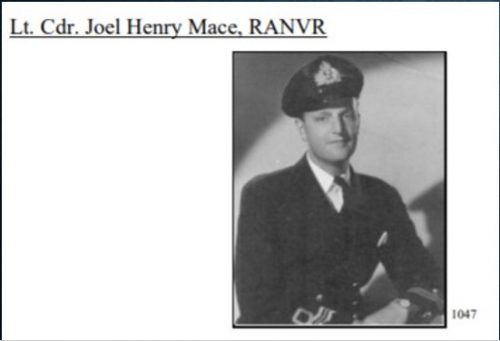 After General Akins annexed Mace's outfit as the Radio and Radar Countermeasures Division, GHQ. SWPA, he  went for a larger "Bureaucratic solution" in Nov 1943 that created Section 22 involved the following:
1. General Akin's Central Bureau "Y-Service style" tracking of Japanese anti-aircraft ground observer network around Rabaul which was added radar sites,

2. General Kenney's 1st Radio Squadron Mobile (Japanese) and the use of his personal B-17 transport as an ad-hoc ferret when he was tooling around visiting forward bases in New Guinea,

3. The theft by General Eisenhower of a Japanese language trained signals intelligence company from MacArthur for Operation Torch,

4. And the related shortage of American J-Service/SIAM (Signal intelligence and Monitoring) platoons for the SWPA, as Torch/North Africa had priority.

5. The pressing need to have a mobile radar calibration detachment for Allied radar networks in Northern Australia and New Guinea.
Akin re-tooled Mace's outfit in Nov 1943 by adding the J-service and radar calibration roles to the Radio countermeasures Division and renamed it "Section 22."  This solved several problems for General Akin as he could now use all his Ultra clearance Central Bureau field units solely for listening to the Japanese communications intelligence (Comint) while non-"Ultra" cleared Section 22 people could listen to friendly message traffic for security violations and enemy radar signals, as well as take an RAAF Hudson with calibration detachment to the various US and Australian radar sites. Two months later, Lieutenant Commander Joel Mace was out as "Section 22 Assistant Director."
The Section 22 E-mail list is not sure why this happened, but our consensus is he rubbed the "brass" and many subordinates the wrong way.  Whatever the reason, Mace got sent to first London to liaison with the RCM authorities there, the USA, then was in the MTO in Ike's HQ as an observer on the RCM staff for Operation Overlord & Dragoon (working with Douglas Fairbank's USN "Beachjumper" radar and deception unit in Operation Dragoon) and then he finally wound up with the The Royal Navy Eastern Fleet RCM staff in Ceylon. (That last seems to have made a huge impression on the man as he opened the first successful Indian restaurant in Australia after WW2.)
Below are the list of Section 22 "Assistant Administrators" under Gen Akins who actually did Section 22's work.
1.       Lieutenant Commander Joel Mace (RANVR) was first 'Assistant Director' of Section 22 (from mid August 1943 until about early January 1944).

2.       Lieutenant Colonel Paul W Albert (US Army Signal Corps) was Acting Assistant Director (from 3 February 1944 until about late August 1944).

3.       Commander J.B. Jolley (USNR) (from about 4 September 1944 until at least the 10 Nov 1944).

4.       Paul W Albert (US Army Signal Corps) (now a Colonel) once again Assistant Director of Section 22 (from early January 1945 until mid May 1945).

5.       Lieutenant Colonel Rudolph J. Ayres (US Army Signal Corps) Senior Assistant Director of Section 22 (May 1945 and probably was the final officer in charge of Section 22 when the Pacific War ended in August 1945 as his signature appears on Current Statement # 333 dated 6 August 1945).
Section 22's work in mapping the Japanese radar network around Rabaul was key to a lot of the air successful strikes there.
.
The Saratoga/Princeton raid on Rabaul harbor was informed by early Section 22 work plotting the Cape St George Radar's coverage. The USN Carrier strike came in low from the North where neither the Japanese land based radar at Cape St. George nor their ground observer network could detect until the US strike planes were right on top of the harbor.
BTW, the cruiser HIJMS Atago had a 10 cm Type 22 ship radar watching that gap. Which is why all those IJN cruisers had their steam up when the Saratoga/Princeton air strike arrived.  This is background for that "Fell High Tech Opponent" statement above.
.
SWPA GHQ Sec 22 and the ComAirNorSolomans air squadrons spent a great deal of time trying and failing to knock out the Cape St George Radar.  See some of the information on the Cape St George raids and the US Navy interrogation of the Cape St George Radar commander below —http://www.pacificwrecks.com/provinces/png/ni/st_georges/missions-saint-georges.html
Allied missions against Cape St. George and St. Georges Channel
December 31, 1942 – October 26, 1944
November 1, 1943
(5th AF) During the night of 1/2 Nov, 2 radar snooper B-24's attack a
convoy W of Cape Saint Georges
December 23, 1943
(RNZAF) 6 Ventura's attack a radar station and lighthouse on Cape Saint Georges
January 9, 1944
(13th AF) A P-70 piloted by Lukas departed, radar 2nd Lt.
Blankenship and S/Sgt Glen DeForrest took off from Guadalcanal via
Munda and Torokina, taking off at 22:00  for a night single plane
mission against Rabaul. After hitting the target the P-70 returns via
Cape St. George and strafe the radar station, tents and anti-aircraft
positions and made four strafing passes. The P-70 returned to Torokina
at 2:00am. (References: "The First Solo Low-Altitude Night Raid on
Rabaul" by Terry M. Mays, WWII Quarterly Vol 4, No. 1.)
February 27, 1944
(13th AF) 3 P-38s strafe a radar station at Cape Saint Georges.
March 3, 1944
(13th AF) 5 P-38s bomb radar installations at Cape Saint Georges
October 26, 1944
(USN) STAG-1 Two TDR drones attack a lighthouse on Cape St. George,
making one hit which demolished the structure.
The reason I went into this was one Rear Admiral Midoro Ota was the Commanding Officer, 14th Base Force from 1 December 1943 – 10 February 1944.
.
Ota's radars screened Rabaul and he was later the Okinawa Naval Base Force commander during Operation Iceberg in 1945.  As that Cape St George Radar was part of Ota's command, his people "Ran the Red Queen's Race" to keep that radar operational despite those attacks.   Ota's command at Okinawa showed that Rabaul experience in the Okinawa campaign.
.
Admiral Halsey was SOPAC theater commander at that time and was also educated by these events, but "Bull's run" at Leyte put Halsey outside the planning loop for Iwo Jima and Okinawa.  So all that Section 22 had learned regards Japanese radar was ignored by Nimitz's CENPAC staff because, MacArthur.
.
Now slides 15 thru 29: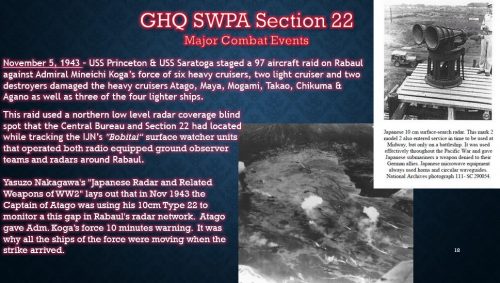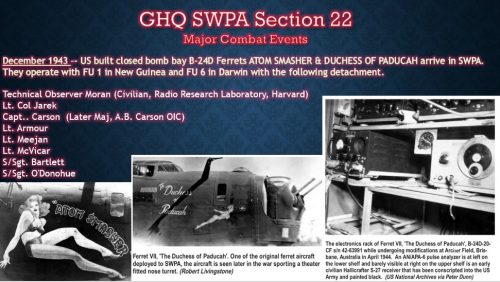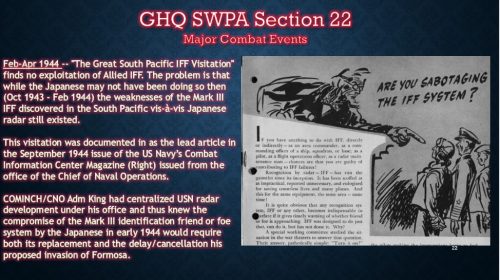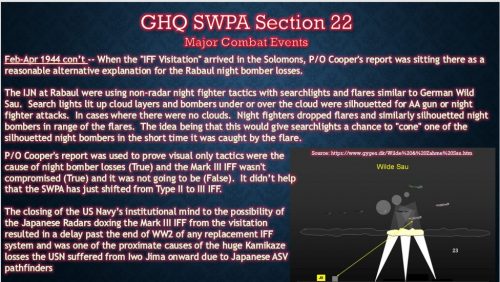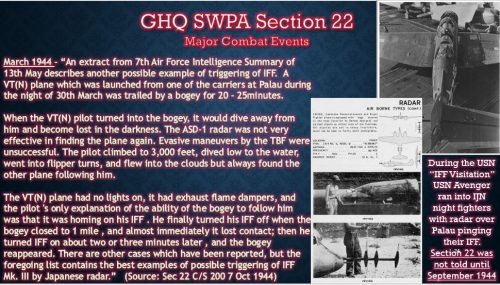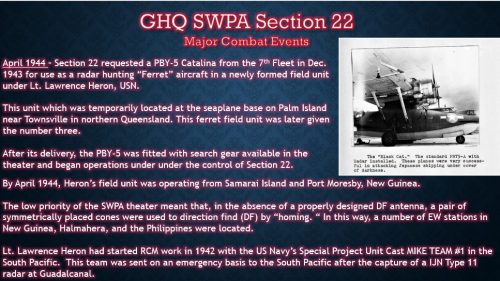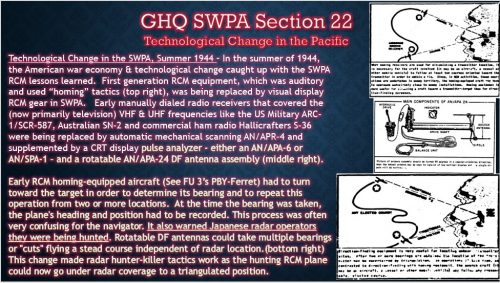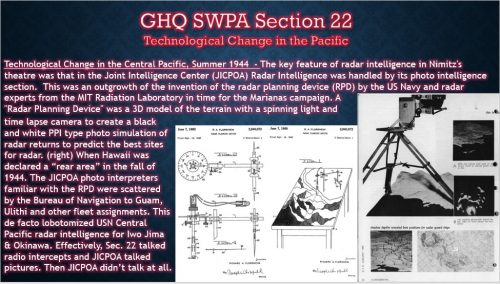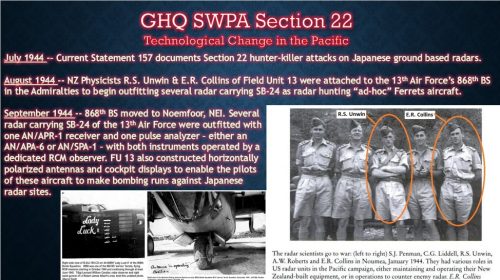 Slide #29 marks the end of today's slide deck sample.
This is the website where the Section 22 Week podcast will appear 24 Feb 2021:
Today's Facebook cross post LINK HERE
.
See you all tomorrow.