Last Sunday, I decided to salvage what was an unproductive trip looking for a car part in the San Francisco Bay Area. Rather than go home empty handed, I went to a place that has held my curiosity for a few months.
And then I thought, in the many years Chicago Boys has profiled so many good writers with interesting subjects, I think I can guarantee you that this subject has never been covered.

I have an interest in visiting cemeteries.
Mind you, not just any cemeteries, but those for whom some interesting people have made it their last earthly stop.
Cemeteries can tell you a lot of things.
They can tell you how people lived during their time. If you spend some time at the cemetery in Virginia City, NV (and before going I recommend getting a briefing on the history – such as reading Mark Twain's book Roughing It), you'll learn how people died – in this case, many mining accidents. There's an old cemetery in my hometown, with many dying from boiler explosions on riverboats or cholera, when the Sacramento River flooded. The Sacramento River used to flood for miles around on a near annual basis, until the levees were built.
At an old non-descript cemetery just south of my home, near the small delta town of Hood, lies the last surviving  member of the Lewis and Clark Expedition.
Some cemeteries inspire a quiet reverence – one can't help but be contemplative when strolling through Arlington. It seems everywhere you turn are people who were in the news and gave their lives for their country. An area that I have remembered for many years contained the names not known to many, but a B-17 crew who all died together over Europe and wanted to be buried together.
Sometimes cemeteries can correct family beliefs held for many years. Generations, even. For nearly a century, it was family lore that a great uncle of mine was interred "right next to Rudolph Valentino" at the Hollywood Forever cemetery.  So the next time I found myself driving through LA, I stopped there. Just walking among the headstones and tombs, it was like a who's who of the entertainment world. A few days ago they buried Anne Heche here, 9 months after her death.
I finally found the crypt of Rudolph Valentino. And I thought this scene ironic. With time, fame can be fleeting. Here was probably one of the first silver screen sex symbols, who died in 1926 at the age of 31. Millions of women around the world were besides themselves at the time of his funeral.
And today he had 2 plastic flowers by his crypt.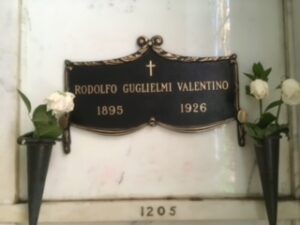 And my great uncle who died 2 years earlier than Valentino?
I looked on each side, and he was not to be seen. Wandered down the corridor of the large mausoleum, turned a corner and maybe 100-150 yards away was James Bell.
And yet another small mystery was solved at Hollywood Forever.
Ever since visiting "Hearst Castle" in San Simeon decades ago, I have been fascinated by him and his era. Amid the Great Depression, among his estates around the world, was a place on a hill overlooking the Pacific that G.B. Shaw once said, "This is what God would build, if He had the money".
He lived for 30 years with his mistress, Marion Davies. They wanted to marry, but his wife would not allow a divorce. And I think her reputation was marred by Orson Welles' thinly-veiled reference to her in Citizen Kane. Welles later said that it was his biggest regret about his movie, and even wrote an apology in the foreword of Davies' memoir, The Times We Had. Anyway, I could go on about how I believe Marion's reputation was maligned and misrepresented. She probably saved the Hearst Corporation in the mid-30s when they were nearly bankrupt, with a $1 million loan to Hearst (according to her memoir). Anyway, after a few years of her hosting a frail Hearst near the end of his life at her Beverly Hills home, the family forbade her from even attending his funeral.
Here is an interesting take on their relationship written by Hearst's grandson Will just last year. I recommend you see their linked video, too.
I was curious to see the tomb of Marion Davies. According to the map, I was right beside it and yet I could not find it. After 30 minutes of fruitless searching, I looked at the name above a nearby mausoleum, and realized Marion had fooled me. Her actual surname was Douras, and all that time she was right in front of me.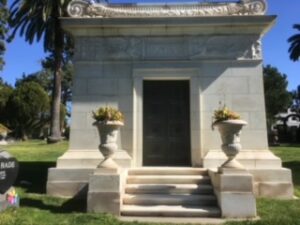 Like the cemetery I visited a few days ago, Hollywood Forever actually conducts tours. Next time I will take one.
Cemeteries can give you a historical perspective.
When I was in the Army stationed in Germany 50 years ago, I took many short day trips. Luxembourg was maybe a couple of hours on a train, so one day I went to Luxembourg City (the capital). Didn't know what to expect there but in my short time of a few hours started walking on streets named after Franklin Roosevelt and George Patton.
Saw the impressive entrance of the American cemetery at the end of George Patton Blvd and realized that all of those crosses and stars of David were just some of the casualties from the Battle of the Bulge. You can read about numbers but if you want to really put the cost into perspective, look at the headstones.
And who should be front and center as if he was still reviewing his troops was the General himself, George Patton.
I wanted to see where Adm Chester Nimitz was buried, and he is in the Golden Gate National Cemetery at San Bruno, just a few miles south of San Francisco. If I remember correctly, post war he lived for many years on Treasure Island, which used to have a Naval presence right in the San Francisco Bay. His friend Raymond Spruance lived in Carmel near Monterey, and I read that he had asked him to be buried alongside him at Golden Gate.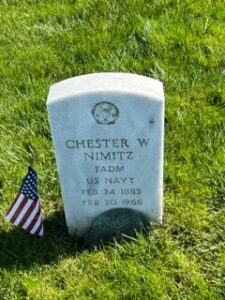 So here they were with simple headstones, just like any other serviceman (or woman) with only their rank on the headstones denoting their station in the Navy. Two men who changed the entire focus of the WW2 Pacific Naval Strategy from defensive to offensive with a gamble of the last carriers and a roll of the dice (with a little help from intelligence given by Joseph Rochefort's group at Station Hypo on Oahu).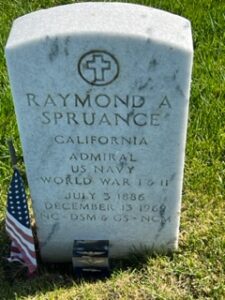 After driving through the grounds of the Golden Gate National Cemetery, I believe that, next to the cemetery at Ft Rosecrans in San Diego, it is the most beautiful and serene national cemetery in the country.
For those of you who knew of the blog of CPT Carroll "Lex" LeFon, he is at Ft Rosecrans overlooking North Island NAS, the birthplace of Naval Aviation. With his love of the Navy and Naval Aviation, I can't think of a better place for him.
Just south of San Francisco (and north of San Bruno), is an interesting city. It is known as the "city of the dead", as most of the dead from San Francisco and its surrounding areas are here. The population of Colma is only about 1,700, and yet the town has over 2,000,000 gravesites. In the early 1900s, the city fathers of San Francisco, seeing precious vacant land even then nearly gone, decreed that there would be no new cemeteries or burials in the city, and the existing graves would be moved to Colma. It wasn't until after WW2 with demand for the land in San Francisco that the removal and reburial began on a massive scale.
I had what I thought was a modest goal of gravesites to visit at Colma. On top of the list, and to complete my circle for all things Hearst, was the burial mausoleum of the Hearst family. The family patriarch, George Hearst, was in most respects a poor California immigrant from Missouri. There was one difference.
He seemed to have a nose for finding gold and silver. He made his first fortune in Virginia City, ending up as an owner of many mines, then made another fortune in the Black Hills of South Dakota.
At one time among his many holdings was 400,000 acres of prime California coastal land along the Central Coast. This was the Hearst Ranch.  And to simply give his son William Randolph "something to do", bought him the San Francisco Examiner.  He could not have foreseen that his son had his own particular talent for the media business, building his own empire with vast national holdings in newspapers and radio stations.
Getting back to "Hearst Castle" (what the state of California calls it; not Hearst), The son "W.R."  always thought of it as a "Ranch House". And it was the headquarters of the Hearst ranch (which, in a much smaller state, still exists adjacent to the estate, complete with an old runway and hanger). Among the many political and entertainment figures of the 20s through the 40s, Hearst had one rule. Well, he had several that I have included in an above link. But if you were (particularly) a Hollywood figure who had never been there, and his secretary called you (or more likely your agent) on  Wednesday for a weekend invitation and you turned it down, you didn't get a second invitation.
A story I heard is that Katherine Hepburn received an invitation to "the ranch" and thinking she would be surrounded by livestock, turned it down. She was never invited again. Nor was David Niven, who broke the "2 cocktail" rule for evenings and whose luggage had a bottle of booze. He returned from dinner to find his bags packed and by the door, ready for a chauffeur to take him away.
Well, I am veering away from the main subject at hand but as I say, that whole time and era fascinates me.
George Hearst's wife Phoebe had this mausoleum designed for her husband George at Cypress Lawn, and their son William Randolph is also interred here.  Cypress Lawn itself is a huge area with over 300,000 graves, and I quickly realized that I was not going to be able to go down my list and find them all at the various cemeteries  in a reasonable amount of time.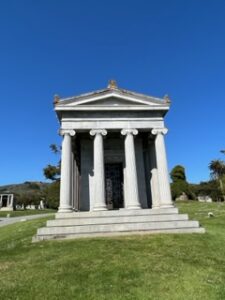 I will take the tour of Cypress next time and perhaps make a day seeing more of Colma's famous residents.
One of them is Betty Ong.
Never heard of her?
On September 11, 2001 she was the American Airlines flight attendant who courageously went on the phone in the galley and was telling them of the hijacking. Her partial remains were found about a year later in the wreckage of the North Tower of the WTC.
With evening approaching and the Hearst mausoleum sighted, it was time to head for the Golden Gate and home.