If you do a quick search through the Lexican's blog, you will see that I like to travel. And in addition to plane travel, Road Trips are right up there. I'd have to say when the opportunity arises I am like a house-bound dog who suddenly bolts out the front door when he sees it briefly open.
Actually, as a pure traveling experience, I would put road trips ahead of cross-country plane trips. Because for me, the journey is as fun as the destination. It's the unexpected people and places along the way that add to the memories. From an interesting used book seller (with 100,000+ books) in rural Montana to an old Army buddy in Colorado Springs, they would not have been known but for a car drive.
For this drive, both the journey and the destination were exciting.
I had first been to Victoria in 1967, when my family went on a western Canada trip. We drove to Vancouver, took the Canadian National Railroad overnight to Banff (and beautiful Lake Louise in the Canadian Rockies), then we went back to Victoria and home. I can still remember seeing the Fraser River Canyon next morning from the train window with the bears.
At that time, Victoria was considered to be a very British city. I had been told that there were many retired "British gentry" there. I can even remember seeing the ubiquitous red double decker Bedford city busses that were all over London.
Some years later, on my South Pacific Trip, I started my New Zealand adventure at Christchurch, on the South Island. It has been said that Christchurch is more English than the English.
If I extend this analogy perhaps it could be said that smaller Christchurch is to Auckland as Victoria is to Vancouver. However, these days I would say that Victoria is a lot more cosmopolitan. We recently met people from around the world now calling Victoria their home.
For the first time in my road trips, I had a travel companion. My friend Inger emigrated as a child with her family from Norway to Victoria in the early 50s. They lived on the outskirts of Victoria in a little town called Metchosin. Her father was an accomplished Hotelier and Restaurateur, and in the immediate postwar Norway saw much better opportunity in the New World.
As a sidebar, Inger told me a fascinating history about her father. When the Nazis invaded Norway in 1940, he ran a hotel about 2 hours from Oslo, the Tyin Hoyfjells Hotel, in the Valdres region. It was in a remote area, and with the roads snowed in and not cleared, the Nazis had no interest in going to this rural area. He and his friends intended to wait out the war at this remote locale, never going to Oslo or another city.
They hunted for reindeer for their family's subsidence. They also watered down the drinks in the hotel's cellar with the hope and expectation of sitting out the occupation in relative comfort, away from the invading army.
However, evidence of the war came to them, with the plight and suffering of Jewish refugees trying to flee the Nazis.
Her father could not ignore this, and became involved in the Norwegian Resistance. He helped some Jews escape the clutches of the Nazis through the organization.
However, a dirty little secret of the occupied countries is that they all had their local collaborators, and he was betrayed by one and arrested by the Nazis and taken to an Oslo jail. He was scheduled to be executed, and the Nazis were among other things, meticulous in their record keeping. He was on a list scheduled to be shot.
His wife who according to my friend Inger, was headstrong and "could be charming", prevailed upon a young apolitical Wehrmacht soldier to destroy his file for that day's executions.
Whereupon sometime later a Nazi jailor, not seeing the reason for her father in jail, asked him how he got here.
"I don't know", her father replied, "I was celebrating the birth of my son and was waving a Norwegian flag, and the next thing I knew they threw me in here".
So from the destruction of that file came 2 more children (Inger and her younger brother) and a new life in Canada. Her father died in Newport Beach, CA, in the 1980s. I told Inger that if the Israelis knew about this, he might have been awarded the honor of "Righteous Among The Nations", given to those gentiles who risked their lives (and sometimes died), rescuing Jews from the Holocaust.
So anyway, to continue the story and get to the present, her father's restaurant in Victoria didn't do as well as he thought and they later were able to emigrate to California.
Inger's brother and his wife moved back to British Columbia a few years ago and after buying a nice house in Mill Bay, decided to build their dream house on a mountain top nearby.
They were most hospitable, putting (up with) us up for a week while the workman were busy completing the exterior.
Other than the 20' ceilings, the new home reminded me a bit of a German hunting lodge and from this vantage point, one could see Victoria 30 miles distant, the Victoria Harbor, even Mt Baker in Washington. They named the home Ravenswood, for all the ravens (among other wildlife) that visit them.
Inger had wanted to visit her brother and sister-in-law for the past 3 years, and then COVID among other things, got in the way. When she mentioned this to me, of course I volunteered for a road trip!
It was the least I could do.
Under the subject of "boring for Pacific Northwest residents, but exciting for me", was taking the car on the ferry boat from Washington to Victoria and return. Tickets are of course on a first come, first served basis (both trips ended up being sold out), with so many cars in line waiting for entry for the ship. I thought the tickets were surprisingly reasonable, at about $100, considering the fact that they are hauling your car. They also charge a bit per passenger, but the total both ways was about $100. The shipping companies (Black Ball on the trip to Victoria, BC Ferry on the return), seem to have this down to a science.
The BC ferry ship was huge, with 2 decks for vehicles, each holding easily 100 vehicles. After you buy your ticket, you are directed to a particular lane for entry. There must have been 15-20 lanes.
It is all a giant choreography, with the entire ship loaded in about 30 minutes or so. They go back and forth numerous times during the day.
If you live in Northwestern Washington state or Vancouver Island, these ferries are a way of life.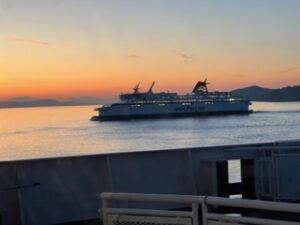 The first thing you notice in Victoria Harbor is the sea planes. I was told they are for tourists, but you will see one or 2 landing or taking off as you are arriving.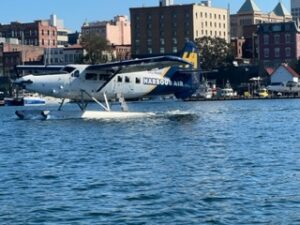 We took a little harbor tour, and the guide was telling us that Victoria (named for Queen Victoria) was initially settled by the famed Hudson Bay Company but it was a gold rush on Vancouver Island that really brought the people.
Which I have found interesting because during my Pacific travels, I have learned that there were gold rushes in New Zealand on the South Island (Arrowtown), Australia, (Ballarat), Alaska, and or course, California. All within 50 years or so.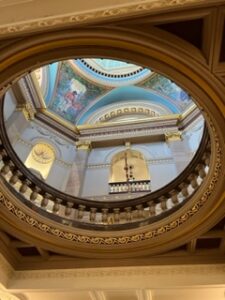 My Victoria Impressions…
The first thing I noticed was its cleanliness. Not a bit of rubbish on the ground, or graffiti, could be seen. And cleanliness fosters a desire to keep it clean. I was at the world-famous Butchart Gardens, 55 acres of immaculate gardens (all with different themes) I spied a lone rubber band on the path and had to pick it up. The Gardens are all the more impressive when you learn that the grounds were once the headquarters of Portland Cement, and the Sunken Garden was their quarry. I asked a local if they had brought in any topsoil and he smiled, saying "just a bit".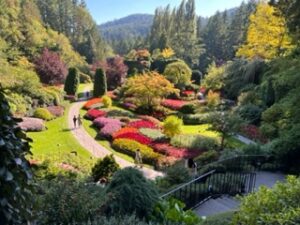 Something we are used to in urban California are legions of homeless tents, and none could be seen in Victoria.
Speed Limits – seem a bit slow. I saw a speed limit of 30 kph (18 mph) and on the main Hiway (Canada Hwy 1) I saw limits of 80 kph (49 mph) and 90 kp/h (56 mph).
However, like the US, most Canadians ignored them.
Real Estate Costs:
This was the biggest surprise. Homes are expensive. Not Bay Area or LA Expensive but much higher than my Central Valley. A nice middle-class home with about 2,000 sf is over $1 million – $1.3 million Cdn? Of course I am generalizing here but that was a surprise. And with our current rate of exchange figure that is 33% more than our dollar, but I believe the cost of living, and what Canadians earn vs us, is roughly equivalent dollar for dollar. That is the real measure.
And like all generalizations there are exceptions. We visited the town of Chemainus, which is known for having dozens of murals on their business walls. The town was facing a crisis – the main employer, a lumber company, was facing hard times and the town wondered what to do to bring in business. So they painted a lot of pretty murals.
There you can get a house for $200,000, but no water side lots are available with the lumber company needing that land.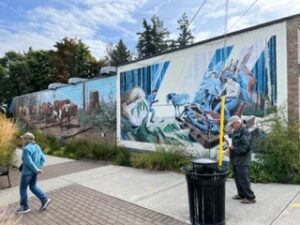 The home Inger grew up in was huge – 4,000 sf? And right next to its backyard was a beach. Although it was rocky, no sand. No telling what that is worth today but for a Norwegian immigrant family in the early 50s, it was affordable.  I told Inger and her brother that for a child that place was near paradise.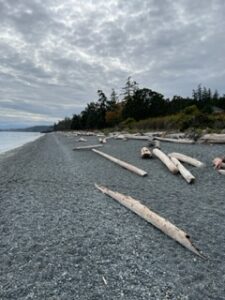 We had a nice dinner at a gourmet restaurant that I never would have found – owned by a local winery (there is a big wine industry in that area), and local vegetables. We were all sitting amid a farm field to give the atmosphere a wonderful feeling.
The lack of traffic gridlock in Victoria.
I can remember once when driving from Sacramento to San Diego I made the mistake of hitting Magic Mountain (named for a former amusement park at the top of the Tehachapi mountains and considered the beginning of the LA Basin) at 16:00. It took me literally as long to traverse the LA Basin and northern Orange County as it normally took me to make the 500 mile drive from Sacramento to San Diego.
A Victoria Gridlock is nothing like that. At least you keep moving. A lot of people work in Victoria but live in its outskirts, giving one the feeling that home is 100 miles out in the country vs 10-20 miles.
We stopped by a deluxe area with golf course – Bear Mountain, "Canada's urban resort".  Everything was first class.
It was a great trip, and coming back a hidden restaurant we found was the Taprock. It is 3 levels and sits right on the banks of the Rogue River. The parking lot was full with a couple hundred cars, and we had the only out-of-state plates.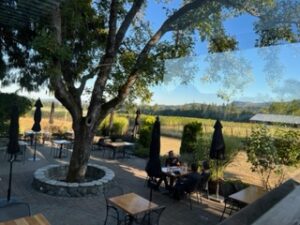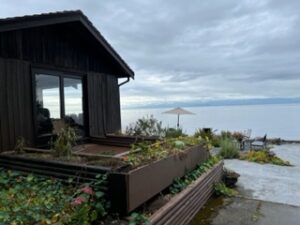 Cross Posted at The Lexicans