With viewer numbers like these [h/t Instapundit] it's no wonder that the White House is trying to delegitimize Fox news.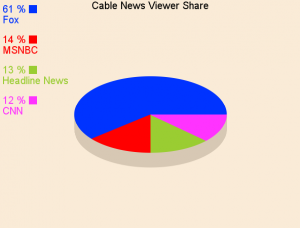 With numbers like these, Fox News is TV Cable News. It's no wonder that Fox seems to be driving all the major stories these days. It's simply a matter of sheer mindshare. A story on Fox reaches more people. When Fox decides something is news it becomes news whether anyone else likes it or not.
Fox is supplanting the role long played by the New York Times and the Ochs-Sulzberger family that owns the 88% of the paper. For nearly 50 years, the Times has sent out its headline for the next day out on the wire and newspapers and broadcasters have en masse synchronized their own stories to whatever the NYT decided to cover. The Ochs-Sulzbergers ultimately decided what was and was not news for the entire country.
Now Fox has stolen the crown. Even people who hate Fox now find themselves forced to react to it. Politicos and pundits who want to reach half of the cable news audience have to show up on Fox. Other news organizations are forced to cover the same stories as Fox just to remain relevant.
I don't watch TV news in general and I dislike Fox's format the most. It is so loud and garish that concentrating on the story is like trying to read a physics text in a dance club. However, they ask the right questions and piss off the right people.
Love them or hate them, they're now big players and they're here to stay.
[If you liked this post, you may also like The "Wacky Sitcom Mixup" School of Foreign Policy. ]
Blogs that have linked to this post [added manually at author's discretion]:
Instapundit
Inoperable Terran — The Fox Effect
American Power — Bill O'Reilly on Leftist Fort Hood Coverage: 'The Guard Has Changed'