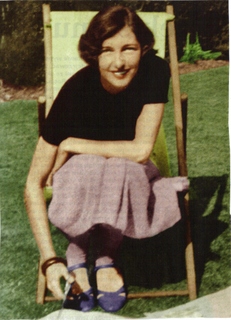 I've been meaning for a while now to write about this very courageous woman (who is better known by the anglicized version of her name, Christine Granville)…the tragic events in Poland make this seem like an appropriate time to remember a Polish heroine.
Previously, I've posted about two women–Violette Szabo and Noor Inayat Khan–who worked for the secret British WWII organization known as Special Operations Executive…whose mission it was to organize resistance and sabotage activities in occupied Europe. Krystyna Skarbek also worked for SOE during the latter part of her WWII career, during which time she was partnered with another SOE agent named Francis Cammaerts, who led resistance operations over an extensive area in southern France. I spent some time with Mr Cammaerts during a trip to France in 2001, and will be writing about him in a future post.
Skarbek was born near Warsaw in 1908: her father was a bank official and a member of the nobility, and her mother was Jewish. She became an avid horsewoman and skier, and also a beauty queen (#6 in the Miss Poland contest for 1930.) When WWII broke out, Krystyna was living in Ethiopia with her second husband, who was the Polish consul there. She immediately went to London and volunteered to work as a secret agent…I believe her first assignment was with the Secret Intelligence Service (spying) rather than with SOE (sabotage.) She first traveled to Hungary, from which she planned to ski into Poland…while in Budapest she met Andrew Kowarski, who was to become her great love. In early 1940, she went over the Tatra mountains to begin her first underground assignment, in which she organized a network of couriers to bring intelligence reports from Warsaw to Budapest. She also located her mother, who was doubly in danger because of her aristocratic connection as well as her Jewish background, and warned her to leave the country…but her mother refused and was later arrested and never heard from again.

In the course of her espionage work, Skarbek crossed the Polish border eight times. Here's an excerpt from the citation for her OBE award:
Miss Granville carried sabotage material, secret mail and large sums of money to Poland…The routes she took over the High Tatra Mountains were of the most arduous description. On one occasion during the severe winter of 1940/1941 she walked for six days through a blizzard in temperatures as low as 30 degrees below zero.
Skarbek was arrested for questioning in Hungary, along with Kowarski, in early 1941. During the questioning, she bit her own tongue hard enough to draw blood and coughed convincingly, persuading a Hungarian doctor that she was suffering from tuberculosis. After her release, she was smuggled out of the country in the trunk of a car.
Being fluent in French, she was eventually assigned to SOE in southeastern France, where she became the principal assistant to Francis Cammaerts, who had built up an organization of more than 10,000 people. (Her predecessor, Cecily Lefort, had been captured and killed.) In July 1944, Skarbek–now codenamed PAULINE–parachuted into France, where she quickly became indespensable to Cammaerts and widely respected due to her ability and sangfroid. On one occasion, while hiding from a German patrol in a thicket, she was cornered by a large Alsatian hound. She managed to make friends with the dog and quiet its barking, and the Germans eventually left, while she kept the dog. (It's not clear whether the dog belonged to the Germans or was simply a local animal.) I asked Cammaerts about this story and he said that while he could not absolutely vouch for it, Krystyna had an unusual and almost mystical connection with animals and it would not surprise him if it were true.
In August 1944, Cammaerts–along with another SOE agent, Xian Fielding–was arrested at a Gestapo roadblock. Skarbek located him by walking around the prison walls singing the American blues ballad "Frankie and Johnny," a song of which they were both fond…Cammaerts sang along with her to let her know he was there. She then demanded a meeting with Gestapo authorities, introducing herself as a British agent, as General Montgomery's niece, and as Cammaerts' wife and applying a mixture of threats and bribery with a Gestapo officer named Max Waem:
For three hours Christine argued and bargained with him and, having turned the full force of her magnetic personality on him…told him that the Allies would be arriving at any moment and that she, a British parachutist, was in constant contact with the British forces. To make her point, she produced some broken…useless W/T crystals…
"If I were you," said Christine, "I should give careful thought to the proposition I have made you. As I told Capitaine Schenck, if anything should happen to my husband (as she falsely described Cammaerts) or to his friends, the reprisals would be swift and terrible, for I don't have to tell you that both you and the Capitaine have an infamous reputation among the locals."
The threat, combined both with an offer of British protection if Waem should choose to cooperate and with a substantial bribe–2 million francs–actually worked, and Cammaerts and Fielding were released.
Unlike so many other SOE agents, Krystyna Skarbek did survive the war. Her service was recognized by several awards–the British OBE and George Medal and the French Croix de Guerre…but she was treated very shabbily by the British government, being dismissed with only a month's salary and left in Cairo to fend for herself. She was now stateless, of course, given the Soviet occupation of Poland.
To support herself, she took a job as a stewardess on a passenger liner. Madeleine Masson, who would become Skarbek's biographer, met her while traveling on the Winchester Castle in 1952:
I marveleled at the grace and fluidity of her movements. I thought perhaps she was an ex-ballerina assoluta who had fallen on evil times.
One of the ship's other crew members, a steward name Dennis Muldowney, fell hard for Krystyna, as had so many other men over the course of her life. But Muldowney was what we would now call a stalker, and when she finally rejected his advances after showing him much kindness, he stabbed her to death.
It's been claimed that Ian Fleming, who was a friend of Skarbek's, used her for the model of his character Vesper Lynd…I find it a bit sad that people who write about Skarbek often seem to feel they need to start out by mentioning this connection. Also, there's apparently a movie about her presently in the development stage.
A few links and sources:
Wikipedia article on Skarbek
Encyclopedia of World Biography
Books:
A Search for Christine Granville, Madeleine Masson
The Women who Lived for Danger (terrible title), Marcus Binney
Other SOE-related links & sources:
Noor Inayat Khan
Violette Szabo
The women of SOE
Book:Between Silk and Cyanide, Leo Marks (who served as SOE's Codemaster during the war)
Interview with Francis Cammaerts, summer 2001
A couple more photos of Krystyna Skarbek: