I've been thinking quite a bit about William Carlos Williams and his observation in Asphodel, That Greeny Flower:

Our news media blare with (apocalyptic but not revelatory) trumpets…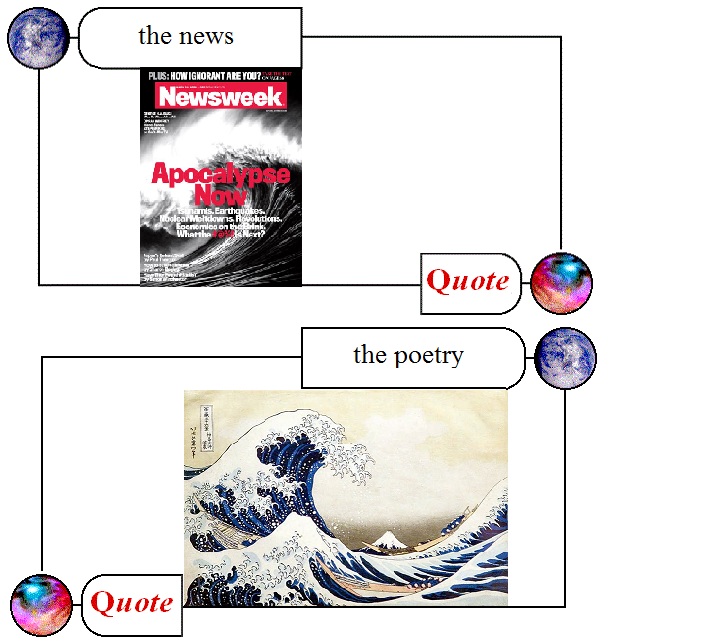 while Hokusai, painting circa 1831, conveys the vulnerability of the (Japanese and human) situation with his image of boats in a storm.
*
Here's Dr. Barnett, in my own transcript of his video this week:
The surprise factor here really shouldn't exist in our minds. I mean the mega-disaster of a tsunami plus and earthquake plus a nuclear meltdown in Japan – well, those three are already highly linked. Japan highly depends on nuclear power, it's one of the most seismically active island chains in the world, and tsunami is a Japanese word. So if you are going to put a forty year old very aging early technology nuclear power plant right on the coast in Japan, the only mega-disaster you're going to get there is an earthquake-triggered, tsunami-delivered nuclear meltdown. So these are not surprising connections, we're just bumping into the connectivity that's natural and only becoming more expansive as globalization advances.
That's exactly right – and Hokusai should have been an early warning.
The only thing missing from Barnett's analysis, and present in Hokusai, is Mt. Fuji – or what TS Eliot (to circle back again to "verbal" poetry) would call "the still point of the turning world".