Posted by Trent Telenko on 14th August 2018 (All posts by Trent Telenko)
Happy Victory over Japan Day!
On August 14th in 1945 Imperial Japan accepted the terms of the Potsdam Declaration and averted Operation Downfall, the two stage invasion of Japan. On Sept 2, 1945 the surrender was signed on the USS Missouri in Tokyo bay, This invasion would have resulted in at least a million American casualties and up to 20 millions of Japanese dead from direct effects of the invasion plus the mass starvation that would have been sure to occur in its aftermath.
Since August 2010, it has become an nine years and counting tradition (See link list at the end of this post) for the Chicagoboyz web site to commemorate the major events closing out World War II in the Pacific and address the leftist agitprop surrounding those events. Where the worst recorded war in human history became a nuclear war via the August 6th and 9th 1945 A-bombing of Hiroshima and Nagasaki, followed by the Imperial Japanese acceptance of the terms of the Potsdam Declaration, and the Sept 2, 1945 formal surrender on the battleship USS Missouri.
This years year's Chicagoboyz commemoration will focus on how the Imperial Japanese Military's two nuclear weapons programs — one each for the Army and Navy — helped to obtain a surrender in an irrational polity bent on suicidal martial glory.  And how their existence has been erased from the narrative of Japanese surrender by the identity issue academics in the diplomatic history community.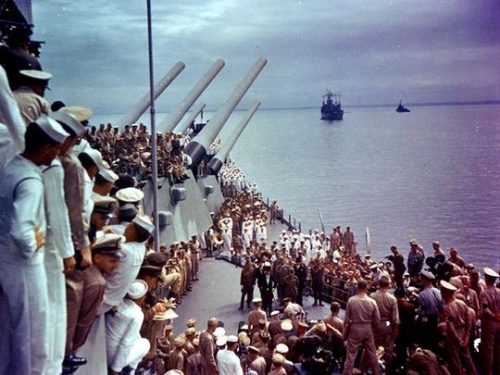 Color Photo of the Sept 2, 1945 surrender ceremony marking the conclusion of WW2 on the Battleship USS Missouri.
Historical Background –  IJA Ni-Go & IJN F-Go Genzai Bakuden Programs
The Imperial Japanese Military' s atomic bomb or "Genzai Bakuden" program had a two separate Army and Navy projects;  the Army's Ni-Go program and the Navy's F-Go. [1]   Neither of these programs produced a working device, despite 1946 rumors about a test near Hungnam, Korea that were later incorporated into the 1985 book Japan's Secret War: Japan's Race Against Time to Build Its Own Atomic Bomb. [2]
The bottom line is that if Imperial Japan of the summer of 1945 had a prototype atomic device.  It's first test would have been on a ship or aircraft kamikaze aimed where they thought it would hurt the American war effort the most.
Posted in Japan, Military Affairs, Miscellaneous, National Security, War and Peace | 25 Comments »