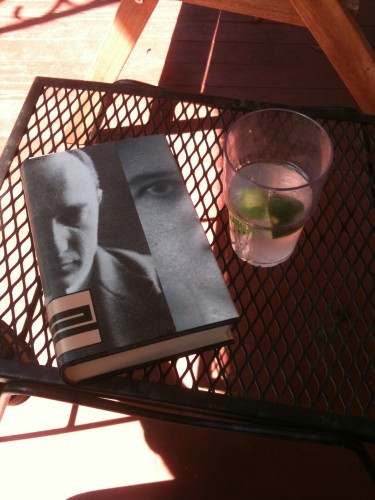 I have so much I should be doing I keep clamping down so I don't have a panic attack.
But, its Memorial Day and I am taking it easy. I have been going to read Robert Musil's The Man Without Qualities for a long, long time. And I finally bought the highly praised recent translation last year. As a devotee of all things literary pertaining to the final years of the Austro-Hungarian Empire (e.g. the three masterpieces: The Radetzky March by Joseph Roth, and The Snows of Yesteryear by Gregor von Rezzori and The World of Yesterday by Stefan Zweig), Musil is long overdue.
So, I managed to evade the rest of the family and get a few minutes on the front porch with Musil and a stiff glass of lime, ice, tonic water and Tanqueray gin — which was in the back of the cabinet and forgotten until a few days ago.
Chicken and grilled veggies up next.
God bless America.