I recently went on a bike trip to the Pyranees in France. I trained for this for over six months, slaving away in my basement on a trainer as well as doing other workouts in the hostile winter here in exchange for two weeks of payoff on the mountains in France. Everything went wonderfully on the trip (more on this later). I was pretty excited when I was packing and leaving. It was the sort of feeling that you got in college when you knew you were going to ace a test. All the preparation and pre-work was done, it was simply time to perform.

There are not any options for international travel here in Madison, so I hopped a bus to O Hare. Pleasant trip. I got to terminal five and the check in was professional and fast. I breezed through my passport check with a pretty short line.
I wanted a drink to celebrate my accomplishment of training so hard and being so dedicated to my goal so I looked for the bar in the international terminal. I ran into this booze stand.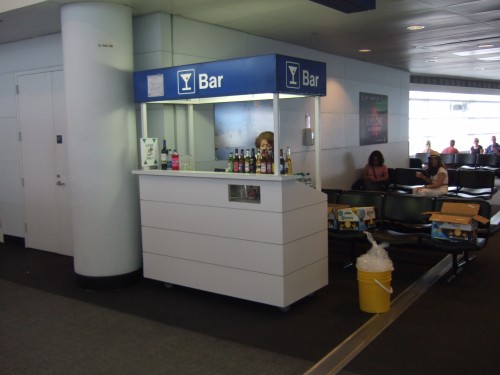 I scratched my head a bit and said to myself – this simply cannot be the only place to get a drink in this terminal. Well it was.
I still can't figure this out. All they had at the O Hare International Terminal Five was two of these booze cart type things, and a couple of walls of duty free crap such as booze, smokes and perfume (as always).
This is what the City of Chicago wants foreign passengers to see when they arrive at their airport? Can anyone explain why they don't have a decent cafe, restaurant or bar in this terminal? I just found it weird and frankly, pretty backward.