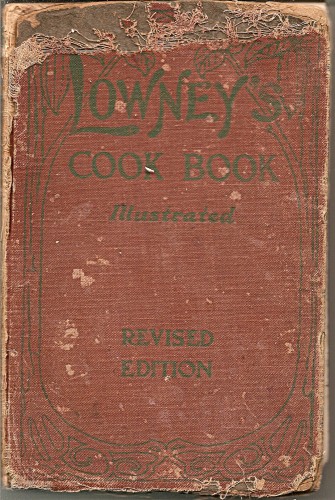 The Daughter Unit is, as I have mentioned before, the absolute queen of yard sales, thrift stores and estate sales. She views each possible venue as a rich hunting ground – and regularly emerges triumphantly flaunting a high-quality and originally expensive item bought for a relative pittance.  She also has a soft spot for old books, especially the ones which look as if they have had better days. She says they appeal to her rather like a kind of abandoned pet, the elderly animal left behind when the owner dies.
At the last estate sale, she glommed onto a tattered cookbook – so well used that the back cover boards and the spine were missing entirely, as well has about half the page signatures had come unstitched: A copy of Lowney's Cook Book Illustrated – Revised Edition. Which poor appearance owes something to age – the revised edition came out in 1912, and hard use – since it seems to have been very much referred to by the original and subsequent owners. The last few blank pages of this orphaned cookbook that my daughter bought – and the reason she felt moved to buy it – are filled with hand-written recipes in faded ink.
Just leafing carefully through – because the corners of some of the pages shred easily – Lowney's appears as a kind of cook book bridge between Mrs. Beeton's encyclopedic tome on household management with recipes, and  Irma Rombauer's  1970's edition of  the Joy of Cooking which was my mother's general-purpose cooking reference. Like Mrs. Beeton's – there is some general guidance on setting up formal dinners, and instructions to guide a butler in the performance of his duties. Unlike Mrs. Beeton's – Lowney's has nothing much more to say about the duties of household staff. This might be as much of a difference between Britain and America as much as it might be the difference that sixty years of progress had made. In a middle-class urban American household in 1912, one might very well have been able to count on electricity, gas stoves, and reliable refrigeration, and maybe the help of an occasional cleaning woman or laundress.
By this time, cooking might even have been a bit more fun for the housewife. In any case, by the time of Joy – a housewife was definitely expected to be the cook herself. Lowney's does have extensive instructions – and color illustrations yet – on the various cuts of meat extrapolated from a whole side of beef, which is very much in line with Joy of Cooking, which had pages of diagrams on this kind of thing. (Seriously, if I ever have to clean a whole game bird, I will refer to my own copy of Joy for step by step instructions.) Like Mrs. Beeton, Lowney has a whole chapter devoted to invalid cookery, reminding us that in the early 20th century, as well as in the 19th, a substantial portion of a housewife's energies might well be taken up with nursing the sick. And finally, in one particular – the recipes within it look much more  . . .  edible and appealing than Mrs. Beeton's, much more like something that could be fixed without a lot of fuss, and with ingredients still widely available. The measurements are standardized also – none of this "a piece of butter about the size of a walnut" and a "dessert spoonful" of this or that. This standardization of measurements was the gift of Fannie Farmer, I am given to understand. The original Lowney was a manufacturer of chocolate – but the cookbook editor, Maria Howard, was associated with the Fannie Farmer School of cooking.
Just for fun, though – here is a recipe for homemade tomato catsup, for anyone who happens to have half a bushel of tomatoes lying around.
 Directions for Tomato Ketchup #2
½ bushel tomatoes, 2 Tbsp mustard, 2 Tbsp ginger, 1 Tbsp cloves, 1 Tbsp allspice, 2 Tbsp pepper, 3 quarts vinegar, 2 cups alcohol, 3 cups brown sugar, 1 cup salt, 2 lemons finely chopped, cayenne pepper
Cook tomatoes one hour; press through a sieve; add all ingredients except alcohol and cook until thick; boil one minute, add alcohol and bottle. The cooking will take six or eight hours; stir occasionally to keep from burning.
(The above is an archive post,  originally posted at my OS blog, and maybe at the Daily Brief. I've been tied up all this week … I have a table for my books at a Christmas market tomorrow – so all kinds of support material to print up for that – and two of my books have just now this very day gone live on Amazon: the second edition of To Truckee's Trail, which one fan described as 'Wagon Trains for Dummies' – and 'Deep in the Heart – the latest and the sequel to Daughter of Texas. The Kindle edition will show up any minute now. Oh, and a big hug and a kiss for the UPS delivery guy in my neighborhood, who was in so much of a hurry to finish for the day that he left the two boxes of books that I needed for stock at the Christmas Market tomorrow and ran away before I even opened the door… No, I really don't look all that terrifying without makeup, but it's a Friday afternoon and just before 6 PM.)