Rather than posting about sad subjects such as the imminent explosion of the supercommittee or Europe's sovereign debt problems, I choose to start this Monday morning with a bleg of extreme importance. Below is Jameson, the dog, as a puppy. We got him from the humane society.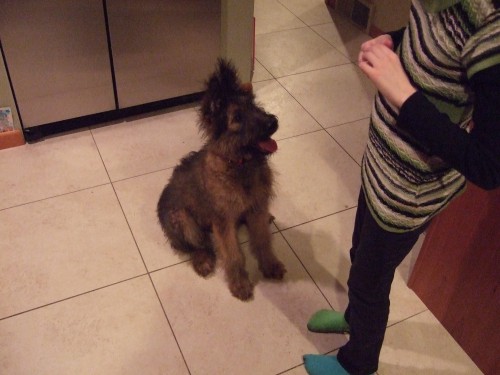 Below the fold, you can see a couple photos of him all growed up.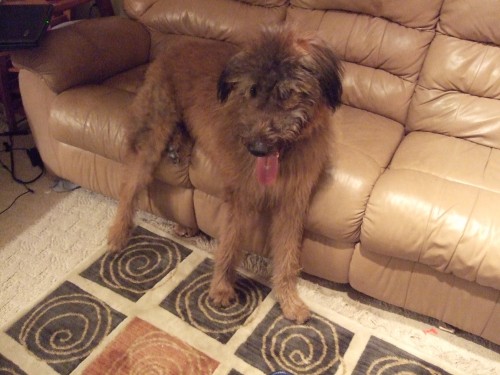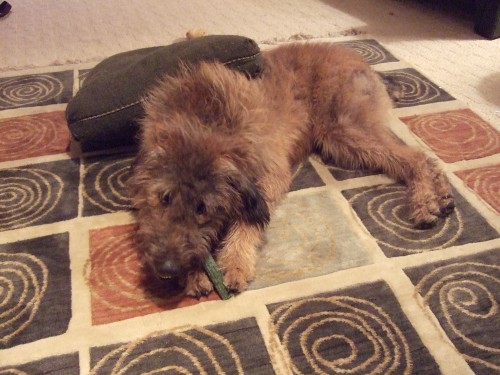 This dog is extremely high energy and has a very high prey drive. He is the perfect farm dog. When my wife goes out there to feed she just lets him go. He knows the boundaries. He doesn't eat the chickens. He basically chases anything that moves, including squirrels, birds, cats, etc. We can leave him out there all day and he won't run away. He will walk around and play with stuff, but basically just does his job (we have surveillance cameras out there and it is fun to see what he is doing when we aren't there).
The dog's teeth are huge.
Inside, he is like a bull in a china shop but he is learning.
As of today he is about one year old and 75 pounds. We are praying he is done growing.
There is an endless debate between us, the vet, the people at Mounds (a feed store) and others as to what this mess of a mutt is. We think he is a Bouvier/German Shepherd cross, but others say Airedale. We have Airedales in our neighborhood and Jameson towers over them and the coat is a bit different as well. Any help out there from our esteemed commenters?