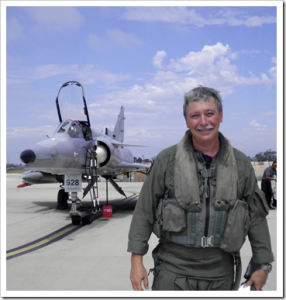 Captain Carroll LeFon, USN (retired)…known to the blogosphere as Neptunus Lex….was killed yesterday. Lex was flying an Israeli-made Kfir fighter for a contractor that provides "adversary" services for training U.S. combat pilots. Details of the accident are not yet clear; however, it's been reported that weather conditions included both fog and snow.
This is a terrible loss. Lex was a great writer and an incisive thinker, extraordinarily well-read in literature and history. He must have been a great officer; some of his leadership qualities can be seen in his discussion of various shipboard incidents and the gentle but firm way he managed the occasional out-of-control comments exchange on his blog. He was a true patriot, devoted to his family, he loved the Navy, and he loved aviation. He had a great sense of humor, and he was that rare thing, a truly morally serious person.
Herewith, a collection of some of my favorite Neptunus Lex posts…
The captain wakes before dawn…with a feeling that all is not well with the ship
Reading Solzhenitsyn at the US Naval Academy
Movie vs reality. Lex, who served as executive officer of the Navy Fighter Weapons School (TOPGUN), answers some question's from his daughter's friend about the movie.
Hornets, Tomcats, Scooters, Girls & Guys, Oh My!
Some reflections on a less-than-perfect carrier landing, a verbal interchange that probably shouldn't have happened, and the nature of leadership
Have you ever killed anyone? asked the massage therapist, after learning that Lex had been in the Navy.
You're having a dinner party and have the magical ability to invite 10 people–5 men and 5 women–from all of history. Who would you pick?
Tennyson's Ulysses, personalized and hyperlinked. Created by Lex to mark his retirement from the Navy. Perhaps my favorite of all of Lex's posts, and particularly appropriate today.
As Cassandra says, quoting Hamlet:
He was a man, take him for all in all, I shall not look upon his like again