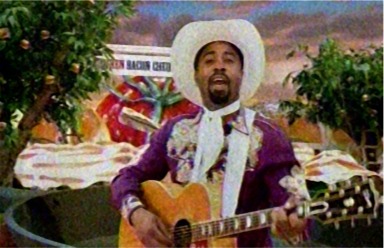 If you've been watching much television lately, you may have caught Burger King's new ad for its Tendercrisp Bacon Cheddar Ranch Chicken Sandwich. The spot, which is titled "Fantasy Ranch" has won my heart with its mix of wholesome folksy music, blatant sexual innuendo, and complete lunacy, all twisted to the purpose of promoting the unhealthy fast-food agenda of a multinational conglomerate. Tell me that this concept doesn't warm your cold, machine-like capitalist heart as it does mine.

With the backdrop of a vaguely psychedelic Wizard Of Oz style landscape, the commercial features Darius Rucker (front man for the intolerable college-schlock band, Hootie and the Blowfish) decked out in a rhinestone encrusted cowboy suit, playing his guitar and singing a jingle while wondrous fast-food related events, mostly involving scantily clad curvaceous women, occur all about him.
It is the most wonderful short piece I've seen since the whacked out video for the song Frontier Psychiatrist, by Australian electronica band The Avalanches.
The full lyrics, as sung to the tune of "Big Rock Candy Mountain":
When my belly starts a-rumblin', and I'm jonesin' for a treat.
I close my eyes for a big surprise, the Tendercrisp Bacon Cheddar Ranch.
I love the Tendercrisp Bacon Cheddar Ranch, the breasts they grow on trees.
And streams of bacon ranch dressing, flow right up to your knees.
Tumbleweeds of bacon, and cheddar paves the streets.
Folks don't front 'ya cause ya got the juice, there's a train of ladies comin' with a nice caboose.
Never get in trouble, never need an excuse, the Tendercrisp Bacon Cheddar Ranch.
I love the Tendercrisp Bacon Cheddar Ranch no one tells ya to behave.
Your wildest fantasies come true, Dallas cheerleaders give you shaves.
Red onions make you laugh instead, and french fries grow like weeds.
Ya get to veg all day, all the lotto tickets pay.
The king who wants you to have it your way, that's the Tendercrisp Bacon Cheddar Ranch.

(source)
The piece was created by ad agency Crispin Porter & Bogusky, who were also responsible for Burger King's disturbing Subservient Chicken viral marketing website. They are geniuses.
There are two versions of the commercial; a 30-second version which gets the most airplay, and a slightly saucier 60 second version which I've only seen late at night. You can view the 60 version here. (link via wantmoore.com)
Apparently, Hootie fans are dismayed by Rucker's debasing himself in such a terrible commercial. I would disagree, arguing that this short piece has redeemed the man from the eternal damnation he has earned for inflicting Hootie on an unsuspecting world. But then again, I never much cared for the whole 'Blowfish' thing, and am, to be fair, kind of a jerk.
I wish Mr. Rucker luck on his subsequent musical endeavors.
Update:
If you had trouble with the video link above, the 30 second version can also be downloaded in Windows Media and Quicktime formats. (hosting thanks to MMMikey)
Update 2:
MMMikey, who is obviously a man of exquisite taste, is also hosting the long version in Windows Media and Quicktime formats, just in case the msn link doesn't work.