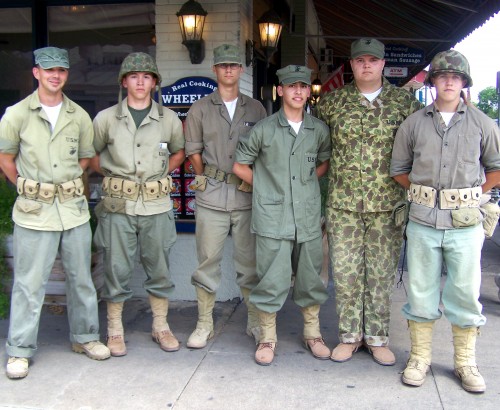 In Fredericksburg, Texas – the home of Admiral Chester Nimitz. Being an Annapolis man, he probably would have ripped them up one side and down the other for inability to assume the proper 'shoulders-back,stand-up-straight, suck-yer-gut in! stances at the command of 'Parade-Rest!' Or maybe not … he always struck me as a commander who could make allowances. (His grandfather, CH Nimitz, is a reocurring character in my historical novels about the Germans in Texas.)
But they are reenactors, and doing their best for the mission of the National Museum of the Pacific War, in Fredericksburg, Texas. (They were also all pretty young, and geeky … probably heartbreakingly like the Marines that they were reenacting. So, who says that historical reenactors are all middle-aged and physically-less-than-fit guys?) This Saturday, they were working Main Street, and anding out cards with the schedule for reenactment events at the Pacific Combat Zone part of the museum.
Fredericksburg – a small town in the Hill Country – I love it extravagantly, and I think I know it as well as anybody.