My wife took a recent visit to her grandmother and grandfather. They aren't doing so well. We have had to have "the talk" with them about getting them out of their house and into some sort of assisted living facility. It isn't pleasant, of course – it never is when dealing with situations such as this.
While there, my wife was asked to go through some things and distribute them among the living family members. Most of these things hold only sentimental value. I ended up with a couple of guns, a sweet antique Marlin .22 and a beautiful bolt action Mossberg 12 gauge shotgun. I haven't had time to research them as of yet.
As we were cleaning up the van and getting some of the items ready for a garage sale to raise cash for them, my wife informed me she also got a box of letters. What's that, I said? Well, here it is.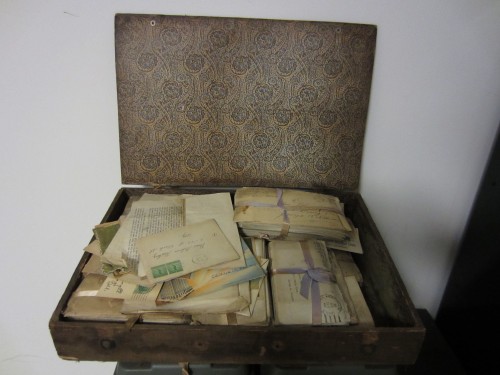 I was told that these were letters from my wife's grandfather to her grandmother. And they are. Hundreds and hundreds of them, neatly bundled and put away for nearly 70 years before my eyes gazed upon them. From an early look, the vast majority of them seem to be from when my wife's grandfather was drafted to be in the big war – ww2, that is. They have that musty/old book smell.
He was stationed in India and from what I can glean upon reading a letter or two is that he was a supply clerk of some sort. There are also a lot of letters that he wrote to her from basic training. Most of the addresses use grandma's maiden name. They were still courting.
Oh yea – I haven't told my wife this yet – there are letters from other guys to grandma too. Well then.
I plan on sharing some of these letters with our readers here. They are an invaluable source of information to a historian such as myself to get a feel what it was like back then – not only from a military history standpoint, but they will be a look into the social lives of folks back then as well.
I shall change the names as these folks are still alive, but I will leave all of the language intact. I hope you enjoy these letters that I will publish as I find time to transcribe them. The first thing I need to do is figure out everything chronologically.
I am absolutely giddy with anticipation.