The daughter unit was working today, so we waited and had late-lunch, early dinner. The local Chick-fil-A nearest us was jammed, even more than it was last Saturday, and the line of cars for the drive-through window went around the building, through the parking lot of the business next to it, out to the access road through the shopping center, down the access road to the highway access road. The cashier told us that at lunch today, the line went all the way to the Costco, about a third of a mile away.


The crowd inside was very laid-back, comfortable and courteous: lots of families with children, and a fair number of senior citizens. We stood in line with a young Air Force couple who had just returned from a tour at Misawa AB, Japan – where my daughter was born. And we shared a table with a radiology tech who also ran a small legal clinic in company with a lawyer friend. He turned out to be a Tea Partier from away back, and we reminisced about what fun it was, that first big rally at the Alamo, and the 2009 4th of July bash at the Rio Cibolo Ranch.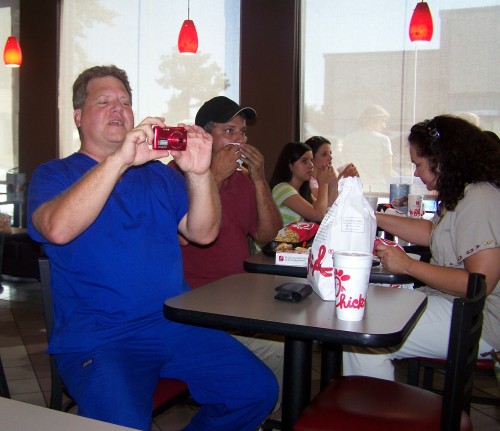 It turned out that we had come at a good time, for about the time that we had our food, the line of people waiting to get in was all the way out the door and the length of the building, which is a mild hardship in the hottest part of the day. Most people were getting take-out, so there were enough tables for the eat-in crowd. There were a lot of people taking pictures and texting on their cellphones, so I presume that at least a third of them were tweeting, blogging and updating their Facebook status. Hurrah for social media! I did not see any local news media when we were there, although the San Antonio Express News did have a story – along with a number of rather graceless and totally point-missing comments appended to it, the most risible being that by commenter 'txex06' who sneered, "Morons with nothing better to do. I am sure most of these people will stand in line for fried chicken, but will not stand in line to vote." Unfortunately for that commenter's thesis, those people who came out in 100+ heat to stand in line and jam the premises of a chicken sandwich franchise are the ones who will indeed stand in line to vote – in November, just as they did on Tuesday, in a primary which handed victories to candidates like Ted Cruz and Dr. Donna Campbell — who were favored by Tea Partiers.
Perhaps that is why commenters like txex06 are so grumpy; you don't need the weatherman to know which way the wind is blowing.