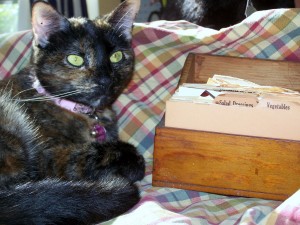 Among the recipes in the box is one for dandelion wine.

Dandelion Wine
Clean sepals from and wash thoroughly 6 cups dandelion blossoms. Place in a sterilized jar and cover with 3 quarts boiling water. Add rind from 2 lemons and 2 oranges, Cover mouth of jar with plastic wrap and allow to set for 2 days.
Strain liquid into another sterilized jar and stir in: 2 ½ pounds sugar, juice of 2 lemons and 2 oranges, ½ lb raisins, coarsely ground, and ½ package yeast. Cover and set away for one week. Strain into a gallon jug, adding additional water to fill, if necessary. Seal tightly and allow to ferment for 3 months. When it stops fermenting, pour into another jar and allow to stand until clarified. Bottle, and seal, and allow to age.