I have written in my columns on the end of WW2 in the Pacific about institutional or personally motivated false narratives, hagiography narratives, forgotten via classification narratives and forgotten via extinct organization narratives. Today's column is revisiting the theme of how generational changes in every day technology make it almost impossible to understand what the World War II (WW2) generation is telling us about it's times without a lot of research. Recent books on the like John Prados' "ISLANDS OF DESTINY: The Solomons Campaign and the Eclipse of the Rising Sun" and James D. Hornesfischer's "NEPTUNES INFERNO: The US Navy at Guadalcanal" focus in the importance of intelligence and the "learning by dying" use of Radar in the Solomons Campaign. Both are cracking good reads and can teach you a lot about that period. Yet they are both missing some very important, generationally specific, professional reasons that the US Navy did so poorly at night combat in the Solomons. These reasons have to do with a transition of technology and how that technology was tied into a military service's training and promotion policies.
WW2 saw a huge paradigm shift in the US Navy from battleships to aircraft carriers and from surface warship officers, AKA the Black Shoe wearing "Gun Club," to naval aviators or the Brown Shoe wearing "Airdales." Most people see this as an abrupt Pearl Harbor related shift. To some extent that was true, but there is an additional "Detailed Reality" hiding behind this shift that US Army officers familiar with both the 4th Infantry Division Task Force XXI experiments in 1997 and the 2003 Invasion of Iraq will understand all too well. Naval officers in 1942-1945, just like Army officers in 1997-2003 were facing a complete change in their basic mode of communications that were utterly against their professional training, in the heat of combat. Navy officers in 1942-1945 were going from a visual communications with flag semaphore and blinking coded signal lamps on high ship bridges to a radio voice and radar screen in a "Combat Information Center" (CIC) hidden below decks. US Army officers, on the other hand, in 1997-2003 were switching from a radio-audio and paper map battlefield view to digital electronic screens. Both switches of communications caused cognitive dissonance driven poor decisions by their users. However, the difference in final results was driven by the training incentives built into these respective military services promotion policies.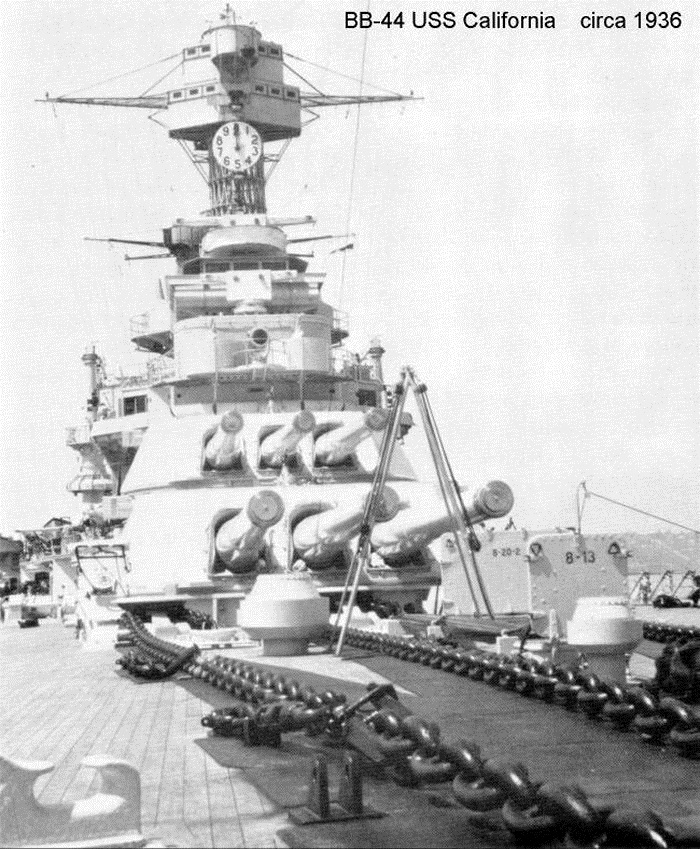 During the "cultural change in combat" by the US Navy in 1942-45, this played out as the naval aviators, the "Brown Shoes," displaced the battleship officers, the "Black Shoes," as much because the latter were visual communications oriented as due to their being on battleships rather than aircraft carriers. Naval aviators could not function without radio, and later radar, coordinating and directing naval air power to accomplish it's mission. Radio and radar were the immediate future of naval combat and naval aviators understood it far better than the "Gun Club." In a real sense Pearl Harbor on Dec 7, 1941 was an extension of the Summer 1940 Battle of Britain, underlining it's lessons on radio and radar directed air defense, at the expense of the Gun Club's interwar visual communications based fighting doctrine.
Interwar US Navy Doctrine
The "Gun Club," unlike the "Brown Shoes" was an heir to a visual communications tradition centuries in length and had spent the 1920's and 1930's "Refighting Jutland" incorporating radio plus better and better air support. The lessons that the "Black Shoes" learned from Jutland were the following:
1. The need for a uniform fleet doctrine locking all naval forces into a battleship centered decisive naval engagement doctrine and,
2. The need to utterly control and minimize radio communications to deny the enemy the kind of direction finding and code breaking intelligence the British Royal Navy gained on the German High Seas fleet at Jutland.
According to the book "BATTLELINE: The United States Navy 1919-1939," this "Black Shoe" fleet doctrine called for a scouting phase with an 8-inch (203mm) gun heavy cruisers (CA) scouting line, a "screen fight" phase where friendly destroyers (DD) broke through to hit enemy capital ships with torpedoes while friendly 6-inch (152mm) gun light cruisers (CL) either supported such actions or prevented similar ones by the enemy by smothering DD's with 6-inch shells. Then, finally, a decisive clash of battle lines which was followed by a vigorous screen pursuit of crippled capital ships or a organized disengagement to cover crippled American battleships. In these exercises friendly aircraft carriers (CV) eventually displaced not only the CA's visual line scouting role, but also much of the DD and CL screen role in guarding and pursuing during the day in late 1930's exercises. This resulted in a ranging CV plus CA task force stalking from behind the battle line, dashing out to strike, and retiring behind the big guns as needed.
Gun Club Training and Promotion Incentives
Tight budgets meant there was no training of American cruiser or destroyer flotillas in the kind of independent actions seen in the Solomons, and even if it had, night time training required more radio communications than the "Gun Club" was willing to use for fear of direction finding and code breaking by the enemy.
According to James Dunnigan and Al Nofi's "VICTORY AT SEA," there was also an additional factor stemming from US Navy promotion incentives. Gunnery scores on destroyer, cruiser and battleship live fire exercises was how "Black Shoe" Commanders got promoted to Captains and Captains got promoted to Admiral. This drove the Navy to make gunnery as "Fair" as possible at the expense of realistic training. Every time there was a choice between realism in gunnery training and "fairness" for promotion's sake. Realism lost. By the end of the 1930's battleships were firing in daylight, in good weather, in as smooth as glass calm seas as could be predicted by naval weather forecasters. This left the "Gun Club" part of the US Navy command structure with some very unrealistic professional expectations versus the chaotic reality of night time combat in the Solomons.
This was ultimately played out on November 13, 1942 when — after an earlier cruiser force victory by the radar and hard night training oriented "gunslinger" Rear Admiral Norman Scott — Scott was displaced in command by the less experienced, but senior by date of promotion, Rear Admiral Daniel Callaghan. Callaghan's first mistake was to put his flag on the USS San Francisco, an 8-inch gun heavy cruiser he had commanded previously. It was a much more powerful in daylight unit, but it was radar-less and ill equipped to command at night. Especially compared to the smaller, newer, light cruisers Helena, Atlanta and Juneau of his force, ships that had the latest radars and radios. Then Callaghan lead Scott's former command, with Scott on one of the other ships, to the naval equivalent of bayonet range with two Japanese battleships. This mistake was followed by a series of confusing orders from his flagship including;
1. Directions to cease fire,
2. Directions to fire at the "big ones," and
3. That odd numbered ships should fire to port and even numbered ships fire to starboard – – failing to take into account the actual position of the various ships in relation to the enemy.
Callaghan's professional instincts, trained by a career in the interwar visual communications and "perfect condition" gunnery US Navy betrayed him and his men, killing him, RADM Scott, and hundreds more U.S. Navy sailors besides.
Cognitive Dissonance in Combat, the Navy and the NTC
The reason I am writing this column is I recognized in Rear Admiral Daniel Callaghan's performance a very similar performance that happened 52 years later at Ft. Irwin California, by commander of the 4th infantry Division's first "Army XXI" digital brigade in its rotation through the National Training Center (NTC) in 1997. I wrote the following in my Winds of Change column titled "Network Force II" on March 26, 2004:
The Colonel running the digital brigade literally turned off/ignored all of his visual/graphical displays of his unit locations and listened to his radio chatter instead to form his mental picture of the battlefield. The displays were not agreeing with the mental picture this Colonel had of the battlefield from the radio chatter, so he ignored it.
.
It turned out that the prototype Blue Force Tracker was right and his radio chatter mental picture was wrong. The After action report made that one clear, yet the professional training of 15 years made this combat leader ignore what he was seeing in favor of the familiar.
Both RADM Calliaghan and this brigade commander made bad decisions because they were forced to use completely new communications paradigm with an old communications professional training and background. The primary difference between the two examples was that this brigade commander didn't get anyone killed. The US Army's NTC was, and remains today, the exact opposite of the US Navy's 1919-to-1941 training. The NTC is all about throwing a much chaos at U.S Army commanders as the very professional opposing force or "OPFOR" can think of. Dealing well with chaos gets promotions in the US Army, not "Fair" gunnery scores.
.
This difference showed up in the further battles of the Guadalcanal, Central and Northern Solomons campaigns, like the Battle of Tassafaronga, sometimes referred to as the Fourth Battle of Savo Island, where four American cruisers were torpedoed. Again and again, new "Black Shoe" commanders rotated in to learn the same lessons in lost ships and blood.
By way of contrast in the 2003 invasion of Iraq, the US Army was better able to shift communications paradigms due to training and the NTC institutional mindset according to this passage from the March 22, 2004 issue of Federal Computer Week:
"How much of a difference did Blue Force Tracking make in Iraq? One simply has to ask Army Lt. Col. John Charlton. On March 17, 2003, two days before the start of the war in Iraq, Charlton and his M2A3 Bradley crew meticulously cut and pasted laminated maps inside their 35-ton armored personnel carrier. Before the war, the Army quickly trained 3rd Infantry Division soldiers how to use Blue Force Tracking. However, they did not feel confident using the computer, so they didn't turn it on when crossing into Iraq on their first mission.
.

"What I should have spent the entire time focusing on was the small screen
attached to my door," Charlton said after the war. "It had been accurately tracking
my location as well as the location of my key leaders and adjacent units the whole
time."
.
But four days into battle, amid the Iraqi sandstorms, the Bradley crew finally turned
on Blue Force Tracking. The computer's imagery and Global Positioning System
capabilities let them use Blue Force Tracking similar to how pilots use instruments
to fly in bad weather.
.
"The experience of being forced to use and rely on Blue Force Tracking during a
combat mission under impossible weather conditions completed my conversion to
digital battle command," said Charlton, commander of 1-15 Infantry, 3rd Infantry
Division, in Army documents."
Now you know a "detailed reality" of the WW2 Generation our modern technology makes hard to understand…and the subject of how this visual communications style affected inter -service and intra-service communications in the Pacific War will be in future History Friday columns.
Notes and Sources:
.
1) James Dunnigan and Al Nofi, "VICTORY AT SEA: World War II in the Pacific," William Morrow, copyright 1995, ISBN 978-0-688-05290-4
http://www.amazon.com/Victory-Sea-World-War-Pacific/dp/0688149472
.
2) Thomas C. Hone and Trent Hone, BATTLELINE: The United States Navy 1919-1939, copyright 2006, Naval Institute Press, ISBN-13: 978-1591143789
http://www.amazon.com/Battle-Line-United-States-1919-1939/dp/1591143780
See pages 68, 69, 74, and 75 which have photos of Range clocks on Old BB's in the 1920's. This book explains in detail interwar US naval doctrine glossed over above.
.
3) James D. Hornesfischer, NEPTUNES INFERNO: The US Navy at Guadalcanal, Bantam books, Copyright 2011, ISBN978-0-553-80670-0
http://www.amazon.com/NEPTUNES-INFERNO-Hornfischer-Hardcover-Neptunes/dp/B004JC06OU/ref=sr_1_2?s=books&ie=UTF8&qid=1390532577&sr=1-2&keywords=NEPTUNES+INFERNO%3A+The+US+Navy+at+Guadalcanal
Hornesfischer goes into detail and the hard and realistic training Rear Admiral Norman Scott put US Navy surface units after the disaster of the first Battle of Savo Island, and how Rear Admiral Daniel Callaghan, threw it all away with his obsolete visual battle professional instincts. Explaining the later battleship action off Savo island, Hornesfischer tells how USS Washington and Rear Admiral Willis A. Lee, Jr. showed the way to the new age of "Radar gunslingers." An age that would reach it's apex during the Battle of Surigao Strait 24-26 October 1944. When the radar gunfire equipped old battleship gunline saw off two Japanese battleships with virtually no losses.
.
4) J.D. Ladd, ASSAULT FROM THE SEA 1939-1945: The Craft, The Landings, The Men, copyright 1976, Hippocrene Books Inc, ISBN: 0-88254-392-X
http://www.amazon.com/Assault-Sea-1939-45-Craft-Landings/dp/088254392X/ref=sr_1_2?s=books&ie=UTF8&qid=1390532646&sr=1-2&keywords=ASSAULT+FROM+THE+SEA+1939-1945%3A+The+Craft%2C+The+Landings%2C+The+Men
.
5) John Prados, ISLANDS OF DESTINY: The Solomons Campaign and the Eclipse of the Rising Sun, Copyright 2012, NAL Caliber, ISBN: 978-0-451-23804-7
http://www.amazon.com/Islands-Destiny-Solomons-Campaign-Hardcover/dp/B00EQSPQI8/ref=sr_1_fkmr0_3?s=books&ie=UTF8&qid=1390532711&sr=1-3-fkmr0&keywords=ISLANDS+OF+DESTINY%3A+The+Solomons+Campaign+and+the+Eclipse+of+the+Rising+Sun
Prodos also covers the Battleship action off Savo island but also covers the further Central and Northern Solomons naval actions where brand new "Gun Club" commanders of thrown together task forces had to learn the same lessons over and over again at the price of lost ships and dead crews.
.
6) Trent Telenko, The Networked Force II, March 26, 2004
http://windsofchange.net/archives/004759.html