Adrift without a map, we are, in the sea of current events. Especially after this last week, which brought us a ground war in Gaza and the shoot-down of a passenger airliner over Ukraine; both situations a little out of the depth of the past experience of Chicago community organizer, even one who spent his grade school years in Indonesia. Quite a large number of the blogs and commenters that I follow have speculated over the last couple of months – at least since last year – and have predicted disaster. They know not the day nor the hour, but they have read the various augurs according to their inclinations, suspicions and particular expertise, and gloomily speculate on the odds of various events occurring. There is something bad coming, the air is thick and heavy with signs and portents, never mind the cheery cast that the current administration and its public affairs division attempts to put on it. It's like a makeup artist, plying the art on a six-months-dead corpse; it's just not working.

The list of possible events speculated on begins with some kind of dirty nuke on a major (or even a relatively minor) American city, or other terrorist act, sustained racial riots in inner cities leading to violent resistance when the rioters spill out into the fringes, an epidemic caused by the recent accession of thousands of Central American illegal aliens and the administrations energetic dispersion of them everywhere, violent resistance to any number of ham-handed actions on the part of the federal government spiraling out of control as in the BLM-Bundy Ranch scenario, complete devaluing of the currency to the point of a ten-dollar bill having the value of a used bus ticket – I can come up with any number of issues which might potentially provide a flashpoint, and commentators likely can come up with as many more, even as we grimly acknowledge that the ignition point might be one which we won't even see coming.
Today, Governor Perry of Texas announced plans to send 1,000 National Guard troops to the border area – an area which has always been about as porous as a wet sponge, but which troubled no one much beyond those law enforcement in border counties, and residents whose ranch properties were essentially highways for the human traffic. The trickle of illegal immigrants (take THAT, PC Police, they're illegal immigrants!) has become a gusher in the last year or so, and many on the conservative-libertarian spectrum suspect that it has been deliberately engineered, in an effort to Cloward-Piven our national borders. Darker prognostications have it that this is an attempt to stuff the ballot-boxes with sufficient voters to ensure a Democrat Party majority for the foreseeable future, to destroy the working- and middle-class – who have the ungrateful habit of independency and a disinclination to do as their so-called betters order them – and replace them with grateful serfs who will obediently do as they are told. How better to dissolve the people and replace them another?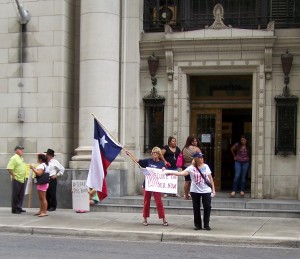 There was a protest scheduled last Friday and Saturday – at the Mexican Consulate in San Antonio. It was a rather small one, when I passed by on Friday afternoon, and if the protest continued as scheduled on Saturday, I can find no evidence for it – but then, seeing how frequently the establishment media organs function as the public affairs office (Media Division) of the Obama administration, I wouldn't have been surprised to know that the protest was continued, and with more protesters – just that the local news coverage was of the "close your eyes, cover them with your hands and hope it will all go away" variety. One thing I did notice on Friday was that the protestors were raising the issue of Marine Sgt. Andrew Tahmooressi, who inadvertently crossed over into Mexico at a particularly confusing San Diego freeway interchange earlier this summer. He had his personal weapons in the trunk of his car – and has been in a Mexican jail ever since, accused of smuggling guns into Mexico. I imagine that the Mexican authorities are feeling the schadenfreude, on account of Fast and Furious, but I haven't seen much enthusiasm on the part of our State Department on getting him out of durance vile, Mexican-style … so every little bit of street theater may help.
Discuss.