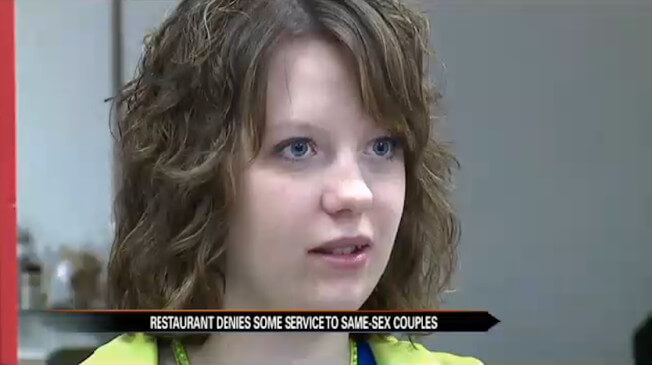 The new war on religious people (of whom I not one) takes on a new urgency as Huffington Post detects a new threat to the republic.
Pence and his state have faced significant national backlash since he signed RFRA last week. The governors of Connecticut and Washington have imposed bans on state-funded travel to Indiana, and several events scheduled to be held in the state have been canceled. Organizers of Gen Con, which has been called the largest gaming convention in the country, are considering moving the gathering from Indiana as well.
Nearby cities like Chicago are capitalizing on the controversy, with Mayor Rahm Emanuel (D) trying to lure Indiana-based businesses into his city.
UPDATE: 1:52 p.m. — White House press secretary Josh Earnest responded to Pence's comments Tuesday, saying the Indiana law has backfired because it goes against most people's values.
No, it is against the left's values. The institutional left. The hysteria extends beyond the usual left and may involve a few weak willed Republicans like those who pressured Arizona governor Jan Brewer to veto a similar bill a year or so ago. Fortunately, Arizona has a new and presumably more firm governor.
Narrowly speaking, that is, the left's hatred of RFRA is about preserving the authority of the cake police—government agencies determined to coerce bakeries, photo studios, florists and other small businesses to participate in same-sex weddings even if the owners have eccentric conscientious objections.
Whether Indiana's RFRA would protect such objectors is an open question: The law only sets forth the standard by which state judges would adjudicate their claims. Further, as the Human Rights Campaign, a gay-rights group, notes, the Hoosier State has no state laws prohibiting private entities from discriminating on the basis of sexual orientation. (It does have same-sex marriage, pursuant to a federal court ruling.) There are also no such antidiscrimination laws at the federal level. Thus under current law, only certain cities and counties in Indiana even have a cake police.
The "cake police" are, of course a term of art from James Taranto to describe the opportunistic left who enforce the gay rights agenda on unsuspecting Christians.
"As Michael Paulson noted in a recent story in The Times, judges have been hearing complaints about a florist or baker or photographer refusing to serve customers having same-sex weddings. They've been siding so far with the gay couples." That is, the judges have been rejecting small-business men's conscientious objections and compelling them to do business with gay-wedding planners. Bruni approves.
Without harboring animus toward gays or sharing the eccentric baker's social and religious views, one may reasonably ask: If a baker is uncomfortable baking a cake for you, why call the cake police? Why not just find another baker who's happy to have your business?
This, of course, is far too simple.
Baking a cake, arranging roses, running an inn: These aren't religious acts, certainly not if the establishments aren't religious enclaves and are doing business with (and even dependent on) the general public.
Of course ! A religious person cannot indulge their own conscience in acts of public virtue. On the left, it is allowed to do so in such examples as Global Warming which require a very public demonstration of piety. Sort of like driving a Prius but more important.
The Heartland Institute, a Chicago-based think tank devoted to "promoting free-market solutions," has been holding these confabs since 2008, sometimes twice a year. And the strategy appears to be working. At the end of day one, Morano—whose claim to fame is having broken the Swift Boat Veterans for Truth story that sank John Kerry's 2004 presidential campaign—leads the gathering through a series of victory laps. Cap and trade: dead! Obama at the Copenhagen summit: failure! The climate movement: suicidal! He even projects a couple of quotes from climate activists beating up on themselves (as progressives do so well) and exhorts the audience to "celebrate!"
Yes, we must assert that temperatures are rising in spite of inconvenient facts like stable global temperatures.
The gay "Mafia" is good at enforcing conformity. The hysteria about a small pizza restaurant in Indiana that was entrapped by an enterprising TV reporter who asked a question that had nothing to do with real actions by the store, is but the latest example.
ABC-57 reporter Alyssa Marino's editor sends her on a half-hour drive southwest of their South Bend studio, to the small town of Walkerton (Pop. ~2,300). According to Alyssa's own account on Twitter, she "just walked into their shop [Memories Pizza] and asked how they feel" about Indiana's new Religious Freedom Restoration Act.
Owner Crystal O'Connor says she's in favor of it, noting that while anyone can eat in her family restaurant, if the business were asked to cater a gay wedding, they would not do it. It conflicts with their biblical beliefs. Alyssa's tweet mentions that the O'Connors have "never been asked to cater a same-sex wedding."
There was no request to cater a gay wedding. The girl was asked a far-fetched hypothetical question.
The result was hysteria led by Huffington Post, a leftist blog.
The Huffington Post headline screams:
Indiana's Memories Pizza Reportedly Becomes First Business To Reject Catering Gay Weddings
Memories Pizza is a nine-year-old shop in downtown Walkerton, Indiana, just a few blocks from John Glenn High School. It's owned by an openly-Christian couple, the O'Connors, who decorate their shop with mementos of their faith in Christ. So how does a small business in a small town wind up making headlines around the world as the new avatar of Christian bigotry?
Perhaps, you say, they brought this upon themselves, seeking out publicity for their strict biblical views.
Er, no they were asked a hypothetical question.
What makes that Times editorial surprising is the frank admission that the editors are unwilling to apply their principles to the religious group they disfavor, namely "conservative Christian groups." That's not to say their candor is untarnished by bad faith. They set up a dichotomy between "religious minorities" and "conservative Christian groups." But unless the old Moral Majority was—and still is—worthy of the latter half of its name, the dichotomy is self-evidently a false one.
It is also an invidious one, since it singles out one religious minority (or, to be precise, one category thereof, since there are many kinds of conservative Christians) and deems it unworthy of the first freedom. And that supposed unworthiness is not limited to the matter of same-sex marriage, or gay rights more generally. The Times once again rebukes the Supreme Court for having "helped the cause of Christian conservatives with its 2014 Hobby Lobby decision," which held that RFRA limited the government's coercive authority vis-à-vis the provision of contraceptives through employee medical benefits.
This is shameful ! Imagine allowing Christian Conservatives to practice their religion without interference.
The only remaining question in the same-sex marriage "debate" was what kind of space, if any, an ascendant cultural liberalism would leave to Americans with traditional views on what constitutes a marriage; that the correlation of forces (corporate now as well as cultural and legal) was such that the choice of exactly how far to push and how much pluralism to permit would be almost entirely in the hands of liberals and supporters of same-sex marriage.
What about other religions ?
To take another example: Suppose we went to a devout Muslim baker and ordered a cake decorated with the image of Muhammad. Presumably he would refuse. If the state moved to compel him to fill our order, would he not have a very strong religious-freedom claim?
Obviously, the Christians must be suppressed. Muslims, of course, are a different issue as they sometimes cut off heads.
The one good aspect of the whole controversy is that a Gofundme site has almost $400,000 after less than one day for the pizza shop owner. And just in time for Easter.
Good Friday today.