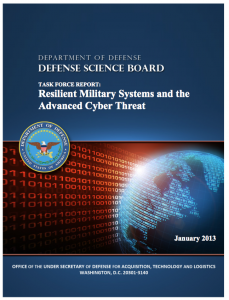 After conducting an 18-month study, this Task Force concluded that the cyber threat is serious and that the United States cannot be confident that our critical Information Technology (IT) systems will work under attack from a sophisticated and well-resourced opponent utilizing cyber capabilities in combination with all of their military and intelligence capabilities (a "full spectrum" adversary). While this is also true for others (e.g. Allies, rivals, and public/private networks), this Task Force strongly believes the DoD needs to take the lead and build an effective response to measurably increase confidence in the IT systems we depend on (public and private) and at the same time decrease a would-be attacker's confidence in the effectiveness of their capabilities to compromise DoD systems. This conclusion was developed upon several factors, including the success adversaries have had penetrating our networks; the relative ease that our Red Teams have in disrupting, or completely beating, our forces in exercises using exploits available on the Internet; and the weak cyber hygiene position of DoD networks and systems.
Final Report of the Defense Science Board (DSB) Task Force on Resilient Military Systems.
Was anything done in response to this report?
Is there anything that could have been done in time to prevent the massive Office of Personnel Management hack?
And this:
Based upon the societal dependence on these systems, and the interdependence of the various services and capabilities, the Task Force believes that the integrated impact of a cyber attack has the potential of existential consequence. While the manifestation of a nuclear and cyber attack are very different, in the end, the existential impact to the United States is the same.
Wow: "…existential consequence…"
Is anyone paying attention to this?
Are any of the presidential candidates?