It has become something of a tradition for the Chicagoboyz web site to commemorate the major events closing out World War II in the Pacific, Where the worst recorded war in human history became a nuclear war — the August 6th and 9th 1945 A-bombing of Hiroshima and Nagasaki — the Imperial Japanese acceptance of the terms of the Potsdam Declaration, and the Sept 2, 1945 formal surrender on the battleship USS Missouri.  See the link enabled list below —
2015 — Happy V-J Day, at 70 Years Plus a Day and Hiroshima, Nagasaki & The Invasion That Never Was (+70)
2014 — History Friday — The WMD Back-Up Plans for the Atomic Bomb
2013 — History Friday: US Military Preparations The Day Nagasaki Was Nuked
2012 – Nagasaki Plus 67 Years
2011 – Happy V-J Day!
2010 – Nagasaki, Hiroshima and Saving Hirohito's Phony Baloney Job and
Hiroshima — The A-bomb plus 65 years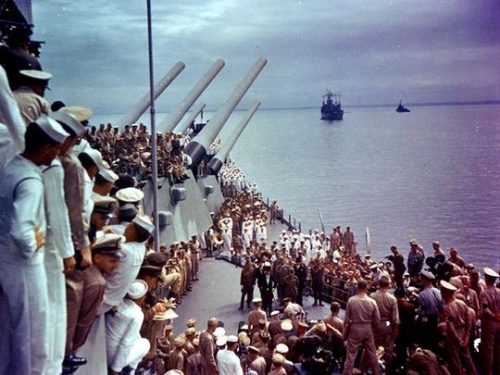 Since that ceremony, a whole mythology about that period of history has grown, driven by various institutional and political imperatives following those events.  And in particular, with regard to the use of nuclear weapons to end the war.
This year's Chicagoboyz commemoration deals not with those myths, but with the war plans of the US Army Air Force (USAAF) from May thru August 1945.  Too understand the use of the A-bomb in August 1945, you have to understand it in terms of the context of those May to August 1945 plans, not the institutional games that came after, games ably laid out in Michael Gordon's recent WW2 book FIVE DAYS IN AUGUST — How World War II Became a Nuclear War".
The short form was that the USAAF institutional leadership, Chief of Staff of the USAAF, General Arnold; operational commander US Army Strategic Air Forces (USASTAF) General Spaatz and Far Eastern Air Forces (FEAF) General Kenney were trying to win the war with conventional bombing via
1. The Small City Target Plan — Bombing out the smaller, 100,000 person or less, Japanese cities within range of Saipan to 'induce' a surrender;

2. The Transportation Plan — A massive two month (1 Oct – 30 Nov 1945) long campaign intended to destroy Japan's rail system; and

3. Beach Preparations on Kyushu — The proposed B-29 carpet bombing of Kyushu beaches on 29, 30 and 31 October with 100 B–29 per beach per day.
Between the agenda of the USAAF bomber generals to form and independent air force and the coming merger of the Navy and War Departments into the Defense Department, much about these three plans never made it out of the secret files — particularly the use of the then high tech SHORAN radio navigation system — to the general public…until now.
(More at page 2)
PLANNED BOMB TONNAGE NUMBERS AND HISTORY

Here are some air bombardment planning numbers from a 19 July 1945 message from the USASTAF Administrative headquarters in Hawaii to the War Department, courtesy of www.Alternatewars.com webmaster Ryan Crierie's research into the 20th Air Force Record Group 18 files in the National Archives.

The plans above were merely for the USASTAF B-29 fleets.  The carrier planes of the US Navy, and General Kenney's Far Eastern Air Forces (FEAF) heavy, medium, and light bombers, plus USAAF & USMC fighters he controlled, would be dropping on the order of 1000 tons of conventional explosive a day in October 1945 in addition to the B-29s.  Given 30 days in October, the bomb tonnage of these "tactical" planes would be double the 15 kiloton yield of the Hiroshima A-bomb!
For additional perspective, historically, the US Strategic bombing campaign dropped these tonnages of bombs on Japan with the these results:
Incendiaries —– 105,978 tons (USSBS*)
High Explosives — 65,082 tons (USSBS)
Deaths ———– 305,500 (averaged from numerous sources)
Wounded ———- 415,000 (averaged from numerous sources)
Homeless ——– 9,200,000 (Pittsburg Press 24 Nov 1945)

* United States Strategic Bombing Survey
This worked out a casualty ratio of
2.88 Deaths per ton of Incendiary Bombs (IB)
3.92 Wounded per ton IB
86.81 Homeless per ton of IB
The small city target plan — AKA hitting all the cities of 100,000 or larger that had not been hit as of 30 July 1945 — amounted to a Pacific Theater equivalent of "Operation Clarion" as far as its terror inducing aspects.  See Operation Clarion here:
https://en.wikipedia.org/wiki/Operation_Clarion
The USASTAF Administrative documents mentioned above showed that for Aug-Sept 1945, the following bomb tonnage drops were going to be dropped on Japan's small cities —
80,066 ton IB
28,515 tons of HE
108,581 total tons
This would have caused, based upon the historical casualty ratio posted above, the following total Japanese civilian casualties:
230,589 KIA
313,858 WIA
6,950,529 homeless
Without the A-bomb, the USAAF intended to kill and wound 1/2 million Japanese civilians — and render homeless another almost 7 million — in further urban firebomb attacks burning out 84 square miles of Japanese urban area during August-September 1945.  Those 230,589 Japanese are the minimum number of Japanese lives saved by the A-bomb had the fighting lasted until 30 Sept 1945.  And this was before the transportation campaign kicked off during 1 Oct- 30 Nov 1945!
ASSESSING THE TRANSPORTATION PLAN
There are lots of things about WW2 that didn't make the history books. The era of 1945-46 is a historical gray area where many "impossible" things were happening simultaneously, in the same armed forces/intelligence bureaucracies, and directly against the stated policy goals of many of the nation-state combatants. The institutional histories of that era, and the narrative myths arising from them, edit out those "impossible' things for the sake of the reputations and power of the Elites.   There is a reason Thomas Pynchon wrote his 1973 book "Gravity's Rainbow" as he did.
See:
https://en.wikipedia.org/wiki/Gravity%27s_Rainbow
The USAAF Transportation Plan for destroying the Japanese Railways before, during and after the Operation Olympic-Majestic lives in one of those "gray areas." The actual plans of May thru August 1945 touched upon post war budgets of both the newly independent US Air Force and US Navy as well as — and perhaps especially —  the leadership succession to General "Hap" Arnold as Chief of Staff to the newly independent US Air Force.
Starting with the "white" part of this gray area, are the two halves of the Transportation Plan.  East of Kyushu, the railways of Honshu, the largest of the Japanese home islands, belonged to the USASTAF B-29 fleets of the newly transferred  8th Air Force on Okinawa and the 20th Air Force in the Marianas Islands.  A figure showing targeted 'choke points'  — tunnels and bridges — is below: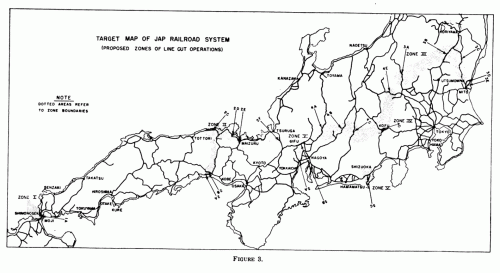 The second half of the Transportation Plan is available on-line in
Chapter 13 of The Reports of General MacArthur, Volume One,
as seen below.  It involved the use of the Heavy, Medium and Light bombers of the 5th, 7th and 13th Air Forces as well as Fighters of the 5th and 7th Air Forces and the USMC 2nd Marine Air Wing combat planes under FEAF's operational control, all based on Okinawa, to destroy the targets indicated.
Where both halves of the USAAF Transportation plan fade from 'white world' of institutional histories into the gray world of Thomas Pynchon "Gravity's Rainbow" involved the use of the SHORAN bombing system.  The SHORAN system, if it is remembered at all, is usually remembered as a foot note to the Korean War air campaign. See link: 
High Tech Bombing in Korea
In fact, the word "SHORAN" is missing from the whole of the United States Strategic Bombing Survey. Nor is it present in the US Navy, USAF, US Army and USMC institutional histories of the end of the war in the Pacific.  Yet SHORAN was key in how the two halves of the Transportation Plan would be executed.
Explaining why that was requires a major digression to explain what SHORAN was and what it did in Europe.
SHORAN Description.
SHORAN was a 300 Mhz (AKA between US TV channels 13 and 14) radar beacon system for high precision navigation and bombing.  In a well mapped piece of terrain, the system could set up two beacons to put a radio "X marks the spot" on any place related to those two surveyed spots.
In cases where the maps were bad, the two beacons could generate coordinates on photos taken by any special SHORAN camera equipped photographic survey flight guided by it. And the higher the photo planes flew, the farther SHORAN signals  reached.  SHORAN in many ways laid the foundation and set a precedent for the later Global Positioning System. SHORAN's use as a mapping tool after WW2 caused many maps to be reissued, because of SHORAN's accuracy made earlier maps obsolete. (Hold that thought, it will be important later.)
The full suite of equipment on-board a SHORAN equipped aircraft includes a AN/APN-3 Radio set, an operator's console and a K-1A model bombing computer.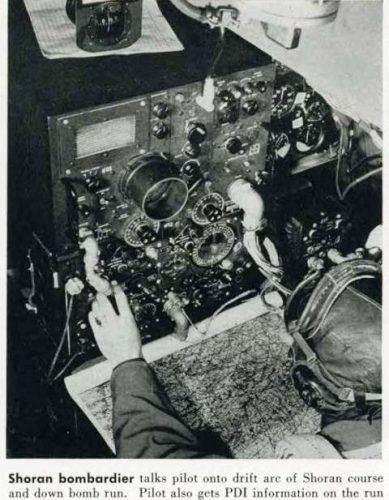 This was equipment functioned with two AN/CPN-2A ground stations with functioning radar beacons located approximately 100 miles apart. With this system, the flight path of the aircraft is an arc of a circle about either one of the ground stations, with the other station being used to determine the bomb release point.
The aircraft AN/APN-3 radio sent pulses to one of the ground stations and the system calculated the range in statute miles by clocking the elapsed time between transmitter pulse and the returned signal.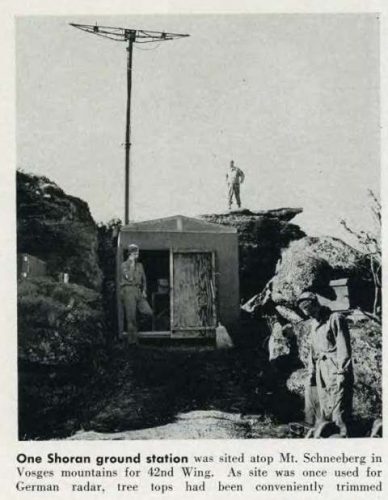 The SHORAN system was designed so that as the aircraft faces the target, the low-frequency station would be on the left, and the high-frequency station on the right. This allows four separate arc approaches to a target as the computer triangulates the two stations and the target.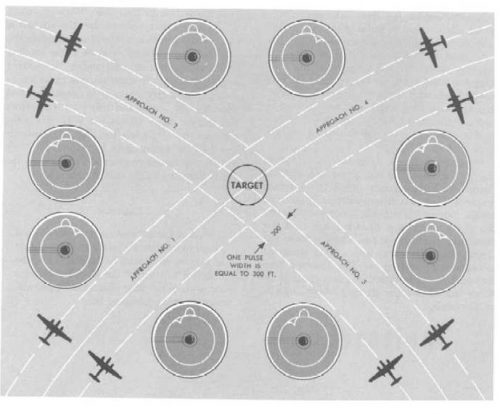 The system was intended for accurate bombing runs in poor visibility.  It could and did do a lot more.
Between January 1945 and the German surrender in May 1945, the USAAF's 42nd Bombardment Wing (M) in France flying B-26 Marauders, and the 57th Bombardment Wing (M) flying B-25 Mitchells in Italy, proved the system was as good or better in any weather or visibility as the Norden bomb site was in clear air with a clear and high visual contrast from the background aim point.
The following strike photos from both units are all taken from the classified "Secret" USAAF periodical "RADAR," Number 10,  dated 30 June 1945, Office of the Air Communications Officer HQ Air Forces Wash D.C.
These are SHORAN strike photos and the right most bomb damage assessment (BDA) photo taken from pg 47 from Radar Magazine No 10. The BDA shows three point targets (circles), the inner box target for the intended bomb pattern and the outer square within 600 yards of the SHORAN aim point. This performance (the dots are bomb hits) was better than the Norden bomb sight in that there was no clear, distinguishable, high-contrast aim point to use a Norden sight for this attack.
This SHORAN ability to accurately hit low contrast, AKA poor visual targets for the Norden sight, had huge implications for the beach preparations for the invasion of Japan, as the following photo series shows.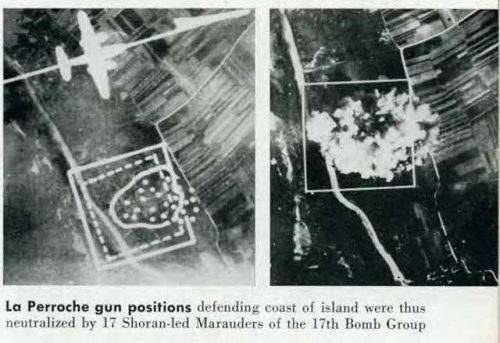 Of even more importance than the low contrast target strike ability, SHORAN's ability to apply bombs to targets obscured by battlefield smoke was of key importance to the invasion of Japan.  Kyushu's forested hills would be subjected to all the napalm bombardment that American WW2 logistics could deliver.  Given that thought, see the photos below.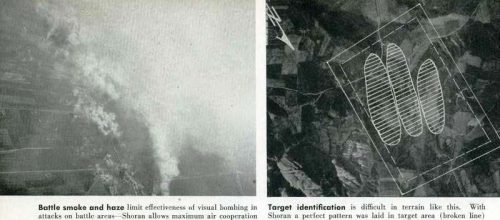 All of the photos above sold General Kenney on SHORAN, but what sold the General's Curtis Lemay, Spaatz and Arnold on the use of SHORAN was the ability of SHORAN to turn B-29 Very Heavy Bombers (VHB) in bridge destroyers from 20,000 feet.  Bridges, whether in Europe or Japan, were hard to destroy hard point targets.  Fighter bombers and medium bombers went low and took heavy casualties to cut them.  Not only to drop bridges the first time, but also to keep destroying the temporary replacement bridges built to replace them.  Heavy bombers flying high enough to be safe from heavy guns could not hit them by radar. SHORAN changed that, and made a B-29 Transportation Plan possible, See below.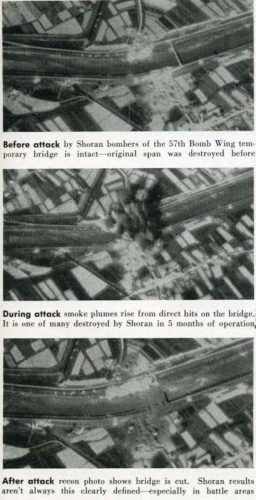 Too say the above photos made believers of the leaders and senior staff of both the FEAF and USASTAF is to understate the results.  With combat feedback from Europe after Germany surrendered in May 1945, numerous plans to use SHORAN appeared in both organizations blossomed on an expedited basis.  Some of these plans were for the support of Operation Olympic Kyushu landings — renamed "Majestic" just as the war was cut short by the twin A-bomb attacks — and some were to support the USASTAF strategic bombing campaign against the Island of Honshu.
 .
By late June 1945 General Kenney's FEAF was requesting  racks and cables — called "A-Kits" — to configure one in five of his heavy, medium and light, B-24, B-25,  and A-26 respectively, to carry SHORAN electronics (the "B-kit).  He also wanted eight  "Droop-snoot" P-38 fighter "lead ships" — the machine guns in the nose were replaced with a bombardier — with SHORAN and 100% of his B-32 "Terminator" VHB SHORAN configured. These plans got a lot of official attention as this secret radiogram to the War Department made clear.
[SHORAN 12 JUNE]

M-59
FOR MCCLELLAND, TRUMP, AND HENDERSON FROM GRIGGS

FEAF IS NOW DISCUSSING PLANS FOR COMPREHENSIVE PROGRAM ON SHORAN – DOWN TO SQUADRON LEVEL, SO THAT EVERY FORMATION OVER JAPAN MAY BE SHORAN LED, AFTER THE INVASION. TO START SUCH A PROGRAM WE WOULD NEED CAPT ALDRICH, A 42ND WING BOMBARDIER, CAPT WHITLOCK, 42ND WING RADAR OFFICER, A CADRE OF THEIR COMPUTING SECTION, AND FROM RADLAB CHARLIE WEST AND BILL HOSIER, PLEASE ADVISE US OF POSSIBLE SERIAL NUMBER OF OFFICERS AND AVAILABILITY OF WEST AND HOSIER.
See also this FEAF SHORAN beacon deployment map developed to support these efforts below.
In 2014, independently, I found one of the USASTAF SHORAN plans on-line in a journal specializing in the history of slide rules, in an article titled "
Slide Rules and WWII Bombing – A Personal History
" found in "
Volume 21, Number 2, Fall, 2012. Journal of the Oughtred Society.
" It was written by Alex Green, Graduate Research Professor Emeritus, who in 1945 had been a 20th Air Force Operational Analyst specializing in the development of slide rule fuel consumption calculators supporting B-29 fuel management.
  .
Professor Green was drawn into the 20th Air Force SHORAN program by Dr. William B. Shockley Jr, inventor of the transistor and then the MIT Radiation Laboratory radar special consultant supporting 20th Air Force.  Professor Green had created a specialized SHORAN co-ordinate slide rule calculator.   This brought him to Shockley's attention and he was swept up into a 20th Air Force/US Navy submarine force project to place a pair of SHORAN beacons on isolated rocks 100 miles off-shore of Kyushu.   As Professor Green put it:
The plan was to have the few SHORAN-equipped planes drop marker flares that the rest of the bomber fleet would use with their Norden bomb sights to provide a protection zone for our invasion troops. In July 1945 Green joined the SHORAN Project team in its flight to Manila to work with the Navy team who would deliver the ground station equipment and personnel to two locations each some 100 or so miles from the planned Kyushu beachhead.
Portions of this plan were briefed to US Army units under General MacArthur in a document titled the "6th Army Brief to XI Corps Staff" dated 3 July 1945 in the 6th Army files at NARA.  Essentially, the plan called for 100 B-29 with a full 10-ton load of bombs to carpet bomb each of the three major landing beaches 28,29 and 30 October 1945.  That works out to _Nine Kilotons_ worth of conventional bombs, or 60% of the explosive yield of the A-bomb that destroyed Hiroshima.
.
  .
Assuming that SHORAN could be deployed in time, and for which a special mission from the War Department was sent to the Pacific.
 .
EXPERT SHORAN CONSULTANT DAVID GRIGGS…ARRIVING.
 Into this blossoming of SHORAN plans related to the Operation Downfall Transportation campaign — and the cause of not a few of them — there was a secret mission by one of Secretary of War Stimson's "Expert Consultants" by the name of David T. Griggs to the FEAF in early June 1945 and later to 20th Air  Force between late June-early July 1945.  Results of this mission are found primarily in NARA's Record Group 107, but the following information was in a file dated 8 August 1945 that resides in the the War Department's "New Developments Division" (NDD) record Group 165.
 .
The document was from Lt Col A.V. Hazeltine of the General Staff Corps, office of Sec of War, to Gen Borden, the chief of the War Department's New Development's Division (NDD), that includes two letters from David Griggs to Ed Bowles — the OSRD Radar Liaison to the Sec of War — and to Lt. Gen B. M. Giles, the commanding General Army Air Force Pacific Ocean Area (COMGENAAFPOA), the then deputy commander of the 20th Air Force.
.
Griggs was a European Theater Radar Bombing expert with a specialization in SHORAN (AKA "SHort RAnge Navigation" WW2's radio ground beacon version of today's GPS).
Griggs two letters outline the 20th Air Force area incendiary bombing to date, Radar's role in them, and steps needed to improve the use of Radar for the 20th Air Force small city attack plan, the Transportation Plan  and the battlefield preparations for the invasion of Japan.
The small city plan involved the following —
1. Getting 60 inch dia. radar antennas, improved computers and improved plan position indicator (PPI) scopes for AN/APG-13 (also called "H2X") radars across the B-29 fleet along with improved training;

2.  Using AN/APQ-7 Eagle Radar equipped B-29s as "Heavy Pathfinders" for all B-29 Groups with the "NOSMO" integrated Norden-radar bomb sight and improved PPI radar scopes.

3. Adding SHORAN to the B-29 force.

Griggs ideas for that addition involved —

a. 25% of the B-29 with SHORAN A-kits (the racks and power cables for SHORAN electronics) and 100% A-kits on B-29s fitted to carry British "Grand Slam" and "Tall Boy" super heavy bombs;
b. US Navy submarine emplaced SHORAN off-shore ground beacons;
c. US Navy Lifeguard submarines carried SHORAN beacons with a special radar and computer navigation system for SHORAN beacons;
d. A special light pathfinder based the A-26 light bomber with specialized SHORAN co-ordinate generating photography equipment for visual and radar photo runs.
Ryan Crierie's research into the national archives (aka NARA) in Maryland found this document confirming the submarine beacon program was approved by Adm Lockwood, Commander Submarine Fleet Pacific (COMSUBPAC) on 27 July 1945, after Lockwood fought it when first proposed to him 24 June 1945.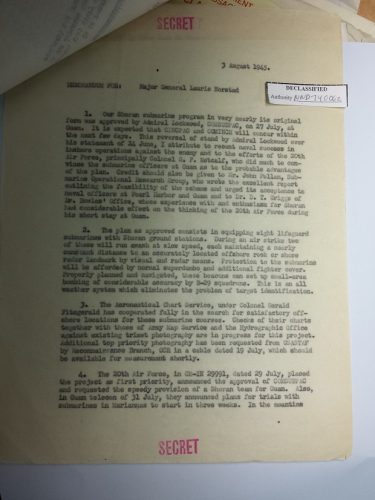 There were a number of good reasons why Adm Lockwood fought this proposal.  The most important was that the original concept had his subs fully surfaced in Kamikaze filled skies close to Japan.  Given that a Japanese Kamikaze dove on a periscope of a crash diving sub and heavily damaged it in early June 1945, this was a "non-starter. "
This opposition changed when David Griggs worked with Mr. John Pellam, a civilian operational analyst in the Pacific Fleet's Submarine Operational Analyst Group.  Pellam found a way to use a Fleet Submarine's periscope torpedo fire-control optics and the SJ radar to interface with the SHORAN equipment while completely submerged at periscope depth.
See this RG107 radiogram message, courtesy of Ryan Crierie's research, below –
SHORAN 12 JUNE

W-40 GRIGGS FROM CUSHMAN.

EXCELLENT REPORT ON SUBJECT WE DISCUSSED HERE PREPARED BY PELLAM OF SUBMARINE OPERATIONAL RESEARCH GROUP HAS BEEN SENT TO CINCPAC PEARL ALSO CINCPAC GUAM FOR RECOMMENDATIONS. ONLY MAJOR CHANGE IN PLAN IS USE OF PERISCOPE ANGLE PLUS ST RANGE ON PEAKS OR ROCKS NEAR HORIZON FOR STATION LOCATION AND KEEPING WHEN VISIBILITY IS GOOD OR SJ ONLY WHEN VISIBILITY IS POOR. THIS IS SOMEWHAT LESS ACCURATE BUT MUCH IMPROVES SECURITY OVER OUR PLAN. CAN YOU DISCUSS WITH NAVY PEOPLE WHO MAY HAVE PIPELINE TO COMSUBPAC GUAM.
Pellam's report to Adm Lockwood on these changes sold Lockwood on the concept.  By the third week of September 1945 the first pair of SHORAN beacon subs would be field testing practice strikes with B-29s in the Marianas.  If successful, they would have steamed directly from there into combat as a part of the 1 Oct – 30 Nov Transportation campaign.
However, to use these submarines successfully, points along the shore of Japan has to be located, photographed and mapped both visually and by radar for planned strike targets.  And for bomb damage assessment (BDA) after these SHORAN strikes, a SHORAN equipped photo reconnaissance plane was needed for 'pre' and 'post' strike photos to assess the results.  And with this, we return to that SHORAN photographic method thought marker I dropped earlier.
FA-26 SHORAN INVADER…ARRIVING.
The need for a light "pathfinder" photo plane capable of both visual and radar photography incorporating SHORAN was recognized at the highest levels of the FEAF and USASTAF.  See the following General Doolittle (Commander 8th Air Force on Okinawa) to General Spaatz (Commander USASTAF on Guam) on the deployment of these specialized planes.
Spaatz Papers, page 164 of 217

Incoming Cable
01 Aug 1945

.

3. Subject: A-26 Squadron for 8th AF
.
From ComAF 8
To: ComGenUSASTAF CMDX 330 300144
.
When in Washington General Doolittle requested 1 squadron
of A-26 aircraft be assigned 8th Air Force. This is restatement
of that request and recommend A-26 aircraft be equipped with SHORAN
A and B kits plus 10 percent spares with test equipment and high
resolution K-Band radar sets with GP beam plus 10 percent spares
with test equipment. Aircraft to be used as pathfinders, for low
level attacks on pin point targets and for SHORAN reconnaissance.
Squadron not to be delayed in reporting at Okinawa because of
inavailability of requested equipment but to report. Requested
equipment may be installed in field as it becomes available.
Two months earlier General Kenney's FEAF sent this radiogram message (again in Record Group 107) regards the SHORAN cameras in these FA-26 –
SPECIAL SHORAN CAMERA

W-22
12 JUNE 45

AS A RESULT OF YOUR CABLE, SPECIAL DEMONSTRATION UNIT ON SHORAN TENTATIVELY PLANS TO LEAVE FOR FEAF BY JULY 15. PROBABLE MEMBERS INCLUDE CAPT. WOODWARD AND MAJ. DIXON, ARMAMENT LAB., MAJ WINN AND ED HINSDALE OF RCA, TWO COMPUTER OFFICERS AND SEVERAL ENLISTED MEN. EQUIPMENT WOULD CONSIST OF 4 AIRBORNE SETS, 2 COMPLETE GROUND STATIONS, AND AN AIRCRAFT EQUIPPED WITH STABILIZED CAMERAS RPT CAMERAS. THERE ARE ONLY THREE CAMERA SET-UPS IN EXISTENCE: THIS WOULD BE ONE OF THESE. HOWEVER, ORDER IS NOW BEING PLACED FOR 100 RECORDING CAMERAS.

(Bold by author)
The unit that would be flying Kenney's, Doolittle's and Spaatz's FA-26s was the 47th Bomb Group.  According to Ryan Crierie Google Books searches; the 47th BG(L) ('L' for light bomber) flew A-26s in Italy, before returning to the US after V-E Day.  They reassembled at Seymour Johnson AFB to prepare for re-deployment to the PTO for night pathfinder operations against Japan; but V-J day scrubbed that and they then moved to Lake Charles, LA for about a year.
Doing some more googling Ryan Crierie also found an Angelfire dot com site which had some interesting photos of these full pathfinder equipped FA-26s —
http://www.angelfire.com/dc/jinxx1/47thBW/47th_BW.html
So, the trail thus far shows us that SHORAN had a major role at the end of WW2.  And that it was known by all the major players in the Pacific war.  Yet it vanished from the institutional histories…an example of Thomas Pynchon "Gravity's Rainbow."
Why?
The answer, as it turns out, revolves around the second marker in this article, the General Hull and Colonel Seaman telephone transcript plus the following David Griggs file excerpt on the accuracy of SHORAN.
NUKES, SHORAN AND GRAVITY'S RAINBOW
When David Griggs briefed General George Kenney on SHORAN, he made the following comparisons in the excerpt below –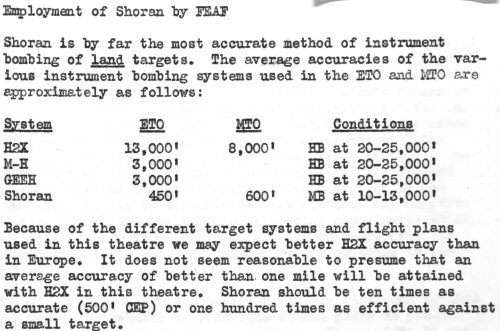 The B-29s carrying the A-bomb — later code named "Silverplate" were equipped with the "H2X" radar Griggs mentioned.  See how accurate they were compared to SHORAN (8000 versus 450-600 feet).   Now read this passage from the General Hull and Colonel Seaman telephone conversation discussing A-bomb use in the invasion of Kyushu, paying very close attention to the 500 foot circular error probability (CEP) Griggs mentioned for SHORAN above.
See:

http://www.gwu.edu/~nsarchiv/NSAEBB/NSAEBB162/72.pdf

General Hull and Colonel Seaman — 1325 – 13 Aug 1945

S — I have studied that a good deal. Our own troops would
  have to be about six miles away.  I am not sure the Air
  Forces could place it within 500 feet of the point we want.
  Of course, it is not that "pinpoint. Then the stage of
  development has to be considered. The work it is liable to be
  used for is more or less has to be the explosive effect. It
  would be just a gamble putting or sending troops through.

H — No the same day or anything like that.  We might do it a
  couple or three days before.  You plan to land on a certain
  beach.  Behind which you know there is a good road
  communication and maybe a division or two of Japanese troops.
  Neutralization of that sometime from H-Hour of the landing
  back earlier, maybe a day or two or three.  I don't
  anticipate that you would be dropping it as we do other types
  of bombs in support of the infantry.  I am thinking about
  neutralizing a division or a communication center or
  something so that it would facilitate the movement  ashore of
  troops
And there you see why SHORAN in the Pacific War disappeared into GRAVITY'S RAINBOW.
There was no way a Silverplate B-29 equipped with the H2X radar could put an atomic bomb  500 feet from the aim point and be at a high enough altitude to escape the blast of the bomb…unless it was using SHORAN.
The B-29s for the Invasion of Japan were going to be equipped with SHORAN to be able to deliver nuclear bombs in all weather, day or night, on point targets like Japanese Divisional and Army headquarters, as were the photo reconnaissance supporting them.
And the secrecy about that fact — how America's nuclear delivery system worked and how accurate it was —  resulted in the Early Cold War scrubbing of the history of the end of WW2.
AUTHOR NOTES:
Special thanks is extended to Ryan Crierie, whose research efforts in the national archives made this column possible.

On 14 August, the 20AF with 115 aircraft bombed the Iwakuni yard, and put the entire Sanyo railroad line out of service for 102 hours. This was the only strategic railroad attack done by 20th AF in the war.