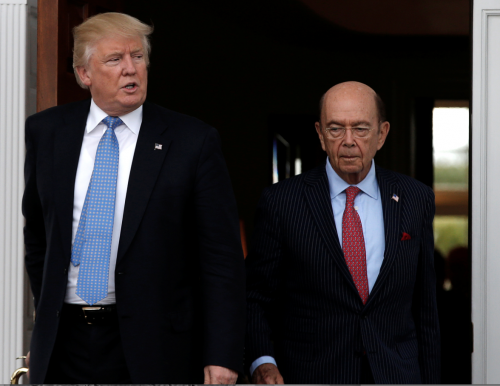 A friend sent a link to a leaked, recorded conversation between Trump and Wilbur Ross, his nominee for Commerce Secretary. There is nothing particularly troubling in the conversation. Trump is talking like Trump. He is the same person in public and in private, which is nice.
I responded:
Sounds good to me.  A tariff is a consumption tax collected at the port of entry.  The American founders expected to fund the operations of the national government with revenue from a tariff, and it worked.  He is also right that the Japanese and other countries use safety regulations as non-tariff import barriers.  There is nothing bad on here at all.  
He wrote back saying that that a tariff is not a pure consumption tax because the producer may end up eating some of the tax.
I responded:
If the producer eats some or all of the tariff, Trump does not care and most of his voters don't either.  Foreigners don't vote here — not counting 11 million illegal aliens.  
Bottom line, a moderate tariff was in the past and could be again a substantial revenue source.  Charging an entrance fee to participate in the massive American market is not a terrible idea.  America boomed in the past during high tariff periods.  We cut tariffs to the bone after World War II as a way to encourage foreign economies to get going again and to tie them to the USA.  It was a specifically security driven move, and we recognized that it would hurt producers in the USA.  I see no reason we need to do anything like that now.  
I had the following comments in the course of the conversation which may be of interest:
I am generally a free trader.  I don't like the government telling me or anybody what they can buy or who they can buy from.  However, the shrillness of the opposition to Trump on this is over the top.  It is not some violation of sacred American principle to impose a tax on imports as opposed to taxing other activities. Moreover, it is not the end of the world that we are using trade policy to protect industries or workers facing foreign competition, when we have a massive industry in Washington which exists to use the regulatory machinery to protect everyone who can afford a lobbyist.  This is just the unprotected demanding some of the same protection for a change.  They have gotten clobbered and that could not go on forever without out some demand that someone else bear the burden of facing the hurricane of creative destruction for a while.  Further, our so-called trading partners especially China do cheat and do use subsidized trade to try to destroy whole sectors of the US economy, including to obtain military advantages.  
Funnily enough, the original free traders, the Anti-Corn Law League, led by William Cobden and John Bright, were much more realistic than free trade idealists.  They wanted grain prices in England to come down, and they wanted the Lords who were the landholders in England to face foreign competition to drive down grain prices.  People were poor back then to a degree we cannot fathom, and food was a significant part of their total income. So if bread prices came down, it made a big difference.  But, if I recall correctly, and I need to go back and look at this, Cobden and Bright also favored other liberal reforms, including expansion of the franchise.  And they wanted the Lords to be impoverished by having their revenue crushed due to cheap imported grain.  In other words they wanted free trade knowing that one major sector of the economy would get clobbered, there was no pretense that "everyone would be better off".  Of course not.  No policy change or policy change, even one that increases aggregate wealth, makes "everyone better off."  There are winners and losers.  You want a policy that pushing increased and increasing aggregate wealth that makes some provision for the losers so that the entire process can continue without generating too much political opposition.  If there had been a wide franchise at the beginning of the industrial revolution, it probably would have been stopped by popular vote!  
Related:  I have a book called Americans and Horses by Phil Stong, written in 1939, at the very end of the era when horses were a big part of the economy.  It is hard for us to imagine how major horses were. The entire physical infrastructure of the country was structured around horses for transport and traction.  Horses were literally everywhere.  The USA was the world leader in horse breeding for all purposes and for export.  That part of the economy was annihilated, and quickly, in one generation.  When my parents were children there were still horse drawn carts in Boston delivering milk and ice and coal, and there were knife grinders and tinkers who did metal repairs, and others.  This is as late as the early 1940s.  That is yesterday in historical terms.  
My friend wrote back suggesting that it would be good if we used horses more, even at the cost of some GDP.
I responded:
Don't romanticize horses, man.
There were huge externalities.  Disposing of horse waste, which was all over the place, disposing of horse carcasses, huge amounts of space devoted to horse fodder, which was not nearly as compact as fuel for vehicles, housing for horses, horses blocking the streets, horses deciding for themselves what they wanted to do, including panicking and bolting, then the huge amount of time that had to be spent caring for the horses when they were not in use.   
People eagerly adopted motorized transport and traction because it was way, way better.  My Dad was a foster kid on a farm as a child in the 1930s.  He has zero sentimentality about working with horses, caring for horses, feeding them, etc.  He lived through the transition.  Motor vehicles are better.  
I do think that if we have driverless vehicles and a more decentralized economy we may see more horses used for leisure as people disperse more. There should be more open space available and accessible.  That would be fine.  Going hiking with horses for example, would be good.  But horses as the only option for general daily personal and commercial use, that was a tough life.  
My friend commented:
"Driverless cars sounds bloody awful."
I responded:
Men live about five years longer than they can drive, women live about ten years longer than they can drive. Tens of millions of baby boomers will lose their mobility unless we have true driverless cars. The baby boomers always get whatever they want. This will be no exception. Driverless cars will create a huge productivity boom, while annihilating a huge amount of low skill work. Very disruptive. Tens of thousands of fatal and life destroying accidents will not occur once the cars are all talking to each other. Driving will be like riding horses, a leisure activity for enthusiasts limited to areas set aside for it.