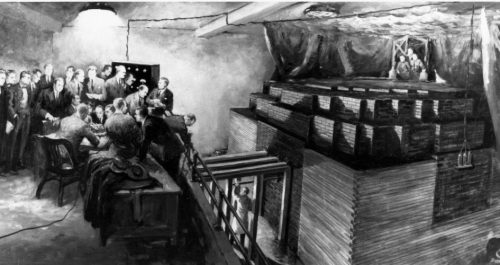 I have decided to attend various events around the 75th anniversary of Chicago Pile-1 and will therefore be in Hyde Park for about 48 hours, from late afternoon Thursday 30 November to late afternoon Saturday 2 December. As of now, the one known gathering is lunch at Valois, 1518 E 53rd (Harper Court, just west of Lake Park and the Metra Electric tracks), at 1 PM on Saturday.
Others are possible, however. I will be at the physics colloquium on Thursday afternoon in Kersten (SW corner of 57th & Ellis) and was thinking vaguely of pizza at Giordano's (on Blackstone just south of 53rd) afterward, which means 6-ish. I expect to spend much of both Friday and Saturday mornings prowling the bookstores on 57th, and should also be free after around 7 Friday evening, when what seems to be the main event wraps up at Mandel Hall.
In general, respond in comments, and graze (Midwesterners don't surf) around here for official events.