While linking to a Megan McArdle comment on a childish Matthew Yglesias post on bankers, Instapundit asks a question that reveals a void in our language and world-models:
"DOES GREED MAKE YOU A BAD PERSON? What about greed for power, a trait exhibited by many of those who denounce greed for money? Which is worse?"
Why does Instapundit have to use the cumbersome phrase "greed for power" to describe a very common human behavior? Why do we have to describe the lust for power in terms of the lust for money?
Language can tell you a great deal about the world models held by those who speak the language. Specifically, if a language lacks a specific, neat word for a particular concept, it tells you that the people who speak the language don't use the concept very often. 
What does it tell us that English and every other Western language have a single word to describe the destructive lust for money but that they lack a single word to describe the destructive lust for political power?
After all, it is not as if we lack any experience with the destructive effects of the single-minded pursuit of power. From the very worst such as Hitler, Stalin, Mao or Pol Pot down to some jackass on the city council, most of us have seen individuals cause real harm to others just to increase their own political power. Why then do we not have a word for such destructive behavior? 
I think the answer simple. Historically, people who lust for power will kill you quicker and more surely than will those who lust for money. 
It has been noted correctly that the local dog catcher has more arbitrary authority over any citizen than does Bill Gates, currently the richest man in America. Bill Gates cannot set one foot on my property if I don't wish him to but the dog catcher can do so against my will under the color of his authority. If I beat up Bill Gates for trespassing, he will go to jail not I. If I resist the dog catcher, it will trigger a chain of events which can lead to my death at the hands of a SWAT team. That can happen even if the dog catcher is not corrupt. If he is corrupt, things can go very badly, very quickly even for a law-abiding person. 
All the power of the state for good or bad arises from the power of the state to kill. The lowest public official wields the power to initiate a string of events that will lead to the death of citizens who resist that power. This has always been the case throughout history. The "nobles" of pre-democratic western cultures were nothing but a caste of intermarried families of military specialists who maintained their position over the rest of society by killing. During this time, the clergy was often composed of the same family members and benefited materially from the killers' extortion from the productive elements of society. Nobles and clergy survived and lived richly by stealing from the peasants, artisans and merchants. They needed propaganda to justify why people who could do nothing but kill had an inherent right to take from those who cultivated, created and distributed. For thousands of years, those who killed have held both their purse strings and their swords to the throats of the clergy, philosophers and artists who over the generations created our cultural narratives of good and bad behavior. Those narrative-creators who created stories that glorified the killers grew rich, stayed alive and had their works preserved throughout the ages. Those who did not ended up dead and their works erased from history. The killers wanted to take from peasants, so the word for peasant, villager, from the Latin villi meaning "farmhand", became by the medieval age the word "villain". To take from the artisan or merchant, they needed to cast the merchant's accumulation of material wealth without violence as a sin, so we have the invention of the sin and word, "greed". By contrast, the very name of the caste of killers, "noble" became a synonym for virtue and self-sacrifice. 
This same dynamic played out with minor variations in every civilized human culture from meso-America to Asia.
This veneration of killers and hatred of the productive remains with us long after the hereditary killers were replaced with classes of non-hereditary killers. Communism and fascism both draw their moral authority from the idea that those who control the violent power of the state are inherently more virtuous than those who produce and trade. The Nazis in particular exploited the idea that the Jews, who had for centuries been the commercial specialists of Europe, were morally corrupt because they dealt with money and trade instead of being virtuous killers. 
(This is not to suggest that those who criticize greed are Nazis or communists but rather that both ideologies exploit a preexisting and unquestioned cultural narrative complete with its own historical iconography. )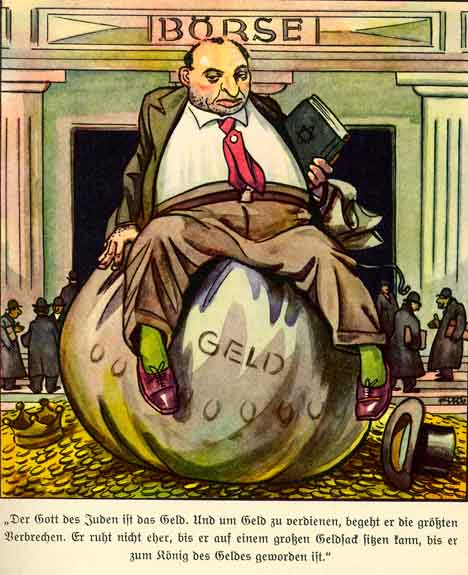 Highly Typical Anti-Semitic Image, "The God of Jews Is Gold"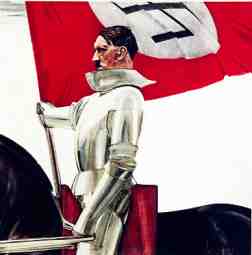 Hitler as Member of the Caste of Killers, i.e., a "Noble" Knight
Even in liberal democracies, leaders do not wish to remind people that they redistribute wealth, protect the environment or even catch criminals by using violence. 
So, for thousands of years, the killers have fostered a cultural concept of "greed" to justify their own power and status while suppressing the concept of the destructive lust for violent power. Yes, we all understand that such destructive urges exist but we have never been allowed to create a neatly package and labeled concept for it. We must talk around it in circumlocutions and clumsy phrases. We can say that a banker that pulls in hundreds of millions of dollars is "greedy" but we have no such neat word to describe someone who spends their entire adult life in the single-minded pursuit of the power to coerce others by the violent power of the state. 
I suggest we destroy this engineered cultural blind spot by creating a neat concept and label to describe the destructive urge to control others by violence. Let us pay homage to tradition and call the destructive pursuit of power, "power-greed" or more compactly, "preed". 
When someone says that someone needs to control the "greedy" people who produce all the material necessities and luxuries of life, remind them that it will be the "preedy" that will do the controlling and that eventually, the greedy and preedy will be the same individuals. Remind them that those who act out of preed have killed many times more people than have the most greedy. 
We don't need to forget that greed is dangerous but we do need to remember that preed is even more so and that when forced to choose between empowering the greedy or empowering the preedy we should empower the relatively harmless greedy.
Spread the meme. Get a bumper sticker or T-Shirt, "Don't be Preedy!"
[I suppose I should open up the discussion for different candidate words. Feel free to suggest.]