This past December 16th 2022 marked the 78th anniversary of the German Unternehmen Wacht am Rhein ("Operation Watch on the Rhine") offensive in the Ardennes area of Europe, otherwise known popularly as "The Battle of the Bulge."  The "official narrative" for this battle is that it was an "intelligence surprise" where "Ultra' code breaking signals intelligence missed because Hitler kept all of the important communications on untappable telephone/telegraph land lines or special couriers. The sole exception being General Patton's 3rd Army G-2 intelligence officer Colonel (later Brigadier General) Oscar Koch who didn't rely upon ULTRA and put together the complete picture through a process now known as "All Source Analysis". Which built an intelligence picture for every intelligence discipline. signals, human, photographic, geographic, combat reports plus dogged order of battle cross filing that sorted every bit of information to plot existence, location and status of enemy ground and air units. A week before the German attack, December 9th 1944, Colonel Koch briefed General Patton's full 3rd Army staff as to German capabilities and most dangerous probable intentions of those capabilities. Based upon this briefing, Patton ordered his 3rd Army staff to put together a series of counter attack options that were immortalized in a scene from the 1970 movie PATTON.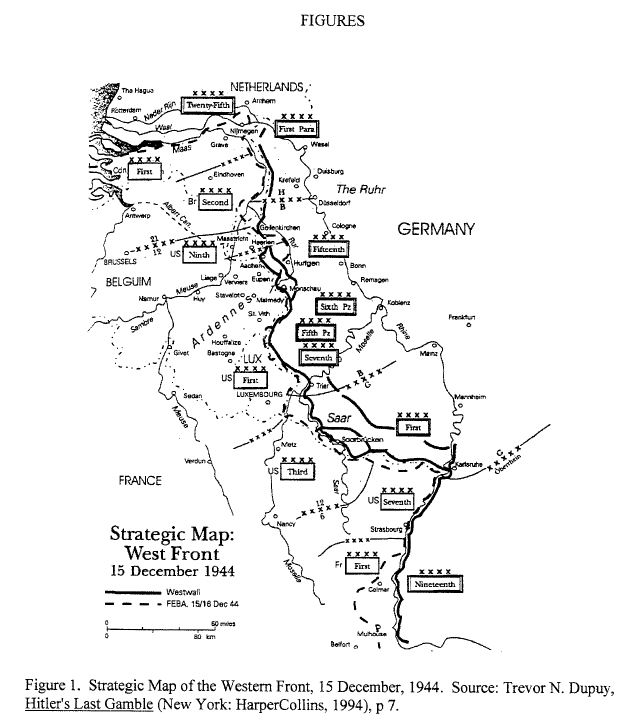 Like a lot of narratives of World War 2, it uses a couple of nuggets of truth with the German ULTRA security black out and Colonel Koch's brief to Patton to hide and conceal more than inform. It turns out that a lot more people on the allied side than Colonel Koch foresaw the impending German offensive. And that the failure to act on these multiple sources of accurate intelligence was a Command Failure by the "Ultra Cliques" of allied officers at Supreme Headquarters Allied Expeditionary Forces  (SHAEF), United States Strategic Air Force (USSTAF), the American 12th Army Group, and American 1st Army.
This command failure came less from a German security induced blindness of ULTRA than from a months long manipulation of Ultra intelligence data stream by senior officials in the British government — located in the Ministry of Economic Warfare, the "Oil Lobby" through out the Air Ministry and Whitehall 'Committee Bureaucracy' as well as the Directorate of Bombing Operations in the Air Ministry — intent on making German oil supplies the top strategic target set over German transportation targets in the Combined Bomber Offensive.  Their motives here were not only to collapse the German economy as a "War Termination Strategy," but more importantly, make sure Air Power was seen as responsible for the German collapse after the Russian capture of the Romanian Ploesti oil fields in August 1944.  (If you are seeing some post-war institutional motivations here…you are correct.)
.
These manipulations were discovered in February 1945 by SHAEF when the after action forensic analysis by Royal Air Force Deputy Chief of Air Staff (DCAS) Air Marshall Bottomley found the Combined Strategic Targets Committee (CSTC) was systematically removing messages relating to the distress of the German Railroad, and collapse of the German economy resulting from the railway problems, starting in the fall of 1944.