On Okinawa, the US 77th Division suffers heavy casualties while fighting for the Ishimmi ridge and withdraws.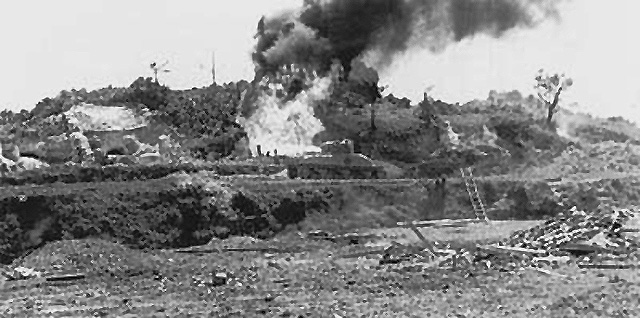 Okinawa Campaign Background — Col. Unmacht's Mechanized Flamethrowers
One little known US Army Chemical Warfare Service Colonel stationed in Hawaii made the flame throwing tanks of the Pacific War possible. His ad-hoc team of CWS, Ordnance Department, US Navy See Bees, and private contractors designed and produced both main gun and auxiliary weapon mounted flame throwers for 384 US Army and USMC M3 Stuart light tanks, LVT4 amtracs and M4 Shermans in less than a year.
That compares to a total of five M5A1 "Q" flame thrower tanks and a few dozen M4-5 auxiliary armament flamethrowers the warring Chemical Warfare Service, Ordnance Department and Armored Force bureaucracies managed to get to the Pacific before VJ-Day.
For the Marianas campaign Col. Unmacht's people converted 24 Marine M3A1 Stuart light tanks into Satan flame thrower tanks and installed six auxiliary hull machine gun mount M4-5 flame thrower prototypes from the USA into USMC M4A2 Shermans.
For the Peleliu campaign Col. Unmacht's people converted six USMC LVT-4's into flamethrower vehicles.
For the planned US Army Yap campaign — that turned into the invasion of Leyte — Col. Unmacht's people converted nine US Army M3A1 Stuart light tanks and an additional LVT-4 into main gun flame throwers.
For Iwo Jima, Col. Unmacht's people converted eight Marine M4A3 tanks into the what were called in Marine after action reports "CB Mk1" Flamethrower tank using Canadian Ronson flame throwers.
At Okinawa, his team installed 54 Canadian Ronson flame throwers — many from made from airlifted components — into the M4A1 medium tanks of the 713th Flame Thrower Tank battalion.
The other US Army independent tank battalions at Okinawa had eighteen auxiliary periscope flame throwers of CWS-Hawaii manufacture, while each Marine tank battalion carried sixteen built in America bow machine gun E4-5 auxiliary flame throwers. All were installed by Col. Unmacht's CWS troops.
Both the M4A1 and M4A3 Shermans were called "Flamethrower, Mechanized, POA-CWS "75" -H1 by the Chemical Warfare Service flamethrower group in Hawaii. This stood for "Pacific Ocean Area, Chemical Warfare Service, 75mm gun converted, -H1 model main armament flame thrower.
CWS-Hawaii designed auxiliary periscope flame throwers were designated "Flamethrower, Mechanized, Auxiliary, POA-CWS periscope-H (E4R2) A-H1B" in Army Forces Pacific documents and the US Army World War two "Green book" histories. A total of 176 of these were built.
The more numerous Periscope and machine gun mount auxiliary armament flame throwers were not used to a large extent on Okinawa because they were
1) Shorter ranged 30-40 yards versus 60-80 yards for the 713th's main armament flame throwers,
2) They carried much less fuel — 25 to 50 gallons depending on the whether one or two pressurized napalm tanks installed — compared to 300 gallons for the 713th's tanks, and,
3) The auxiliary napalm storage tanks blocked the floor or floor and hatch escape routes in the M4 Sherman.
Several tanks in the 711th Tank battalion had periscope flame throwers ignited by Japanese attacks and had crew burned alive inside their tanks. This compares to no crewmen killed inside a POA-CWS "75" -H1 main armament flame thrower tank in the 713th.
Links consulted for this article:
http://www.wood.army.mil/chmdsd/pdfs/Summer%2008/Ringquist-3.pdf
http://www.wood.army.mil/chmdsd/pdfs/2007%20Winter/Ringquist-Pt2.pdf
Chemicals in Combat Chapter 15 (HTML)
http://www.history.army.mil/books/wwii/chemsincmbt/ch15.htm
Chemicals in Combat (Chemical Corps WW2 Green book)
http://www.archive.org/details/chemicalwarfares00kleb
From Laboratory to Field (Chemical Corps WW2 Green book
http://www.archive.org/stream/chemicalwarfares59brop
Flamethrower Tanks on Okinawa
http://www.knox.army.mil/center/ocoa/armormag/backissues/1990s/1994/Jf94/1donahoe94.pdf