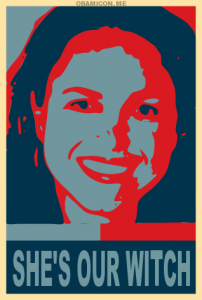 The people in the media who are trying to disqualify Christine O'Donnell for her witchcraft comments show as usual the insularity of their lives. They don't know anything about millions of their fellow citizens except their own class-based bigotries.
Lots of people from a more blue collar or lower middle class persuasion are fans of heavy metal and various sub-genres which have all kinds of witchcraft and Satanic symbolism and lyrics. There has been black magic and witchcraft on the edge of the stoner scene and various parts of the music scene since the 1960s, and probably a lot farther back. A trippy girl with black fingernails and black lacy gloves at a party might tell you she was a witch. Wow. Cool.
Yeah, it's weird. But it is not unheard of.
The smug people who run the mainstream media have lived their lives in a cocoon. I imagine them all spending their squeaky clean, college-focused, uptight, upper-middle-class teenage lives worrying about their SAT scores and living in terror of hurting their chances of getting into an Ivy.
Millions of other people spend those same years working after school changing the oil in the deep-fryer, getting demerits and doing detention, taking drugs, dealing drugs, smoking cigarettes, getting drunk in the woods, getting in fights, listening to loud music, getting pulled over for driving Dad's car too fast, driving on the back of their boyfriends' motorcycles without a helmet, throwing up in the bushes, getting arrested at a loud party for lipping off to the cops, getting screamed at by their (single) Mom when they showed up home at 2:00 a.m., and so on. Some of them end up in prison. But most of them turn out OK, anyway.
"How many of you didn't hang out with questionable folks in high school?"
It sounds like Christine had friends who fit in with this commonly occurring American background. But it also sounds like she did not get sucked into it. It sounds like her life followed a pretty well-worn path of getting religion as part of overcoming a potentially destructive and wasteful group of friends and influences. I am making this up. I'm guessing. How do I know?
But I don't start out with the assumption she is an imbecile.
When she talks about the issues, she sounds smart enough for me.
(People who mock Ms. O'Donnell have probably never been to a Slayer concert. I walked out on Slayer once. I was there to see the opening act: Motörhead. The crowd of crazed-looking and frankly threatening teens at the Slayer concert were manifestly high on various things, had pentagrams on their clothes and tattooed on themselves, and lots of them would have told you, I am sure, that they were into witchcraft or Satanism. Hell, one of them might have been the guy Christine O'Donnell dated.)
The people who think these comments disqualify Ms. O'Donnell barely understand their own country and the crazy stuff that goes on in it all the time.
As to the masturbation comment, it is mainstream Christian teaching, e.g. this. Tens of millions of people find nothing odd about it at all. As chuckle-worthy as our sophisticated television personalities may find it, orthodox sexual morality still has millions of people who hold it as an ideal and try to live it.
I find it appealing that Christine O'Donnell did not spend her entire life since she was about nine years old worrying about what she said might hurt her career prospects, or sully her pristine resume. She just said what she wanted to say, like a free person in a free country. What a nutty idea.
I am supposed to think that Christine O'Donnell is some kind of freak, and the people who usually run for office are normal. I personally find that to be backwards.
I suppose we will have to always have Senators who are clenched, careerist, smooth, zero defect people with their memorized talking points and brittle hair and a phony laugh, who are comfortable with wealthy lobbyists and the protocols of places where the people with big money spend their time. That whole insider schtick makes them "electable." It is also boring and pathetic. And it is not what most of America is all about. For now, these guys own the place. And they are supposed to be wicked smart. Just ask them. But they are doing a piss poor job. They may not be dumb, but they have botched things anyway. They have dug a multi-trillion dollar hole they expect the rest of us to dig out of.
You could not do much worse even if you were praying to Satan the whole time.
I like to think that the voters of Delaware will care about Ms. O'Donnell's positions on the issues at stake in the election and laugh off all this crap.
But, yeah, on second thought, she'll probably get clobbered. Too bad.
UPDATE: I foolishly failed to provide a link to the best book ever ever ever about a teen witch Andromeda Klein, by Frank Portman. Andromeda is a great character, and I loved this book, and I ate it with both hands, and laughed out loud many times when reading it. (Check out his groovy blog, Dr. Frank's What's-It.)