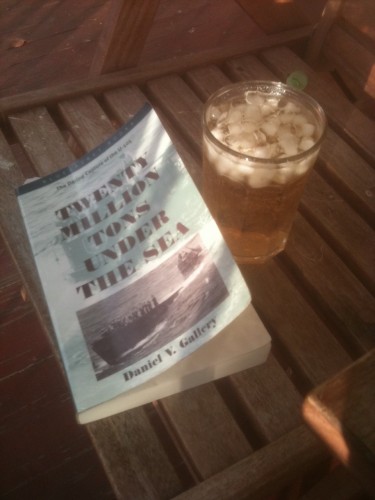 The Location: The front porch, Oak Park.
The Drink: Bourbon and ginger ale.
The Book: Twenty Million Tons Under the Sea: The Daring Capture of the U-505
, by Daniel V. Gallery. A pal, a former destroyer officer as it happens, gave me this book with the highest possible recommendation. Rear Admiral Gallery was a salty character. He gives excellent and colorful and opinionated explanations of all aspects of the war against the U-Boats, with many anecdotes. A most educational read, and a page-turner. As of page 130/338 I can recommend it to all who are interested in such matters. If you visit Chicago, you can see the U-505 at its permanent berth at the Museum of Science and Industry, where it came to rest after Gallery's men captured it.
We won't get many more nice days like this one this year. Today is pretty much an aberration. I am expecting a severely cold winter this year, based on pure guesswork and gut feel, speculation about sunspot activity and its effect, contrarianism about global warning, general pessimism, and not much else.
(Below the fold, Gallery on the conning tower of the captured U-505, via Wikipedia.)