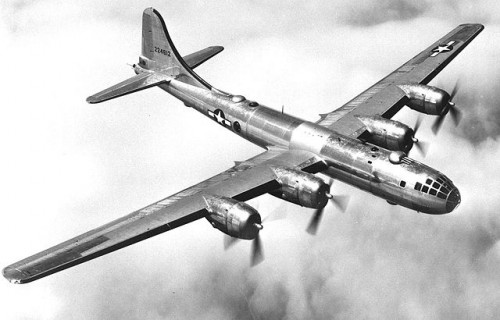 Until recently, the world's only flyable WWII B-29 bomber was "Fifi," operated by the Commemorative Air Force. Unfortunately, the airplane has…at least temporarily…lost its flyable status due to the need for expensive engine repairs. You can contribute to Fifi's engine fund here.
The B-29 Superfortress was the most technically advanced bomber of WWII: it featured pressurization, a centralized fire-control system for its guns, and both higher speed and a greater bomb load than the B-17. Visually, it is also a very beautiful airplane, at least to my eye. Design of the aircraft that was to become the Superfortress began in 1938 with the receipt by Boeing of a request from the Army Air Corps–Boeing funded much of the initial development itself since the Air Corps did not at that point have funding for the project. The initial production order was not placed until May 1941…remarkably, production aircraft were being delivered by the end of 1943…total production would reach almost 4000 aircraft. Thousand of subcontractors were involved. My back-of-the-envelope calculation  based on numbers in this factsheet suggests that there must have been somewhere around 100,000 workers involved at one level or another in B-29 production.
Japanese fighter pilot Ryuji Nagatsuka described his first encounter with the B-29, on a combat training mission in late 1944:
At a distance of 1000 feet, I had a clear view of this famous bomber for the first time. It was like some fabulous flying castle. Its elegant, uncamouflaged fuselage made me think of a monstrous flying fish. What imposing fins, what a rudder! The most disquieting thing about it was those six domes: two gun turrets on its back and four defense turrets operated by remote control…The four engines developed 8800 horsepower. The white star that stood out against a black background seemed to me like a challenge. It was the mark of the enemy.
The efficacy of the B-29's centralized fire control system…which provided not only remote control of the guns but automatic computer calculation of necessary offsets ("leads") to hit the target…has been questioned–but Nagatsuka gives it a good review:
Their central firing computer, controlling the gun turrets by remote control, had proved extraordinarily efficient. An isolated B-29, on a photographic mission one day over the Nipponese archipelago, had been attacked by more than ninety of our fighters, and, lo and behold, the enemy plane, which was not equipped for a bombing mission, managed to repulse their attack by climbing to a very high altitude and putting on all possible speed. During this battle, which lasted more than half an hour, he shot down seven of our fighters and finally escaped.
However, most of the gunnery equipment was removed from the B-29s when US General Curtis LeMay ordered a change in tactics from high-altitude day bombing to low-altitude night bombing, focusing on the use of incendiary bombs. Wide areas of Toyko and several other cities were destroyed: the total number of Japanese killed in these raids has been estimated variously but was certainly at least 100,000.
In bombers named for girls, we burned
The cities we had learned about in school
…
They said, 'Here are the maps'; we burned the cities.
We've talked here before about the dangers of the loss of historical knowledge. I believe that keeping FiFi flying is a useful contribution to maintaining the continuity of American historical memory. Again, you can donate here.
Some links:
ShrinkWrapped has published his father's recollections of flying 50 missions as a B-24 tail gunner. There are 6 different posts in the collection–start at the bottom for the first one.
Thoughts about strategic bombing at my post Dresden
Excerpts of some of Randall Jarrell's WWII Air Corps poems, here
The Ryuji Nagatsuka quotes are from his memoir I Was a Kamikaze (obviously, an unsuccessful one)…an interesting book that is worthy of a review one of these days.