These guys always seemed to be a bunch of juvenile, self-righteous assholes who enjoy the fruits of a modern transportation system while pretending to be above it all with their bicycles and simpleminded cultural leftism. The core of the Critical Mass experience are the massive traffic-fouling group bike rides on urban streets. By now CM is mainstream and tolerated by the powers that be with, I assume, the understanding that any daring transgressions will be restricted to off-peak hours. So it becomes just another annoying street event like the parades and art fairs and filming the hot TV show that are given dispensation to block traffic and inconvenience drivers. Of course I would never participate in such a thing. However, it turns out that some of my friends do these rides, and they asked if I wanted to join them. So I said, sure, sounds like fun.
We meet up downtown on a Friday evening with thousands of other cyclists. There is some dope smoking and music, a party vibe. As the hour approaches everyone goes to wait in the street with his bike. One of the assholes in charge gets on a high place with a megaphone and tells us we're going to start at 7:15 SHARP. At around 7:20 the front of the crowd, about a city block ahead of us, starts to move. A little while later we start walking our bikes, then riding slowly. It is kind of cool, one of those carried-along-by-the-crowd moments in a crowd that is pretty mellow as crowds go. The riders ahead bunch up while going over a small hill, and the moving mass of bikes with flashing tail lights is a pretty sight. (Photography is impossible during the ride due to the need for constant vigilance. Some of the cyclists ride erratically and there are accidents.)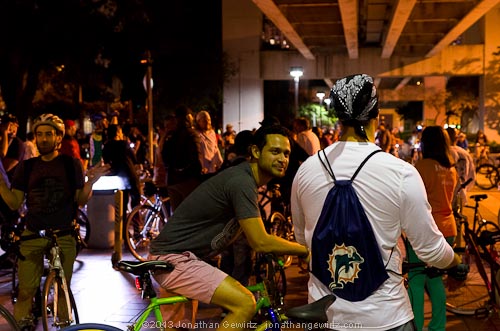 Once the ride really gets going it is a lot of fun. You ride through interesting neighborhoods including some that you might avoid if alone — there is safety in numbers. A lot of the fun comes from not having to worry (much) about auto traffic. The mass of riders fills streets and volunteer assholes engage in traffic "corking" to intimidate drivers at intersections. The police assist in some places. The car/bike interactions seem less tense than you might expect, but it also seems like maybe a good idea to stay towards the middle of the crowd where encounters with angry motorists are less likely. Also, if you stay in the main crowd you get to ride with the pedicab with purple lights and boom box, the guy with the sideways bike and other entertaining fauna.
Eventually the ride enters its final stretch on a major thoroughfare, and here the illusion begins to break down. The mass of cyclists is much more strung out on the road and drivers are no longer playing along. Few of the intersections are blocked and some drivers are confused. It becomes prudent to stop at red lights, though brave or entitled cyclists continue to ride through as though protected by personal forcefields. Whatever. It is always a good idea to think for yourself, particularly when somebody with an agenda suggests that you can ignore the rules.
Back near the starting point, the announced apres-ride bars and restaurants are jammed, so we go to a nice waterfront restaurant a few blocks away.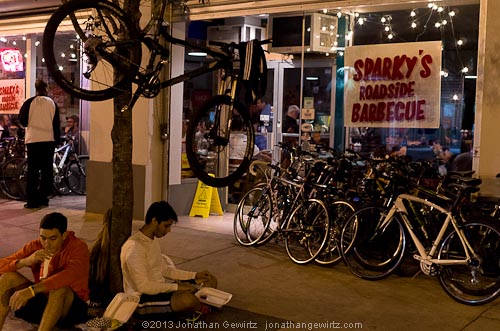 Overall a fun evening and probably worth doing again.