One of the biggest problems with World War II (WW2) military histories is the issue of "lanes." WW2 history writers tend to focus on their one thing, use the institutional historical narratives of their particular military theater and service and then make some appalling inaccurate statements of fact without understanding the wider background. Yet, they are in the generally understood narrative limits of the historical "lane" and everyone nods in agreement. This is an especially difficult problem with understanding MacArthur's South West Pacific Area (SWPA) institutional culture and amphibious fighting style, as compared to the both the the European and Mediterranean Theaters of Operation (ETO and MTO) and the Central Pacific style that dominates the post-war amphibious operations narrative.
For example, there were more and larger US Army run amphibious landings in WW2 than US Navy (USN) and United States Marine Corps (USMC) Central Pacific Drive, yet there is very little real examination or understanding of them as amphibious operations compared to the US Navy's Central Pacific drive. Very few WW2 history writers try and trace the development of a military concept across several military theaters and see how it is expressed in various theaters' institutional culture and war fighting styles. This is a vital methodology in understanding the ground truth of what happened.
For the research I am doing on the canceled invasion of Japan, knowing that US Army amphibious experience is absolutely essential to understand the orders for Kyushu invasion, since the US land based air forces were planning to replicate and improve on the Normandy D-Day aerial bombardment by dropping 200,000 tons of bombs on Kyushu in Oct 1945 plus another 80,000 tons of conventional bombs (180KT total!) on the Nov 1, 1945 X-day landing. (By way of comparison, Hiroshima was a 15KT nuclear blast.) US Army Air Force Generals Spaatz & Doolittle were commanding 20th & 8th Air Force to deliver that tonnage. That tonnage was in General Hap Arnold's diary as a promise to MacArthur in the summer of 1945, yet USMC historians investigating Operation Olympic speak of the low density of naval fire support there would be on X-day compared to Okinawa and Iwo Jima, like that aerial bombardment didn't exist!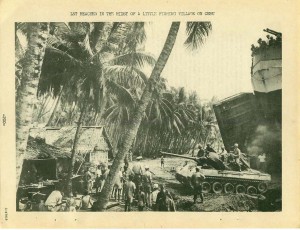 This column on "MacArthur's Amphibious Fighting Style" will use that "tracing an idea across historical lanes" methodology to compare and contrast the various American WW2 amphibious fighting styles with short "thumb nail" descriptions so you can understand this problem with the WW2 historical narrative and appreciate the coordination issues for the "canceled by atomic bomb" Operation Olympic landing in Japan.
The final major amphibious landing Europe was Operation Dragoon. The landings in Southern France, several weeks after the D-Day landing in Normandy, were the climactic expression of the ETO/MTO amphibious war fighting style. It was a "Power and Deception" style characterized by the following :
* An Allied coalition command structure with multiple large national contingents (US, French, British)
* Overwhelming land-based air-power with minor carrier support
* Overwhelming capital ship surface sea-power projected a few hundred miles
* A predominantly shore-to-shore landing ship troop movement (via Landing ships LCI(L), LST and LCT)
* A foe with land based reinforcement requiring both deception and an anti-transportation campaign to isolate
the battlefield
* A circumscribed naval gunfire program, because of that land mechanized force reaction time
* Large (Division plus sized) airborne delivered ground force component
* The substitution of medium/heavy bombers for Naval Gunfire in fortification destruction
* A requirement for a great deal of small littoral combatant (MTB's and corvettes) combat power
* An evolved electronic warfare capability to deal with German radio guided bombs and radar
In contrast, the Central Pacific amphibious style, the Tarawa landing through Okinawa, was a Sea-centric "Power" style characterized by:
* Naval centric "joint" warfare where the Navy was always first among equals and most staff work was done under
Adm. Nimitz's eyes
* Overwhelming US Navy sea power projected thousands of miles
* Ship-to-shore movement with large amphibious ships (APA, AKA, LSD) dropping off LCM & LCVP landing craft and
LVT landing vehicles
* Overwhelming naval air supremacy with minor land based air support
* No enemy ground reinforcement due to air and sea superiority
* No role for littoral MTB type small craft. The LCI(L) was converted to a inshore gunboat for the role.
* Little electronic warfare capability until faced with Japanese radar equipped night torpedo bombers in
October 1944
MacArthur's SWPA amphibious style was an innovative land-sea-air or "Triphibious" style, largely because he had so few resources and no other choice. The SWPA theater did what it could with what it had. The style was characterized by:
* A "Service Coordination & Cooperation" command style with MacArthur as the final arbiter of operations and strategy
level decisions and the flag level principals being scattered over thousands of miles of territory during the planning and
decision making punctuated by occasional command conferences of the service principals or their representatives.
* Limited land based air power providing contested local air superiority from distant bases
* Very limited sea power
* Predominantly shore-to-shore amphibious movements done by US Army engineer boats, and impressed Aussie small craft before
the Army engineers arrived.
* Enemy reinforcement after landings via barge traffic from the close shore
* Air transport reinforcement and resupply
* Limited air drop delivery of Airborne troops (Regiment sized) covered by air-laid smoke screens
* MTBs had a key role with land based air power in isolating the battlefield night and day respectively
* Hard terrain constraints on operations for air and sea power
* Extreme sensitivity to casualties, especially amphibious sea lift that caused…
* Covert placement of Radar and signals intelligence units prior to landings
Fighting Styles As Executed
Most SWPA amphibious landings had abrieviated shore bombardment with a heavy accent on rockets from landing ships and US Army Engineer landing craft, 6 inch and 5 inch naval gunfire. The SWPA amphibious ships and craft always loaded light, with vehicles filled with supplies on LSM and LSTs for quick debarkation at roughly 0730 to 0830 in the morning, and a very quick withdrawal (often by 1200) compared to Central Pacific amphibious assaults which _started_ at 1030 after days of intense shore bombardment with battleships and air strikes. This was due to SWPA assaults generally having only contested local air superiority from distant land bases, as compared to pure air supremacy from local carrier task forces in the Central Pacific drive, with no prospect of replacement of amphibious shipping if lost.
The ETO/MTO naval gunfire support and landing times were closer to that of SWPA than the Central Pacific drive as they had to worry about combined arms mechanized attacks on the first day. Both Army theaters used the DUWK amphibious truck heavily, the USMC in the Central Pacific, used DUKW's very little. Both Army dominated theaters used naval gunfire as "neutralization" and not "destructive fire" as in the Central Pacific. Army Air Force bombers were used to destroy beach positions instead of naval gunfire. The lower the bombers operated, the more successful they were and Kenney's mediums and heavies always flew low. That was one of the reasons Utah beach on D-Day was less casualty prone than Omaha beach. The low level medium bombers of 9th Air Force hit German defenses at Utah, and the three divisions of 8th Air Force heavy bombers flying high with radar bombing missed at all the others…twice!
All three of these amphibious styles would be drawn upon for the final assault on Japan, Operation Olympic. Yet look at all the ink, and now electrons, spent looking at the Central Pacific assaults (See notes & sources below) with the majority of WW2 amphibious experience, the US Army's, being flat ignored.
Now you know I advocate "crossing the lanes" to research the canceled Operation Olympic amphibious assault at the end of the Pacific War.
List of Column Acronyms:
AKA – Attack Cargo Ship
APA – Attack Transport
DUKW – 6X6 Amphibious Truck
LCI(L) – Landing Craft Infantry Large
LCVP – Landing Craft Vehicles and Personnel
LCM – Landing Craft Mechanized
LCT – Landing Craft Tank
LSM – Landing ship Medium
LSD – Landing Ship Dock
LST – Landing Ship Tank
LVT – Landing Vehicle Tracked
MTB – Motor Torpedo Boat
RCM – Radio Countermeasures, the WW2 name for early electronic warfare
Notes and Sources:
Books —
Joseph H. Alexander Storm Landings: Epic Amphibious Battles in the Central Pacific
Naval Institute Press, @April 6, 2009, ISBN-13: 978-1557500328
Robert Amory, Jr., SURF AND SAND: the Saga of the 533d Engineer Boat and Shore Regiment and 1461st Engineer Maintenance Company 1942-1945
@1947, Andover Press, Ltd., Andover, Massachusctts, U.S.A.
Daniel E Barbey MACARTHUR'S AMPHIBIOUS NAVY: SEVENTH AMPHIBIOUS FORCE 1943-1945
United States Naval Institute @1969 ASIN: B0006BZ1D4
Merrill L. Bartlett ed. Assault from the Sea: Essays on the History of Amphibious Warfare
Naval Institute Press @1993 ISBN-13: 978-0870210761; See articles "Preparations for the Amphibious Invasion of Normandy, 1944" BY SUSAN H. GODSON; "Amphibious Aspects of the Normandy Invasion" BY HANSON W. BALDWIN
JOHN W. HUSTON Ed, "American Airpower Comes of Age: General Henry H. "Hap" Arnold's World War II Diaries, Volume 2," Air University Press Maxwell Air Force Base, Alabama, January 2002 page 335
1
Sunday, June 17, 1945 [Luzon, Philippine Islands]

"He [MacArthur] did not understand our plan for employing B-29s in Japanese operations, destruction of 30 Jap cities and their industries, 200,000 tons [of bombs] a month to destroy targets in invasion area and 80,000 tons on invasion day. He liked it. [once it had been explained?]
Gordon Rottman (Author) , Peter Dennis (Illustrator) US World War II Amphibious Tactics, Army and Marine Corps, Pacific Theater
Osprey Publishing (November 11, 2004) ISBN-13: 978-1841768410
Gordon Rottman (Author) , Peter Dennis (Illustrator) US World War II Amphibious Tactics: Mediterranean & European Theaters
Osprey Publishing (September 26, 2006) ISBN-13: 978-1841769547
Ed Simmonds and Norm Smith, "ECHOES OVER THE PACIFIC: An overview of Allied Air Warning Radar in the Pacific from Pearl Harbor to the Philippines Campaign," Radar Returns 39 Crisp Street Hampton Vic 3188 Australia, Internet Edition – November 2007,ISBN 0 646 24323 3
www.radarreturns.net.au/archive/EchoesRRWS.pdf
Dissertations —
"AMPHIBIOUS DOCTRINE FOR THE USE OF NAVAL GUNFIRE IN SUPPORT OF AMPHIBIOUS LANDINGS: MYTH VS. REALITY IN THE CENTRAL PACIFIC IN WORLD WAR II" BY DONALD KEITH MITCHENER, B.A., M.A., Dissertation Prepared for the Degree of DOCTOR OF PHILOSOPHY, UNIVERSITY OF NORTH TEXAS, DECEMBER 2006, @ 2007 UMI Microfilm Number 3254205
Government Documents —
"The Amphibians Came to Conquer: THE STORY OF ADMIRAL RICHMOND KELLY TURNER II, Vol II" by VICE ADMIRAL GEORGE CARROLL DYER USN, FMFRP 12-109-II, PCN 140 12992000
Chapter 14 "RCM IN THE EUROPEAN AND MEDITERRANEAN THEATERS" SUMMARY TECHINICAL REPORT OF DIVISION 15, NDRC, VOLUME 1, RADIO COUNTERMEASURES, Office of Scientific Research and Development, Vannevar Bush, Director, DIVISION 15 Chief C.G. Suits, Washingtion DC 1946
Chapter 15 "RCM IN THE PACIFIC THEATER OF OPERATIONS" SUMMARY TECHINICAL REPORT OF DIVISION 15, NDRC, VOLUME 1, RADIO COUNTERMEASURES, Office of Scientific Research and Development, Vannevar Bush, Director, DIVISION 15 Chief C.G. Suits, Washingtion DC 1946
Eighth Air Force Tactical Development August 1942 – May 1945," 9 July 1945 Prepared by Eighth Air Force and Army Air Forces Evaluation Board (European Theater of Operations), page 143
"D-Day : On D-Day itself 1,350 bombers of the Eighth Air Force formed up in 225 squadrons of six aircraft each. This huge force made a Tire-dawn assembly and followed the route which would give them a right- angle attack on the "beach targets. This would give the H2X overcast "bombing equipment a clearly defined line at the "beach, minimizing risk of bombing our own troops. Over 1,000 of the bombers attacked beach installations, while small forces attacked Caen and alternative targets.
.
Because of overcast weather, extra safety factors had been added to prevent bombing of friendly troops. This resulted in placing the weight of our bombs 300 to U00 yards behind the beaches."
Engineers of the Southwest Pacific 1941-1945. Vol IV. Amphibian Engineer Operations
Government Printing Office (GPO), @1950, ASIN: B007RFF1X2
On-line at:
http://catalog.hathitrust.org/Record/000815192
"Medium Bomber Operations 1 January – 28 August 1944" Headquarters 12th Air Force, 12 April 1945 (Operations Strangle and Dragoon) Acessed from Combined Arms Research Library Digital Library.
"NAVAL GUNFIRE SUPPORT OF AMPHIBIOUS OPERATIONS: PAST, PRESENT, AND FUTURE" by DONALD M.WELLER, Major General, USMC (Ret.), March 28, 1978, Naval Sea Systems Command Headquarters, U.S. Marine Corps NAVAL SURFACE WEAPONS CENTER Dahlgren, Virginiia 224148, DTIC Accession number ADA051873, pages 12 & 15
The differing strategic environments in the Central Pacific and Normandy dictated differing techniques. U.S. control of the sea and air in the Pacific and the limited size of the island objectives eliminated the requirement for surprise. Consequently, all Central Pacific operations after Tarawa were characterized by 2 or more days of preliminary operations devoted to destruction of Japanese island defenses, including coastal defense guns. The heavy guns of battleships and cruisers firing at point-blank ranges (2000 to 5000 yards) pulverized and eliminated these weapons.

In the Normandy invasion, the essential requirement for surprise ruled out pre-D-day firing, although some air attacks were directed against coastal weapons prior to D day without significant reduction in their capabilities. On D-Day, each of the 23 coastal defense batteries covering the seaward approaches to the Invasion beaches was assigned to a heavy-gun ship, either cruiser or battleship. These ships, firing from positions 10,500 to 30,000 yards offshore, were able to suppress the coastal batteries, thereby preventing any significant interference with the landing operation, although, unlike the Japanese batteries, few were actually destroyed. Admiral Moon, the Amphibious Attack – Force Commander for Utah Beach (one of the two on which U.S. forces landed), explained the success of the naval guns as follows:
.
"It was significant that at least through the first week of the operation, no battery could be considered destroyed unless captured. There were several instances of positions which were believed, on the basis of air and sea observation, to have been destroyed yet guns in these positions subsequently opened fire. In some of these cases, there is evidence that casements protected the guns against lethal damage although they were rendered inoperative during the bombardment and for many hours thereafter. The latter was probably the case at Crisbecq, which battery was one of the most important on the east coast of the Cherbourg Penisula. The position contained two 210mm guns in casements, one 210mm in an open emplacement, and six 88mm dual purpose in open revetted emplacements. The casements had roofs of reinforced concrete 12 1/2 feet thick and walls ranging from 10 to 16 feet. This position had been subjected, both before and after D-day, to especially heavy air and naval bombardment. The guns in casemates were undamaged except for minor fragmentation scars, the casemates themselves were also entirely unscratched even by close misses. On the other hand, all communication leading to them from the observation post and rangefinders were disrupted which probably rendered accurate fire extremely difficult. All the other guns in the battery which were not enclosed were destroyed or nearly so.2″"
Seventh Amphibious Force Command History, 10 January 1943 – 23 December 1945, DANIEL E. BARBEY, Vice Admiral, U.S. Navy, Commander Seventh Amphibious Force. On-line at:
http://www.history.navy.mil/library/online/7thamphibcomdhist.htm
Internet Documents:
"The Air Command Post Afloat"
http://www.usaaf.net/ww/vol1/vol1pg6.htm
The U.S. Army Air Forces in World War II, D-Day 1944, Air Power Over the Normandy Beaches and Beyond, by Richard P. Hallion Air Force Historian, Air Force History and Museums Program 1994
http://www.ibiblio.org/hyperwar/AAF/AAF-H-DDay/
Chapter 2, V [Marine] Amphibious Corps Planning for Operation Olympic and the Role of Intelligence in Support of Planning, by Major Mark P. Arens, USMCR [MCIA]
http://www.fas.org/irp/eprint/arens/chap2.htm
Naval gunfire support to the V Amphibious Corps during the initial landings included four old battleships, three heavy cruisers, four light cruisers, and eleven destroyers.(17) In comparison, the bombardment of Iwo Jima was carried out by six old battleships, five heavy cruisers and ten destroyers. While the Corps landings on Kyushu were to cover a larger area and against more difficult terrain, in effect less naval gunfire support was to be provided.
.
17. V Amphibious Corps, Naval Gunfire Operations Report, Occupation of Japan, 30 November 1945, 3.