I don't want to wear out my welcome with posts but this is a topic that has interested me for many years. When I retired from practice, I spent a year at Dartmouth trying to learn how we can improve health care delivery and reduce cost without reducing quality.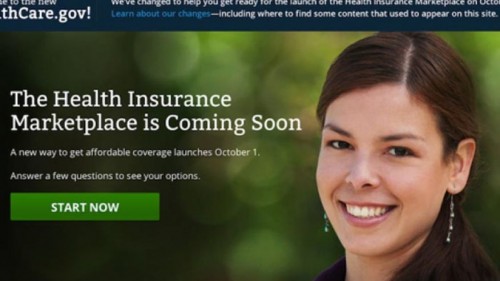 The Obamacare web site now has lost its happy photo of the Obamacare girl. The fact that she is a non-citizen seems appropriate. The web site is supposed to be fixed by November 30. Will that happen ? Well, maybe not.
On Friday, the man tasked with the digital fixes said the site "remains a long way from where it needs to be" as more and more problems emerge.
"As we put new fixes in, volume is increasing, exposing new storage capacity and software application issues," Jeff Zients told reporters on a conference call.
And at Tuesday's White House Press Briefing, Press Secretary Jay Carney again said there was "more work to be done" on repairing HealthCare.gov.
Carney, along with Zients and other administration officials, have repeatedly said the November 30 deadline is to get the health care website working for a "vast majority" of Americans looking to enroll in the Obamacare exchanges.
So, what happens December 2, the Monday after the "glitches" are fixed ? First, they won't be fixed. The contractor that designed the program, not just the web site, has a terrible record.
CGI Federal's parent company, Montreal-based CGI Group, was officially terminated in September 2012 by an Ontario government health agency after the firm missed three years of deadlines and failed to deliver the province's flagship online medical registry.
The online registry was supposed to be up and running by June 2011.
Officials at the U.S. government's Centers for Medicare and Medicaid Services awarded six technology contracts worth $87 million to CGI Federal for Obamacare website work, according to the U.S. Government Accountability Office.
So, assuming the program isn't working, what next ?
First, Democrats are jumping ship already.
Sen. Dianne Feinstein (D-Calif.) has decided to co-sponsor legislation from Sen. Mary Landrieu (D-La.) that would require insurance companies to continue offering their existing health care plans, becoming the most high-profile non-red state Democrat to buck party lines on the Affordable Care Act.
I don't think that approach will work.
the "Keeping the Affordable Care Act Promise Act" would "grandfather" in all health insurance plans that existed as of Dec. 31, 2013, not March 23, 2010, meaning that insurers could continue to offer a number of plans that they have been forced to cancel under the Affordable Care Act.
The insurance industry is not going to change all this for a temporary and uncertain law change.
Even Bill Clinton is jumping ship, no doubt in the interest of Hillary's 2016 campaign. I doubt that will help except among her most devoted followers. After all Hillarycare is the grandmother of Obamacare.
I have previously speculated on what might come next and that was early in the disastrous rollout, which I anticipated. I wasn't the only one.
Moreover, data from existing surveys indicates that employers are quickly moving to high-deductible plans with health savings accounts, away from more expensive plans with high premiums, but low deductibles and co-pays. Notably, when employees are offered a "defined contribution" – a fixed amount of money from their employers with which to shop – they also (although not always) opt for more high-deductible options.
I think this may be the way the country copes with the ongoing disaster of Obamacare. Allow the system of high deductible insurance and health IRAs to expand. Legislation can do this. No Congress can bind another Congress.
What to do about those with pre-existing conditions ? Well, maybe the problem was slightly exaggerated.
12 million people purchased private direct purchased health insurance on the eve of Obama Care. Insurance industry studies show that one in eight applicants for private health insurance have preexisting conditions that affect their eligibility or premiums. This gives a total of 1.5 million Americans who were denied health insurance or paid higher premiums due to pre-existing conditions.
The Washington Post, of course, bought the Obama administration lie without a blink.
But must we change our whole health care system to handle a problem that affects one half of one percent? If we gave a $10,000 subsidy to each person denied coverage or paying a higher premium, we could keep our existing health-care system and solve pre-conditions for one tenth the projected cost of Obama Care.
There are other questions about motives.
You tout the Affordable Care Act as a triumph over special interests, but the stock prices of the insurance industry have enjoyed a huge run-up. Isn't this because your program, boiled down, just throws more tax dollars at an unreformed health-care system that every analyst, including you, says spends resources inefficiently?
Insurance companies have never been enthusiastic about health insurance. I've worked in the insurance industry. They were co opted by Obama because they were promised (with a wink and a nod) that they would be administering a government funded program and would have "no skin in the game." That's what the employer health plans are and that's what they understood to be the plan. The recent vilification of insurers risks some getting off the reservation.
Later, in discussing how he would pay for expanding health-insurance coverage, he alluded to his plan to cut the subsidy payments private insurers receive for administering Medicare advantage plans. "I would rather be giving that money to the young woman here who doesn't have health insurance than giving it to insurance companies that are making record profits"
Then, a man who said he makes a living selling individual health-insurance plans asked Obama, "Why is it that you've … decided to vilify the insurance companies?"
We know he was lying. His lips were moving.
What about the poor ? Most of those signing up on the exchanges are, in fact, signing up for Medicaid.
More than 55,000 people in Washington state enrolled in health coverage in October — most in Medicaid . In fact, almost all of the people who have "signed up" for Obamacare have signed up for expanded Medicaid. They will not contribute to the risk pool; they will only draw more tax payments. Is Medicaid the best choice for the poor ? Avik Roy doesn't think so. I have reviewed his book on the site and disagree with his proposed solution but his data is correct.
I have previously suggested the French system as a model for us. France is a large country, larger than most of the other European examples, and its system, unlike the British NHS, works well. It has been put under enormous pressure by the French unemployment problem but it still does a better job than any other I know of. The German system is older and more bound up in German traditions.
I doubt that this sort of reform is an option any longer. I think the catastrophic insurance and health IRA is the best choice for a transition now.