Ted Postol, the MIT physicist, media talking head, and so-called 'missile-defense expert' is again putting in another Face Palm worthy political performance in analyzing technical capabilities of the Israeli Iron Dome anti-artillery rocket system at the link.
See:
http://www.technologyreview.com/news/528916/israeli-rocket-defense-system-is-failing-at-crucial-task-expert-analysts-say/
There are numerous practical political reasons that show Postol's reasoning today with Iron Dome, as it was with the with the Patriot ABM in 1991, is an exercise in political "Magical Thinking."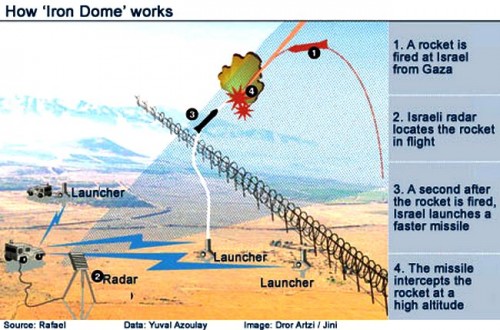 First, missile defense contributes to deterrence — even North Korea's slightly less than "Hamas-level suicidal sociopaths" have to consider the possibility that South Korea Patriots or Standard-3s (Via the US Navy's Aegis ships) will stop a surprise missile attack gambit.
Second, missile defense provides a degree of political strategic confidence — governments have an option other than quick counter-strike or pre-emptive strike.
Last, on the political level, Iron Dome today (like Patriot in 1991) buys Israeli leadership the gift of time in war, the breathing space to act from Nation-State interest in the classic Westphalian sense, rather than be driven by media pressure and constituent tribal cries of revenge for lost loved ones _Right Now_.
However, the by far more important reasons why Postol and those relying upon him are wrong were actually laid out in 2011 by Alternatewars.com guru, and fellow "History Friday" column researcher, Ryan Crierie in terms of the actuarial cost of injuries and death in a Western Society. This cost account reasoning shows just how badly opponents of missile defense are buried in the unreality of magical thinking political cant over the realities of war on the ground.
In a very real sense, Iron Dome is Asymmetric Warfare by a technologically advanced society on an irrational/suicidal opponent that has converted suicide terrorism into a affordable war of attrition that trades suicidal robots — Iron Dome's Tamir interceptor missiles plus traditional guided missiles from Jets or unmanned drones — for sucidal Hamas rocket crews and the civilian "human shield" infrastructure that hides them at a cost-trade off beneficial to the advanced western economy supported Westphalian Nation-State.
Dividing by zero in war — zero Israeli deaths and very few rocket injuries for huge Palestinian losses — is just as impossible to do in reality as it is in mathmatics.
See this link:
http://www.alternatewars.com/BBOW/ABM/ABM_Economics.htm
Or simply read the text clipped below to understand why I think Israel has "Flipped the Script" of the "Strategic Logic of Suicide Terrorism" on its head. —
Economics of Anti-Ballistic Missile Defenses
.
References:
.
The True Cost of Road Crashes: Valuing life and the cost of a serious injury (2.1 MB PDF)
.
Recently in the news (as of Spring 2011), there is a lot of talk going on about Israel's newly deployed IRON DOME low-level ABM system.
.
Much is being made of the cost of a typical HAMAS Quassam rocket (estimated to be €500 per rocket back in 2008; which translates into about $740 USD in 2011) versus the cost of the Tamir interceptor missiles which are estimated to cost between $35,000 and $50,000.
.
During the 2006 Lebanon War, about 4,000 rockets were fired into Israel for 43 KIA and 101 WIA.
.
(I am excluding the 1,300~ who received 'light wounds' and the 2,770 who were treated for shock and anxiety)
.
This breaks down to a crude yardstick of:
.
• 1 Death for every 93 rockets during an intense bombardment
• 1 Serious Wound for every 39.6 rockets during an intense bombardment
.
From 2000~ to 2010, about 4,728 rockets were fired from Gaza into Israel, causing 23 fatalities, or about:
.
• 1 Death for every 205.5 rockets fire during a sporadic bombardment.
.
With no ABM system in place to protect Israel, it only costs Islamic groups $64,820 to $152,440 to kill an Israeli and about $29,600 to $65,100 to seriously wound one.
.
According to the True Cost of Road Crashes, the official Value of Statistical Life (VSL) in several countries is:
.
United States: $3 million USD (82.6 times per capita GDP)
United Kingdom: $2.11 million USD (70.4 times per capita GDP)
Germany: $1.67 million USD (43.4 times per capita GDP)
.
Likewise, the Value of Serious Injuries (VSI) is:
.
United States: $464,600~ USD (12.8 times per capita GDP)
United Kingdom: $253,000~ USD (12.9 times per capita GDP)
Germany: $126,000~ USD (4.7 times per capita GDP)
.
Israel's per capita GDP is about $29,500 USD; so you end up with:
.
VSL: $1.28 to $2.4 million USD
VSI: $138,600 to $380,500 USD
.
Without ABM, the Islamic groups can easily and cheaply wage economic war on Israel – It only costs them $152,000~ to cause at least $1.28 million dollars worth of damage to the Israeli economy.
.
We haven't even touched on the productivity that's lost from people being forced to leave work and run to bomb-shelters at any moment of the day to escape death or serious injury in the areas under rocket fire.
.
With ABM however, the entire equation changes, particularly since the Quassams are so inaccurate that the majority of them fired simply hit empty fields.
.
It's why the numbers for missiles per injury/death are so high – the Palestinians have to fire dozens of rockets to get that solitary triplet that will impact within a city.
.
IRON DOME takes advantage of this by allowing operators to pre-define "keep out" zones for the system. If a rocket's trajectory has it impacting outside that "keep out" zone, the system doesn't fire on the rocket and lets it impact harmlessly in a field.
.
The ABM cost/benefit equation isn't "Fire 60 Quassams for a cost of $44,400 to cause the Israelis to expend $2.4 million dollars worth of interceptors to shoot down each Quassam."
.
It's actually "Fire 60 Quassams for a cost of $44,400 to get five on a trajectory that will have them impact in a city center."
.
Total cost to the Israelis of firing ten interceptors to negate the threat of those five rockets in the salvo that are actually going to hit something? Only $400 grand. Considering that the VSI for an Israeli is between $138 and $380 grand if a rocket inflicts a serious injury, it's a bargain.
.
As an added bonus, the IRON DOME system is capable of providing backtracked trajectory data (as is any ABM system worth it's salt) to other military units, such as helicopter gunships or unmanned drones, so they can be on the scene and attacking the launching teams in much less time.
Ryan's article also goes on to explain the relevance of such actuarial cost accounting to strategic-nuclear missile defense, but that is not germane to this discussion.
Iron Dome combined with Israel's "Shoot to kill" Border Fence has turned the "Strategic Logic of Suicide Terrorism" on its head. The contest by Israel and Hamas is now one of affordable to an advanced nation state attrition of robots versus an unsustainable level of human and economic attrition that even suicidal-irrational opponents can take, without being overthrown by their followers.
The example of a successful and economically free-market oriented Westphalian Nation-state defeating trans-national progressive supported (See the UN & EU) Palestinian "Assymetrical Warfare" via a "Shoot to Kill" Border Control Fence and a ballistic missile defense are the key reasons leftist like Postol are talking magical thinking straw men arguments like "Iron Dome has failed because it is not destroying warheads" while willfully ignoring the real actuarial money costs to an advanced society of not having a "Defense That DEFENDS."
There are Foreign Policy and National Security lessons here for future American Presidential candidates.