This Friday column on Chicago Boyz is normally reserved for the unknown stories of the End of World War 2 (WW2) in the Pacific, aimed at answering the question of "How would the American military have fought the Imperial Japanese in November 1945 had the A-bomb failed?" Today's column, takes a completely different tack from any previous History Friday column. Rather than deconstructing the P-51 narrative, being a book review — See this link and this link — or exploring the moral character of the IDF's Barak Brigade on the Golan Heights in 1973, this column will use the military geography of the past to explore the near future. And in specific, it will use the military geography of the 1945 Okinawa campaign and the proposed invasion of Japan, to explore the patterns of "future history" between Japan and China in the coming age of Unmanned Warfare. It is a column about China's coming "Days of Future Past."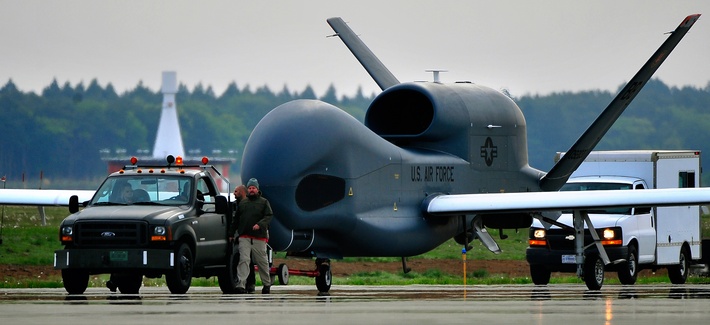 To begin at the beginning, see this Defense One column and this AP Column on the arrival of American Global Hawk Drones in Japan and Japan's announcement that it is now a "Normal Power," one that is able to sell arms internationally.
And in particular pay close attention to this passage from those links:
Japan is not so quietly building a huge drone fleet.
The country will invest ¥3 billion (approx $372 million) in the coming decade to drastically expand its virtually non-existent military unmanned aerial vehicle (UAV) program, according to a senior analyst at IHS Jane's, the leading defense and security agency
.
"For the period 2014-2023, our forecasts show that they [Japan] are looking to build three Global Hawk drones, in addition to missile detecting UAVs, to deter possible threats of nuclear attack from North Korea and the advancing military strength of China," the analyst, who requested anonymity to speak candidly on issues related to agency clients, told Quartz. " They [Japan] are progressing their indigenous design and development capability at a rapid pace and could actually meet their objectives even before fiscal year 2020."
.
The forecast would represent a more than 300% increase in drones from current investment levels, which would make Japan's the fastest growing UAV program in the world, said the analyst.
.
The current Japanese prime minister's abandonment of the self-defense clause that now allows Japan to sell weapons is what amounts to a de facto declaration of alliance with Taiwan to establish "Droid Warfare" defenses between Taiwan and Japan on one side and China on the other. Given both Japanese and Taiwan's technological cultures, their aging demographics, plus the Chinese threat making for internal Chinese political audiences, this shift is inevitable.
To understand why I am making that bold statement about the future requires some technical understanding and a few 1945 Okinawa campaign maps. The technical understanding is "What is the radio line of sight range of a 50,000 foot (15,240 meter) altitude drone com-relay to another drone?"
This is where you can find the answer —
http://www.rfcafe.com/references/electrical/ew-radar-handbook/radar-horizon-line-of-sight.htm
The nanograms at the link show line-of-sight range of over 450 nautical miles (833 KM) for a 40,000 foot (12,192 meter) airborne radar to a 25,000 foot (7620 meter) aircraft target.
As for the military geography, the two following 1945 Okinawa campaign maps below show the ocean-island geography between Japan and Taiwan.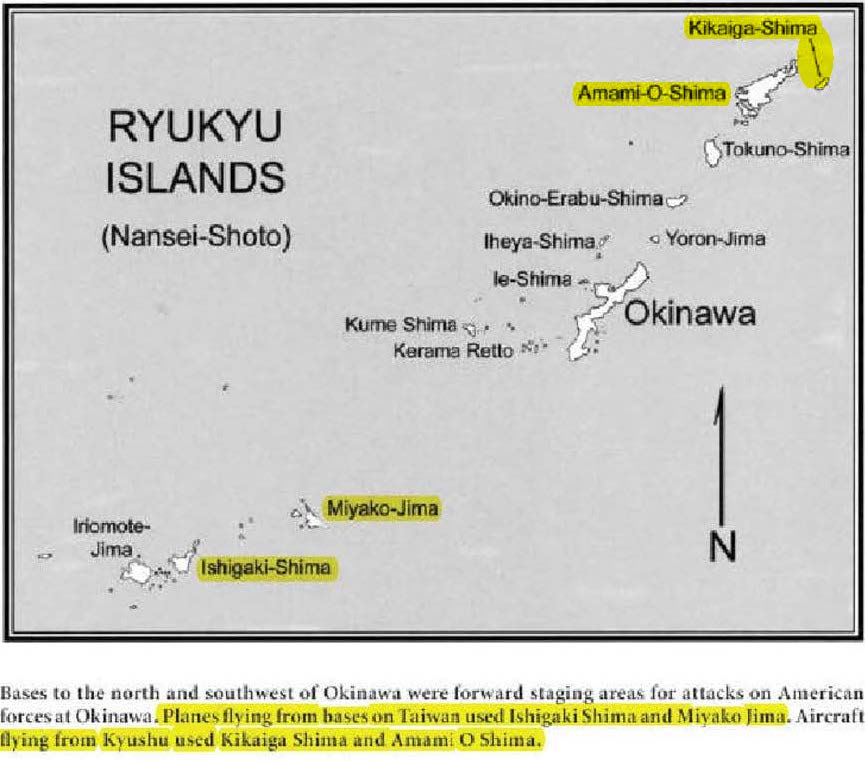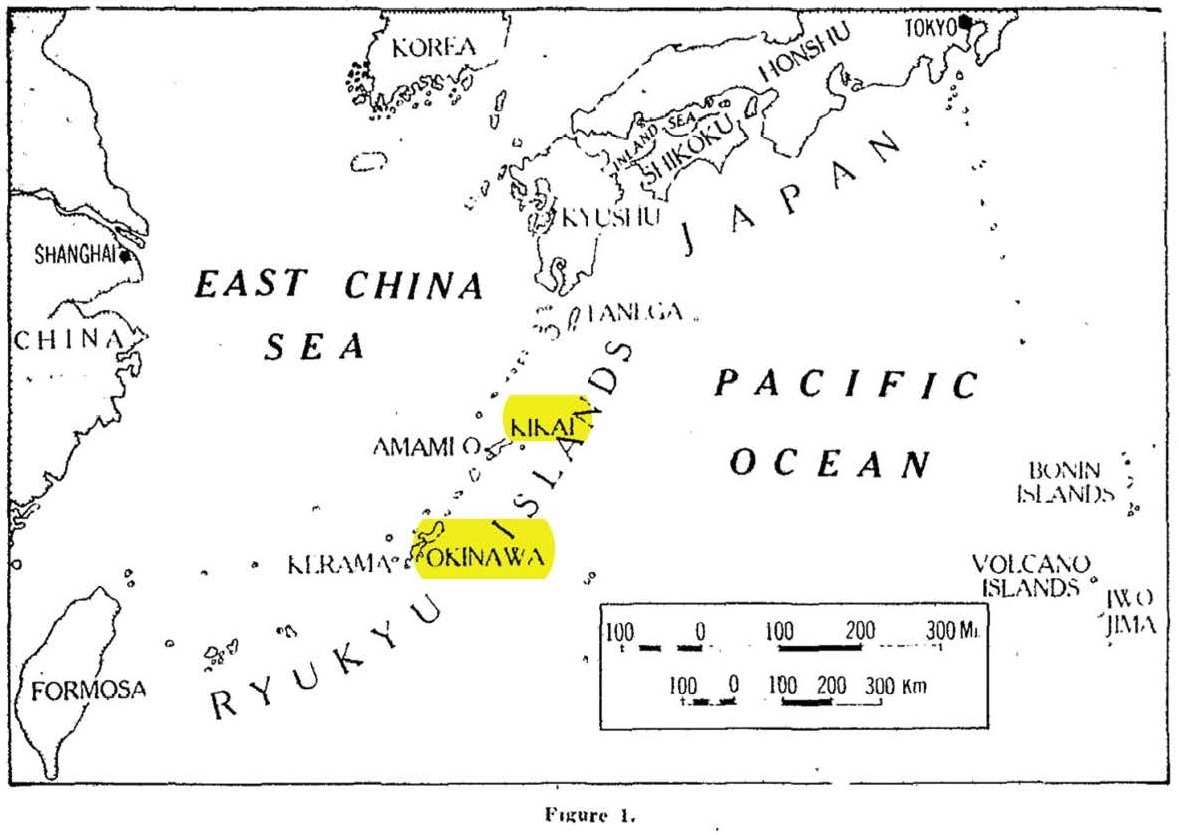 Effectively, the Japanese can park a 50,000 foot altitude Global Hawk class communications relay drone over Ishigaki-Shima – in Japanese territory and air space protected by Patriot batteries, Kongo and Atago class Aegis Destroyers and soon with F-35 stealth fighters — and relay to a similar drone in Taiwanese territory and air space of similar capability.
Japan having such drones, and either selling them or licencing them to Taiwan, means that any Mainland Chinese invasion across the Taiwan Straits will face a comprehensive unmanned military surveillance and armed drone defense working through those data links, of which only a few could or would be American. And the ability of these drone com-relay birds to remotely control small attack drones will be such that the Chinese will have to invade inside Japanese and Taiwanese air space and destroy then to win any such invasion attempt.
Going into Japanese controlled air space with sophisticated air and ballistic missile defenses during an invasion of Taiwan scenario is a losing proposition for the Chinese. The plausible Japanese anti-aircraft and anti-ballistic missile defenses in the form of Patriots, Aegis Destroyers with SM-3 missiles anf f-35 Stealth fighters — and perhaps in the future license produced Israeli Arrow missiles if US-Japanese relations suffer from Chinese political-economic pressure — amounts to a two-front war with both Taiwan's standing military and Japanese military high tech where the Chinese will be unable to limit the theater of operations the way it could plausibly do with a feckless American Presidential Administration.
Japan, because it is now a "normal nation" can also make deals with the Philippines for land-based drone and ABM installations on Philippine islands in the South China Sea, notably the main island of Luzon.
Can you say "No Foreign Oil for China?"
This is Japan as a "normal nation" successfully practicing an international policy of conventional military deterrence with or without the United States military. It would help a great deal if the USA is involved, but Japanese success in pursuing this policy is independent of the political will of the USA regards its final success.
In short, the world has just changed and very few have noticed.
The Japanese military sales announcement, combined with its drone spending, and a working knowledge of the East Pacific's military geography means you can see a future history where China is about to be encircled by a Japanese enemy with bases in Chinese territory…and the Chinese did it to themselves.
So ends your Future History Friday lesson in China's coming "Days of Future Past."