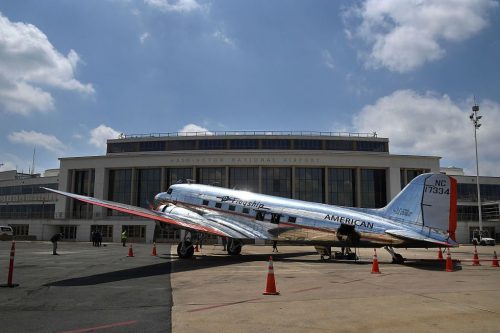 June 7, 1936 marked the first delivery of one of the most important airplane types ever developed:  the Douglas DC-3, which has been called "the Model T of aviation."
The story of the DC-3 begain with a very long telephone conversation between the heads of American Airlines and Douglas Aircraft.   AA had been conducting coast-to-coast overnight sleeper service using Curtiss Condor II biplanes, and CR Smith of American wanted a more advanced aircraft for this service. Douglas Aircraft was then fully occupied with production of DC-2s (which were too small for sleeper berths) and Donald Douglas was reluctant to undertake the project.  He was persuaded of the merits of the project over the course of a 2-hour phone call, the bill for which came to something like $5400 in today's money.
The DC-3 could accommodate 14-16 passengers with berths–see this promotional film–or, alternatively, 21 passengers in a seating-only configuration, which was the more common arrangement.  The type quickly became a huge success.  According to Delta, by 1940 the DC-3 carried 80% of the world's airline traffic. Thousands of DC-3s (under the military designation C-47) were built in support of the Allied effort in WWII, and after the war a high proportion of these found their way into passenger and freight service.
Perhaps the best way of discussing the characteristics of the DC-3 is in the context of a walkaround and flight.  (I've had two opportunities to fly DC-3s with instructors, the first in 2006 and the most recent in 2017)
The most noticeable thing about a DC-3 on the ground is its nose-high attitude: this is a tailwheel airplane, whereas most planes today have a nosewheel.  The tailwheel is better for operations on grass and other unpaved strips, but it does make ground handling and landings a little more tricky.
The airplane has two engines…a few years prior to its introduction, three-engine airplanes had been the thing for passenger traffic, the theory being that the loss of one engine in that case would represent only a 33% loss in total power rather than 50%.  Eliminating the third engine (in the nose) reduced noise and vibration, but required that there be enough reserve power for single-engine flight to be feasible.
The wings have a noticeable sweepback.  This has nothing whatsoever to do with supersonic or near-supersonic aerodynamics, but was done for reasons of balance.  Wing construction used a stressed-skin approach with a cellular, 'honeycomb' internal structure.
Entering via the rear passenger door, you walk up a fairly steep inclination to get to either a passenger seat or to the cockpit.  (Douglas devoted considerable attention to ensuring that the passenger seats were comfortable, and also to soundproofing the airplane as much as possible.) Pilot and copilot seats are also reasonably comfortable . Electrical switches are on the overhead panel, engine controls in the center:  prop, throttle, and mixture.
After starting both engines, allow the oil to warm up…this takes a while.  Taxiing is very different from a modern nosewheel airplane…since you don't have a steerable nosewheel, and the rudder is ineffective at low speeds, you have only two ways to point the airplane where you want it to go: differential power and differential braking.
After engine run-up and after positioning on the runway, the tailwheel lock should be engaged—this helps keep the airplane straight during the initial part of the takeoff run.  Pretty quickly, the tail comes up and the rudder becomes effective.  Fly it off the runway at 84 knots, then raise the landing gear by unlatching the gear lever and pulling it up–then return it to neutral.
Cruising speed is about 140 knots indicated on the airspeed gauge, which is roughly 160 knots true airspeed, or about 185 mph. In cruise, the mixture control is set for Automatic Lean, which adjusts the mixture as required as altitude changes.  (When setting power level and prop RPM, it's important to note that with the DC-3's radial engines, there are mechanical reasons for not "letting the prop drive the engine"…for example, 2500 RPM and only 20 inches of manifold pressure would not be a good thing from an engine-life point of view.)
There is no hydraulic boost for the controls:  they are directly cable-driven from the yoke and rudder petals.  (One thing I noticed about the airplane is that it requires a lot more rudder force to roll out of turns than to roll into them.  Not sure what the aerodynamic reason for this might be.)
From a passenger standpoint, the DC-3 is more comfortable in turbulence than was the DC-2, the result of higher wing loading.  There is no air conditioning, other than climbing to higher altitude where the air is cooler.  (But not too high…this is an unpressurized airplane)
For landing, gear down and lower flaps in stages.  Airspeed on final should be 70-80 knots. Wheel landings rather than full-stall are recommended.
My most recent DC-3 flight was in N28AA, which is owned by Jim Sells and based near Atlanta.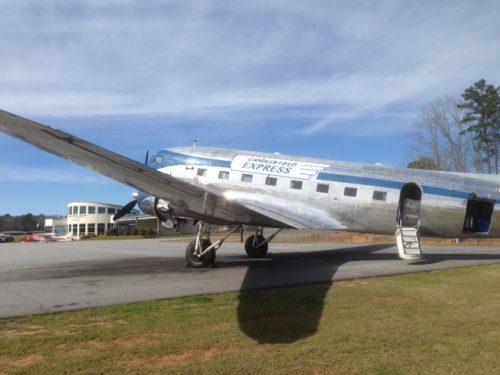 In addition to flight experience for pilots, Jim frequently organizes trips for multiple passengers on a cost-sharing basis. Facebook page for the airplane is here:  DC3 Experience.
My earlier flight was in N600NA, which was then based in Florida.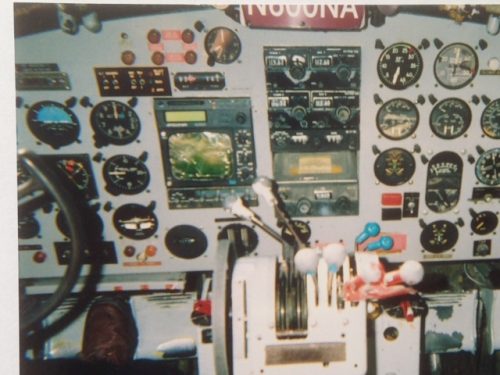 I see that this airplane has now been sold to a Russian man who is trying to put together an example of each airplane type which was supplied to his country under Lend-Lease during WWII…not sure if this is going to be a museum, or strictly a private collection.  A worthy thing to do, either way.
There are still many DC-3s flying revenue operations around the world. Buffalo Airways, based in Yellowknife Canada, hauls freight throughout the Canadian North, and sometimes into the United States as well.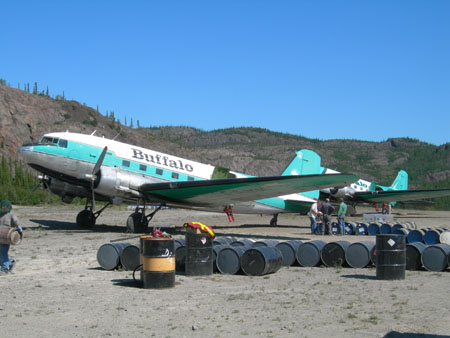 Truly a remarkable airplane–long may the type fly!
See also my related post Lighted Airways and the Radio Range