Posted by Jonathan on November 14th, 2008 (All posts by Jonathan)
I was maybe 150 miles away. Unfortunately, my camera won't do longer than a 30-second exposure without a remote shutter release that I didn't have. So what you see here is a 30-second arc of the flight, starting at the lower left a few seconds after the Shuttle, which appeared to the eye as a small, glowing red-orange ball, became visible. The bright trail continued, at a shallow angle to the horizon, for about thirty more seconds and then dimmed considerably, perhaps when the boosters burned out. It was probably visible for about 90 seconds in total. I'm sure it's much more impressive close-up, but it was a bit of a thrill just to see it over the lights of the city.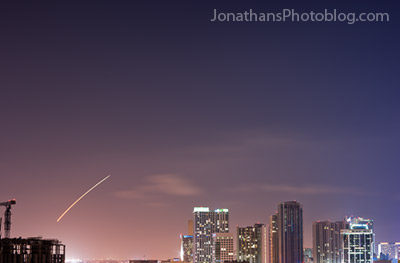 The view from downtown Miami.
(Click the photo to display a larger version in a new window.)